When you think of super bowl food what comes to mind? Chicken wings? Yes. Mozzarella sticks. Always. Brats? Of course. Eggplant? Huh? No really, I never would've thought that eggplant would be anywhere near a super bowl party spread but guys, these Beer Battered Eggplant Fries NEED to be a part of your game day spread.
I am not quite sure what it is but almost every time I am at the grocery store one of my children asks me to buy an eggplant. I don't know why. It's not something that I cook a lot. I think it has something to do with the fact that it's an interesting looking vegetable. Or that they watch a kids music video where they sing about eggplant. Either way, every couple of weeks I end up with one in my cart.
I could roast it or grill it or do something totally healthy with it. But well it's super bowl season so I decided to turn Eggplant into a super bowl food and made these Beer Battered Eggplant Fries.
With all of the eggplant that I buy, I have tried to make eggplant fries a few times before. I've tried coating them in panko and baking them. I've tried frying them with just a little bit of flour. Neither really worked for me. Actually, both turned into a big 'ol mess. But not this time. This time I beer battered them and it was a delicious success.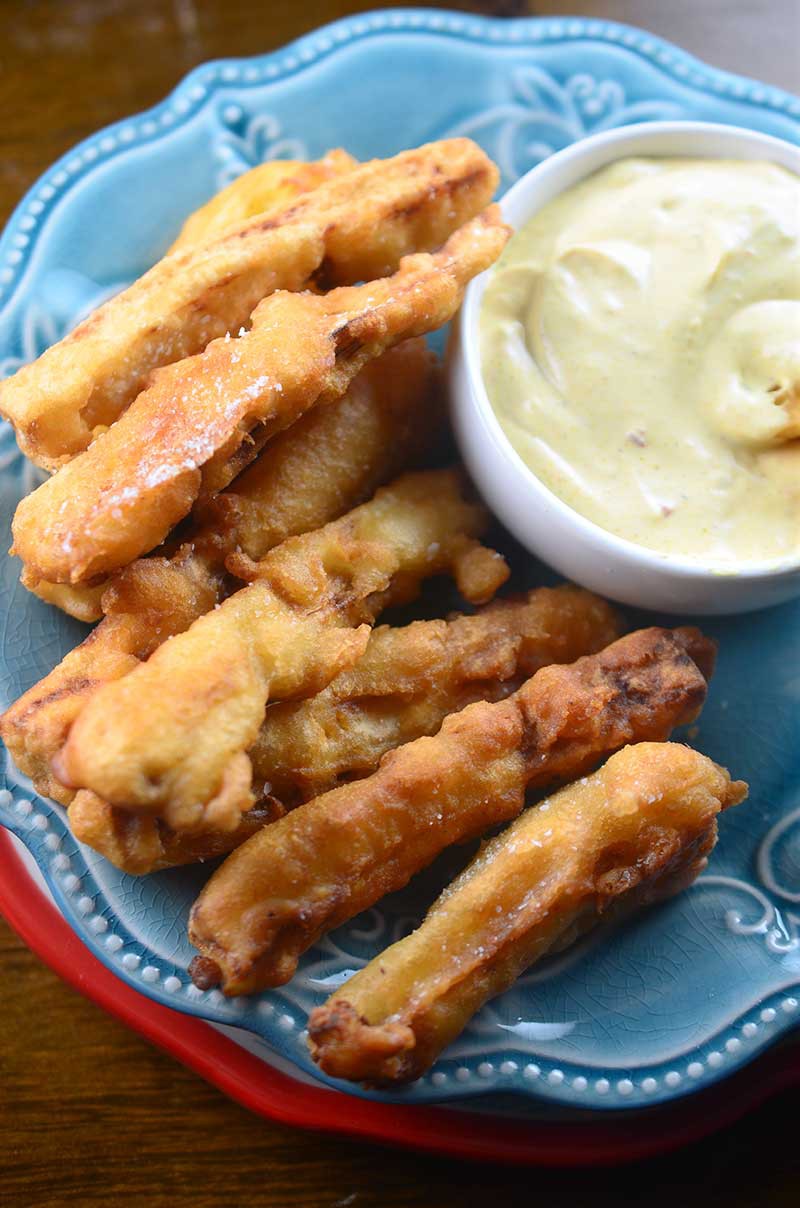 And every good fry needs a good dip right? These Beer Battered Eggplant Fries are no different. While I'm sure ranch would be great and my kids certainly loved ketchup, I decided to make a creamy curry dip to serve along side. With just 5 ingredients, the dip came together really quickly and it made the perfect dip for these fries.

Beer Battered Eggplant Fries Ingredients:
oil for frying
1 3/4 cup all purpose flour
1 egg
1 teaspoon salt
1 teaspoon granulated garlic
1 (12 ounce) can light beer
1 medium eggplant, peeled, cut in half and then cut into strips
Curry Dipping Sauce Ingredients:
1/4 cup sour cream

2 tablespoons mayonnaise

1 teaspoon curry powder

1/2 teaspoon garlic chili sauce

1/4 teaspoon salt
Instructions
1
Make the dipping sauce first by whisking all ingredients together in a bowl. Cover and refrigerate until ready to use.

2
Preheat oven to warm setting or 200 degrees. Place a cooling rack on top of a baking sheet.

3
Heat half an inch of oil in a large pot over medium heat to 350 degrees.

4
Whisk together flour, egg, salt and granulated garlic. Slowly whisk in beer. Mix just until a batter forms.

5
Working in batches, dip eggplant fries into the batter. Shake off any excess and then carefully add to oil. Fry until golden brown and crispy, about 2 minutes. Use a slotted spoon to transfer to the prepared cooling rack. Sprinkle with salt. Place in the oven to keep warm while you fry the remaining batches.

6
Once all eggplant is fried serve with curry dipping sauce.