I have always been a little crazy about the crispy, succulent goodness of fried chicken.  Ryan on the other hand, is not a fan. Crazy right? I would always throw it in there as an option for dinner and he would nix it right away. So this time I upped the ante and promised creamy pan gravy along side.  That did the trick.
In my mom's house people always went after the coveted chicken drumstick making it difficult to get unless you had extremely quick hands. A fight would ensue and there would be threats of going to our rooms without dinner. Perhaps that is why whenever I make fried chicken, I only use chicken drumsticks. I'm not sure why they are so coveted maybe it is because they stay so perfectly juicy and are the easiest pieces to eat. However, if they are not as popular in your house substitute a whole fryer chicken so you can get a variety.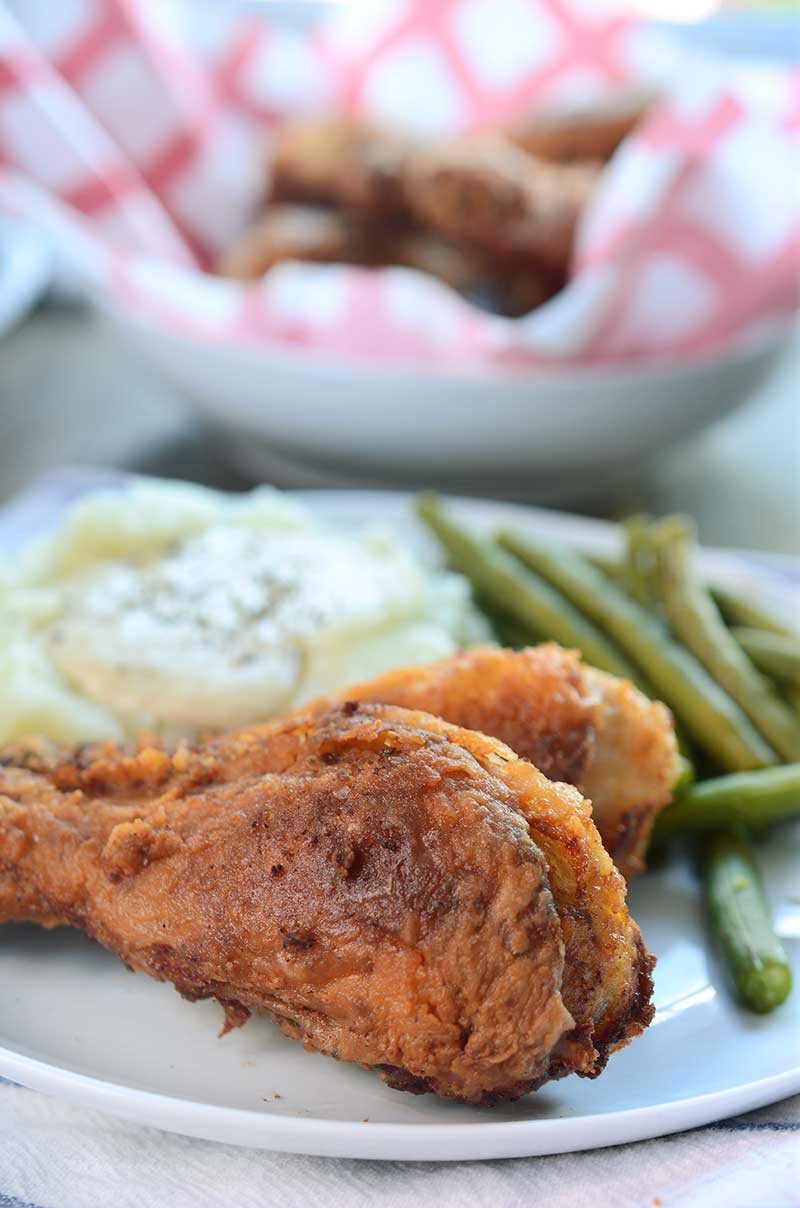 As far as the gravy goes, I just cannot watch all of those lovely fried pan drippings go to waste so gravy is a natural accompaniment to fried chicken for me. This pan gravy is pretty easy to make as far as gravies go. All you need to do is save some of the pan drippings from the fried chicken, whisk in some flour and add some milk, seasoning salt and pepper and you are good to go. It is a rich, creamy gravy that is great when poured over the chicken or some piping hot mashed potatoes.
Note: this post was originally published in 2009 and updated in 2016.

Buttermilk Fried Chicken Ingredients:
8 chicken drumsticks
2 cups buttermilk
1/2 onion sliced
3 cloves garlic, chopped
1 1/2 cups flour
2 tablespoons seasoning salt (I like Johnny's)
canola oil for frying
Gravy Ingredients
3 tablespoons reserved pan drippings

3 tablespoons flour

1 1/2 - 2 cups milk

1 teaspoon seasoning salt

1/2 teaspoon fresh cracked pepper
Instructions
1
Combine chicken, buttermilk, onions and garlic in a bowl. Cover and refrigerate 8 hours or overnight.

2
Preheat oven to warm setting.

3
Heat 1/2 inch of oil in a large heavy bottom skillet over medium heat.

4
Transfer chicken to a colander to strain buttermilk.

5
In a bowl combine flour and seasoning salt. Dredge chicken so that it is completely coated. Shake off excess flour.

6
Once the oil reaches 350 degrees place chicken in the oil and cover. Fry for 7 minutes. Turn chicken, cover and fry for another seven minutes. Remove cover and fry for 2 - 3 more minutes or until golden brown. You may need to do this step in batches as to not overcrowd the pan.

7
Transfer fried chicken to a cooling rack on top of a cooking sheet. Place in the oven to keep warm while you prepare the gravy.

8
Reserve 3 tablespoons of chicken pan drippings.

9
In the same pan that you fried the chicken in, whisk together the pan drippings and flour. Cook for 1 minute over medium heat. Slowly whisk in 1 1/2 cups of milk. Add seasoning salt and pepper. Cook until gravy thickens, stirring constantly. Add more milk if desired.

10
Transfer chicken to a serving platter. Season to taste with salt and pepper. Serve alongside gravy.
Notes
My accompaniments of choice were Creamy Mashed Potatoes and sauteed green beans. Be on the look out for the recipe for the beans. Enjoy!