A crisp refreshing Cabbage Salsa with cabbage, onion, tomato, cilantro, jalapeno and lime. 
I know some of you may be turning up your noses and saying "cabbage salsa?!" but bear with me. It's good. It's really good. It's crunchy. It's light. It's fresh. It is a nice change from traditional canned salsa. And even a nice change from your traditional tomato based fresh salsa. It's loaded with crunchy cabbage, fresh tomatoes, jalapeno, cilantro and lime. It's the perfect way for me to enjoy a little me time.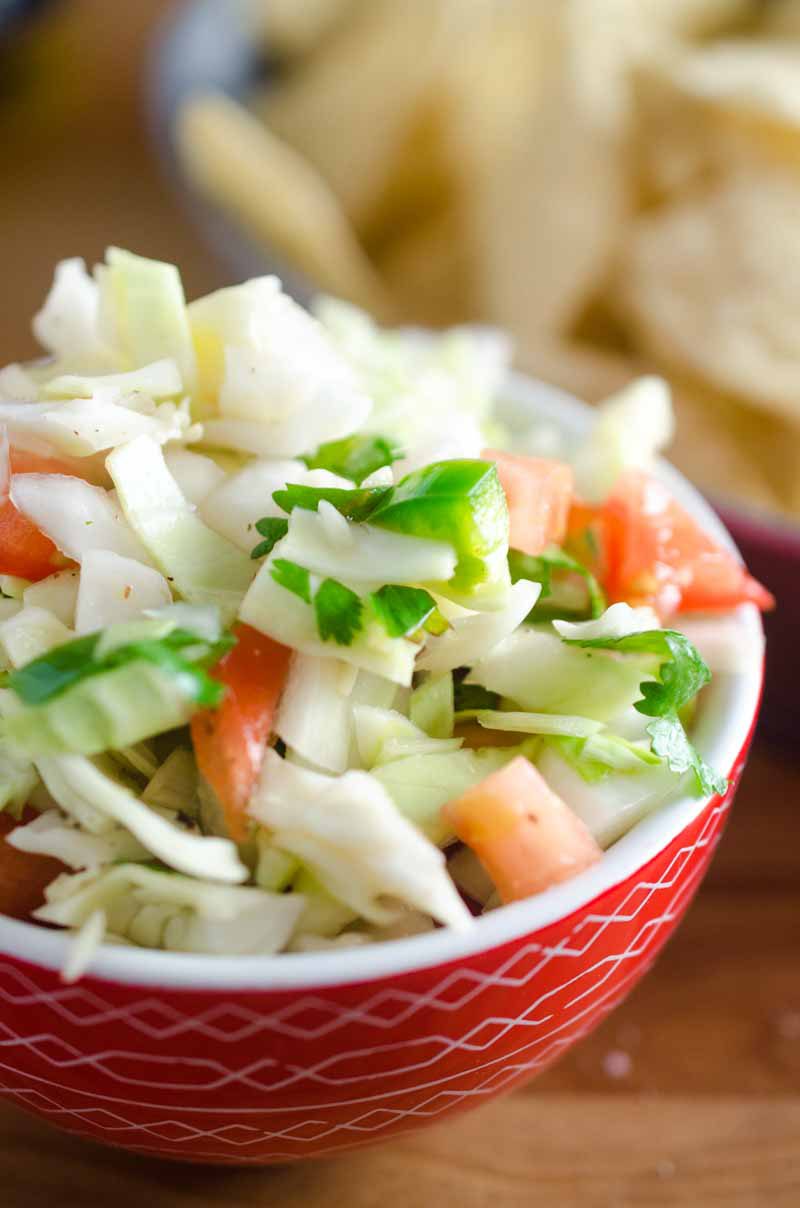 Let's talk about me time for a moment. I know you other parents out there can relate. Me time is few and far between, especially when your kids are little. But that just means that when you get it, you savor it a little bit more. It could be something as little as reading a few pages of a book. Watching an hour of trashy TV.
OR
Doing what I did on Wednesday.
On Wednesday my baby sister, one of my best friends since 3rd grade, her mama and I all hopped on the Portland Max and headed to the Moda center to see…
GARTH. Freaking. BROOKS.
Growing up country music was the music of choice in my home. My mom loved it. I, as a kid, kind of rebelled a little bit and claimed that I didn't like it. But I have always, always loved Garth Brooks. And ever since I was a little girl I wanted to see him in concert.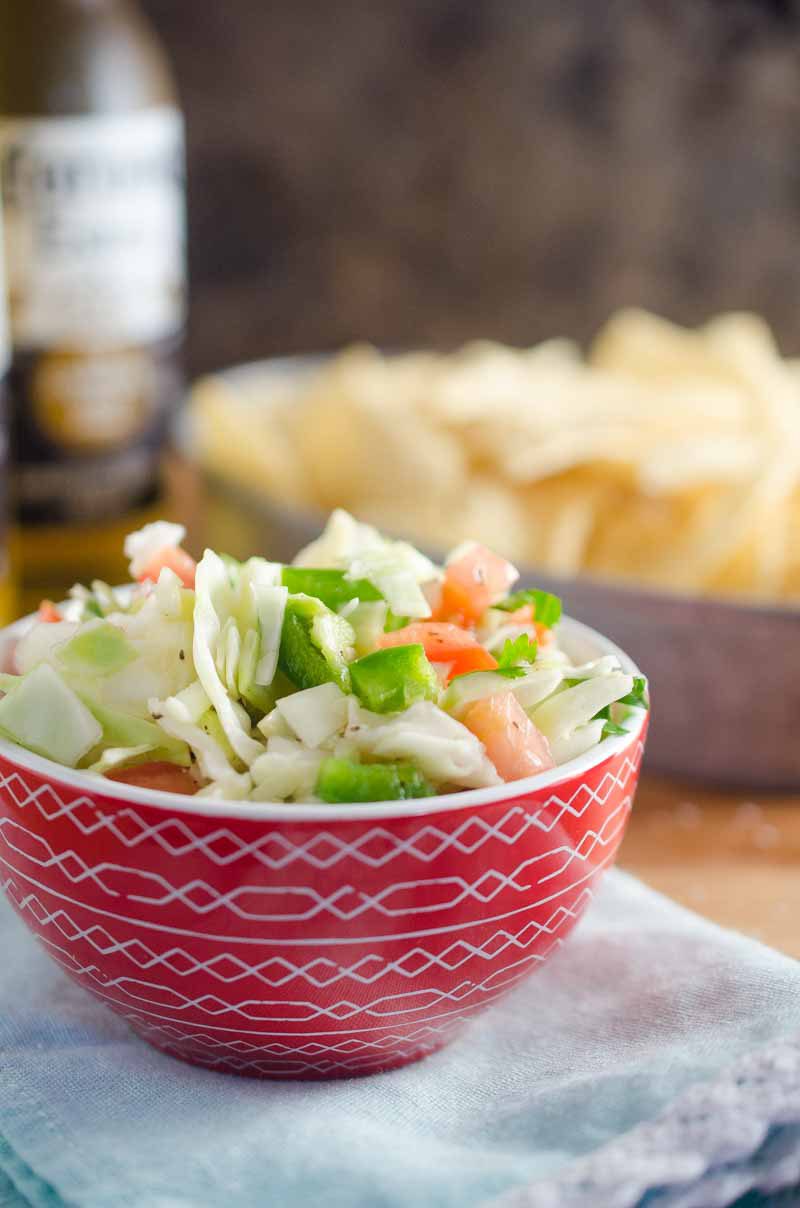 He hasn't been in my neck of the woods in about 20 years so when tickets went on sale for his concert at the Moda center I JUMPED on it. And he did not disappoint. It was amazing guys. So much energy. So much fun. It was seriously the best concert I have ever been to. He played. And played. And played. Seriously, he took the stage around 8 and the concert didn't end until 11. There were only two songs that I didn't know every single word to. Needless to say I was a little hoarse yesterday but it was oh so worth it. Totally the down time that this mama needed.
Alas, I can't alway sneak away to sing my heart out at a country concert. What I can do, however, is find little moments of me time throughout the day. My chips n' salsa time is my me time.
If I had to pick my favorite go to snack, it would hands down be chips and salsa. It is my favorite snack to grab when I get a second of mommy time. I sit down, open the chips and reach for the salsa and snack away. It may only be 5 or 10 minutes, but it's just the perfect amount of time to get the recharge that I need. And while I usually reach for a jar of my favorite habanero salsa, sometimes I want things a little less spicy, a little more fresh and and little bit on the crunchy side. This Cabbage Salsa is just that.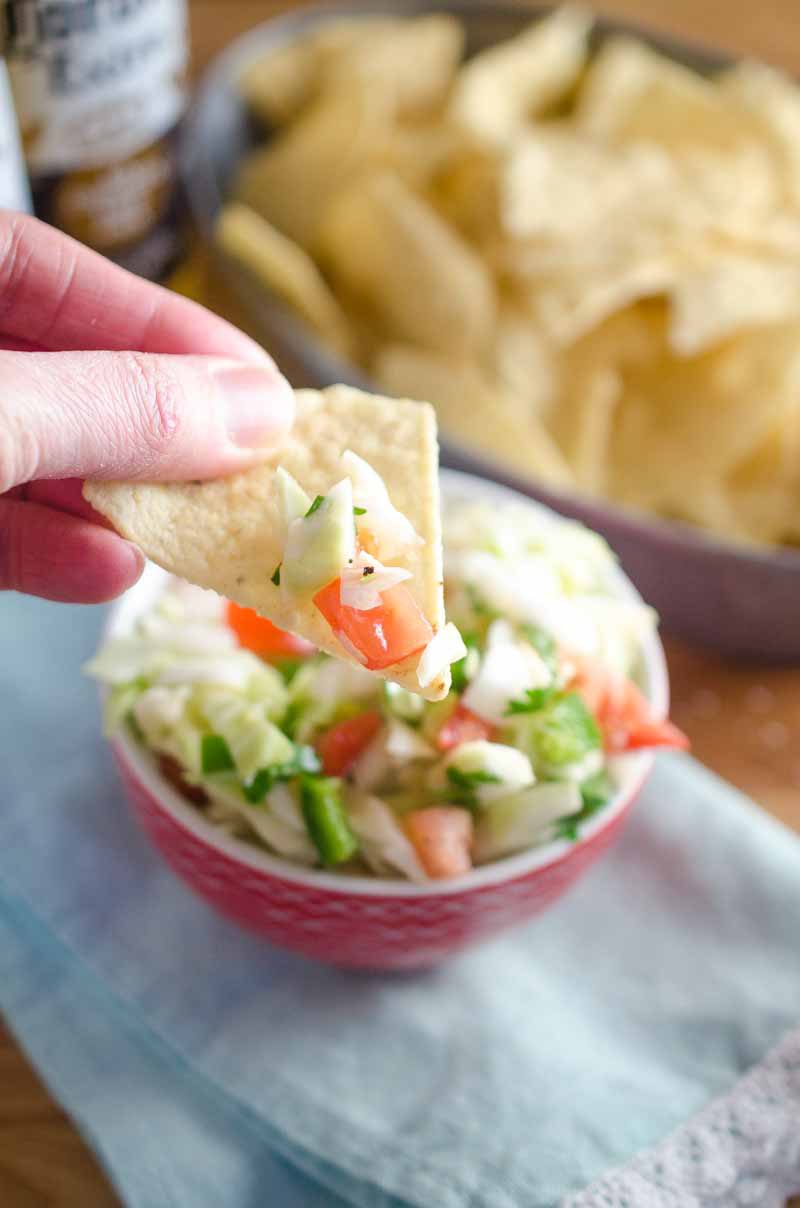 And totally me time worthy.
Ingredients:
2 cups shredded green cabbage
1/2 cup diced yellow onion
1/2 cup diced tomato
1/4 cup chopped fresh cilantro
1 jalapeno, diced
2 tablespoons lime juice
2 tablespoons red wine vinegar
1 garlic clove, minced
1/4 teaspoon salt
1/4 teaspoon black pepper
Instructions
1
Combine all ingredients together in a bowl. Cover and refrigerate for at least 1 hour. Adjust seasoning with salt and pepper, if needed.

2
Serve with tortilla chips.