Cannoli with Peppermint Mascarpone Filling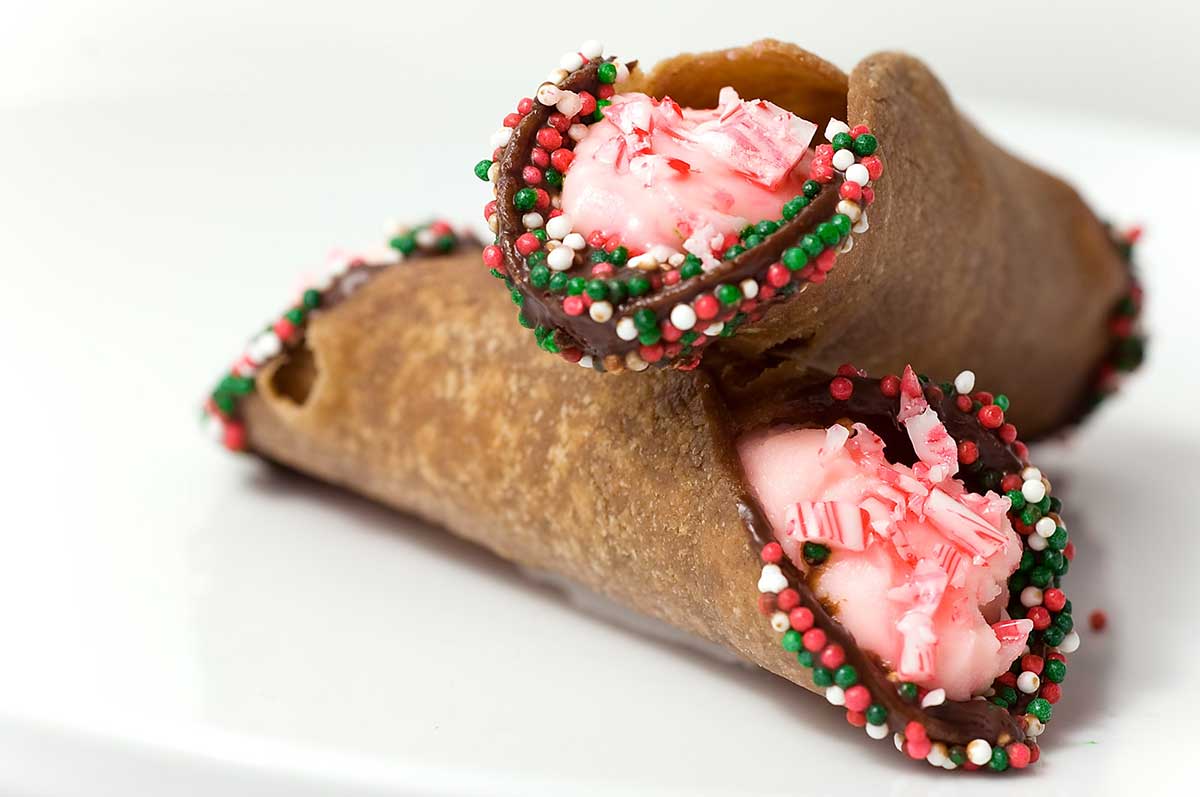 The November 2009 Daring Bakers Challenge was chosen and hosted by Lisa Michele of Parsley, Sage, Desserts and Line Drives. She chose the Italian Pastry, Cannolo (Cannoli is plural), using the cookbooks Lidia's Italian-American Kitchen by Lidia Matticchio Bastianich and The Sopranos Family Cookbook by Allen Rucker; recipes by Michelle Scicolone, as ingredient/direction guides. She added her own modifications/changes, so the recipe is not 100% verbatim from either book.
I was really excited when I saw this month's challenge, I had always wanted to try making cannoi at home. I didn't have any cannoli forms but found some at a local kitchen supply store for $4.  Considering I how much I enjoyed this recipe, I am pretty confident they will more than make up for the small cost.
When I checked the calendar I realized that posting day was going to fall on the day after Thanksgiving so I decided to go with a Christmas theme. I dipped the cannoli in a couple of ounces of melted dark chocolate and then dipped them in sprinkles. I let them sit for a few minutes and then filled them with Peppermint Mascarpone Filling. It was deliciously Christmas-y.
Since I was using dark chocolate for the dipping I decided that I would use red wine instead of white wine for the dough. Thus, my cannoli were a little darker than usual but they were still scrumptious. Lisa Michele noted in the original challenge that for those who don't like to cook or bake with alcohol – grape juice, cranberry juice, pomegranate juice, apple juice..any sweet juice of a fruit, especially ones used in or to make wine, can be substituted. Just add a little more vinegar to insure you get enough acid to relax the dough.
Due to time, I only cooked half of the dough and refrigerated the rest. If you cook the whole thing double the peppermint filling recipe.
I was very pleased with the results of this cannoli. I think I will use the left over dough to try a savory version. And one last note, if you've got people in your household who can't eat dairy have no fear, we even made some for my lactose intolerant friend. We skipped dipping hers in the chocolate and substituted dairy free cream cheese for the mascarpone. The results were just as delicious.
Now, who's ready for the Holidays?