Chorizo meatloaf with Chipotle queso sauce is chock full of spicy chorizo and Mexican spices, then topped with a decadent cheese sauce. It's a spicy comfort food dinner!
I have been holding onto this little gem of a meatloaf recipe for a while now. And believe me, it is a gem. If you thought you loved meatloaf before, just wait until you try chorizo meatloaf. And if you think that you don't like meatloaf, this is totally a game changer. It's 11:45PM, I just ate an amazing dinner not too long ago and would consider myself stuffed, yet I am 100% sure that if I had some of this Chorizo Meatloaf with Chipotle Queso Sauce in my refrigerator, I'd be warming it up.
Seriously, guys, you need this kind of comfort in your life ASAP.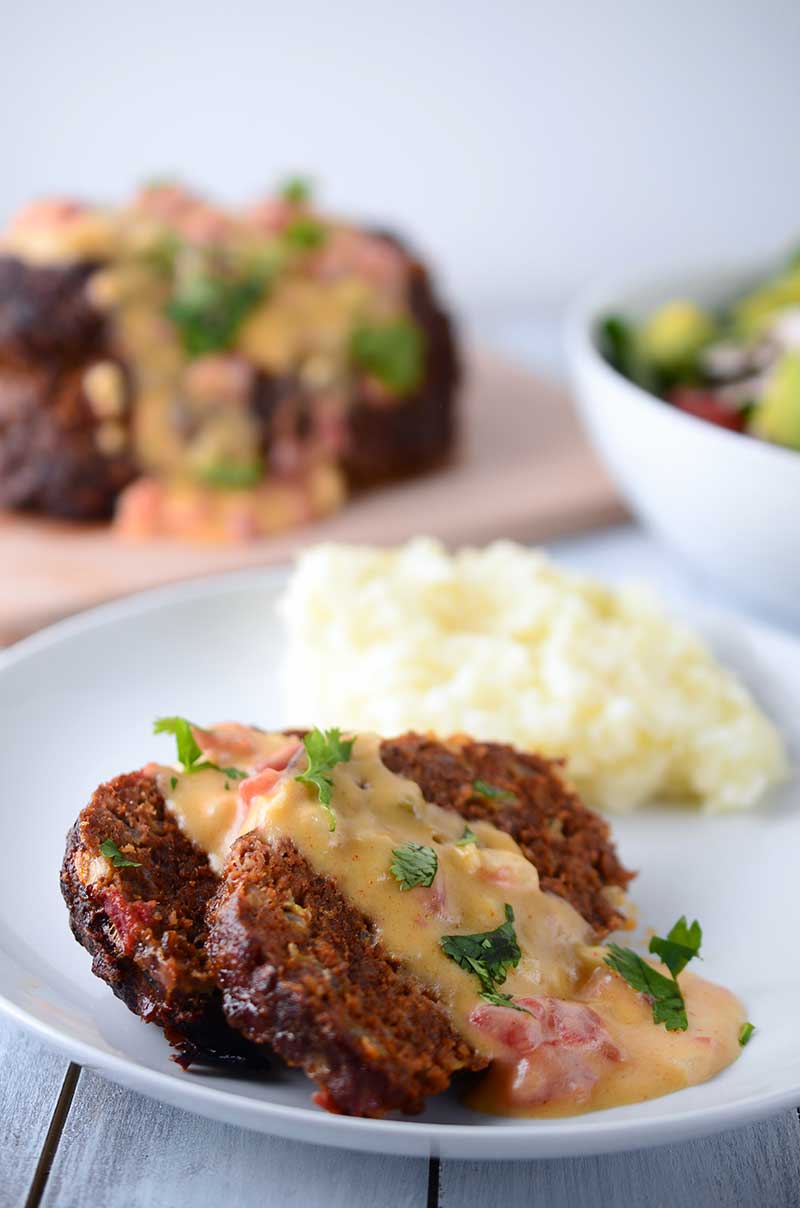 Fall starts next week. Who else is excited? I actually can't wait for the cool weather to kick in. We've had a hot summer here in Seattle.
Well, hot by Seattle standards anyway. (read: several days above 85 but nowhere near 100)
Don't get me wrong, I've enjoyed it. And I won't ever complain about getting sunshine here. But every year come September, I'm ready for that shift. The cooler weather. The changing leaves. Any excuse to wear sweaters and boots. And by September, I'm not going to lie, I'm also ready for a little bit of rain. It's just the Pacific Northwesterner in me I guess.
Aside from the cool crisp days and the orange leaves, fall is my favorite time of year because when the weather cools down and the rains come in, that means it's time to make comfort food. Down home, stick to your ribs, make you sleepy comfort food. And comfort food, my friends, is my favorite thing to make.
And that is exactly what this Chorizo Meatloaf with Chipotle Queso Sauce is; pure comfort on a plate.
Serve the meatloaf along with some chipotle cheddar mashed potatoes or Spanish rice and you're in for a treat.
Oh, and bonus; it makes killer sandwiches the next day. :)
Meatloaf Ingredients:
1 pound lean ground beef
1 pound ground chrozio
1/2 medium yellow onion, diced
3 cloves garlic, minced
1 teaspoon ground cumin
1 egg, beaten
2/3 cup panko bread crumbs
1/2 can Ro*Tel Original, drained
Queso Sauce Ingredients:
1 tablespoon olive oil

2 tablespoons minced shallots

1 clove garlic, minced

1 tablespoon plus 1 teaspoon flour

3/4 cup milk

1/4 teaspoon ground cumin

1/4 teaspoon salt

1/4 teaspoon chipotle powder

1 cup shredded extra sharp cheddar

1 cup shredded medium cheddar

1/2 can Ro*Tel Original, drained

1/4 cup chopped cilantro (optional)
Instructions
1
Preheat oven to 350 degrees.

2
In a bowl combine all meatloaf ingredients together. Mix well. Place on a baking sheet and form into a loaf. Bake in preheated oven for 60 - 75 minutes or until a thermometer inserted reaches 165 degrees.

3
About 20 minutes before meatloaf is to be done, start the queso sauce. Heat olive oil in a pan over medium heat. Add in shallots and garlic. Cook just until shallots start to soften and garlic is fragrant, about 1 minute. Whisk in flour. Allow to cook 1 minute. Whisk in milk, cumin, salt and chipotle powder. Whisk in cheeses and cook until sauce thickens and cheese has melted. Whisk in Ro*Tel. Reduce heat to low to keep warm until meatloaf has finished cooking.

4
When meatloaf has finished cooking, transfer to a serving platter, slice, spoon queso sauce over the top and sprinkle with cilantro. Serve.