Chorizo Skillet Nachos with Habanero Chimichurri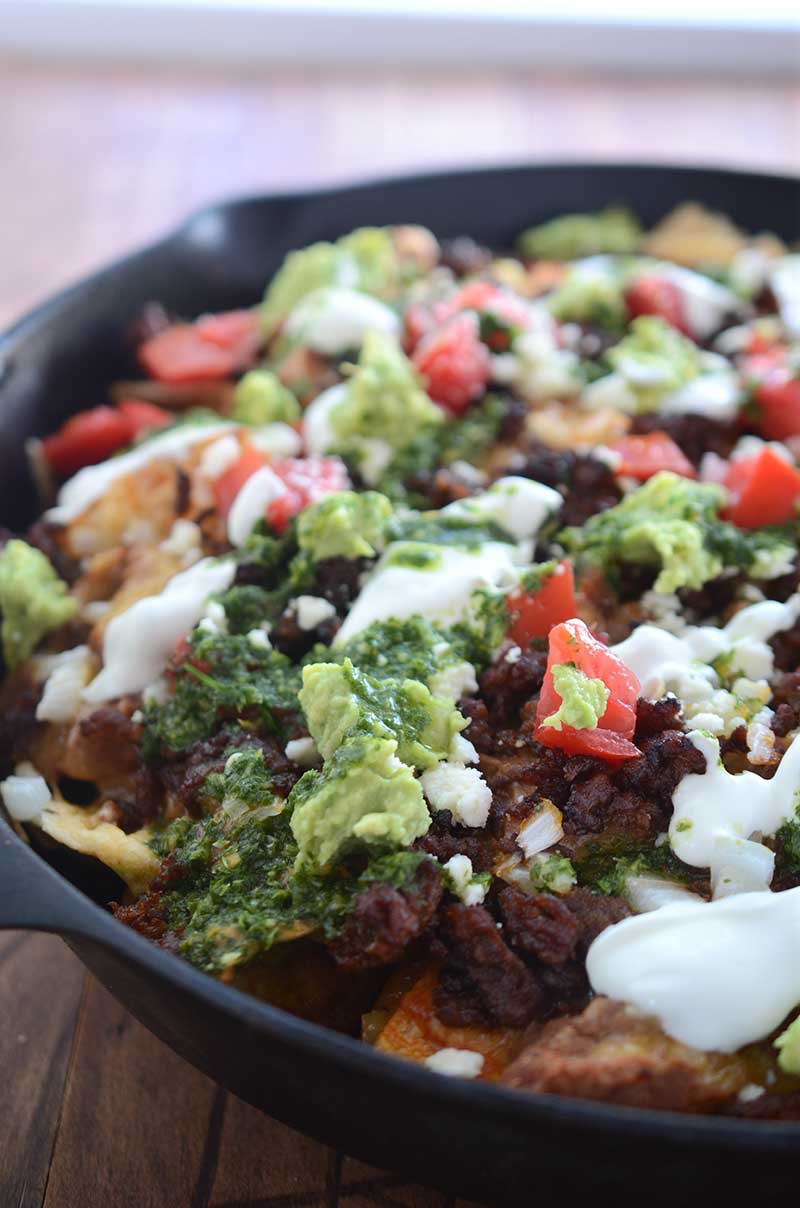 Chorizo Skillet Nachos are fully loaded with chips, refried beans, cheese, chorizo, guacamole, sour cream, onions, tomatoes and drizzled with Habanero Chimichurri. Game day eats perfection!
What is your favorite thing to order when you go out to a Mexican restaurant? Tacos? Enchiladas? I love both of those but put a huge plate of fully loaded nachos in front of me and I am a happy lady. Put these Chorizo Skillet Nachos with Habanero Chimichurri in front of me and I just may be your best friend for life.
First, let's talk about this chimichurri. Chimichurri is one of my favorite condiments. Traditionally you'll see it drizzled over some grilled steak or chicken.  Recently, I drizzled a little bit of leftover chimichurri over some chorizo nachos and a lightbulb went off.
It was good. Really, really good.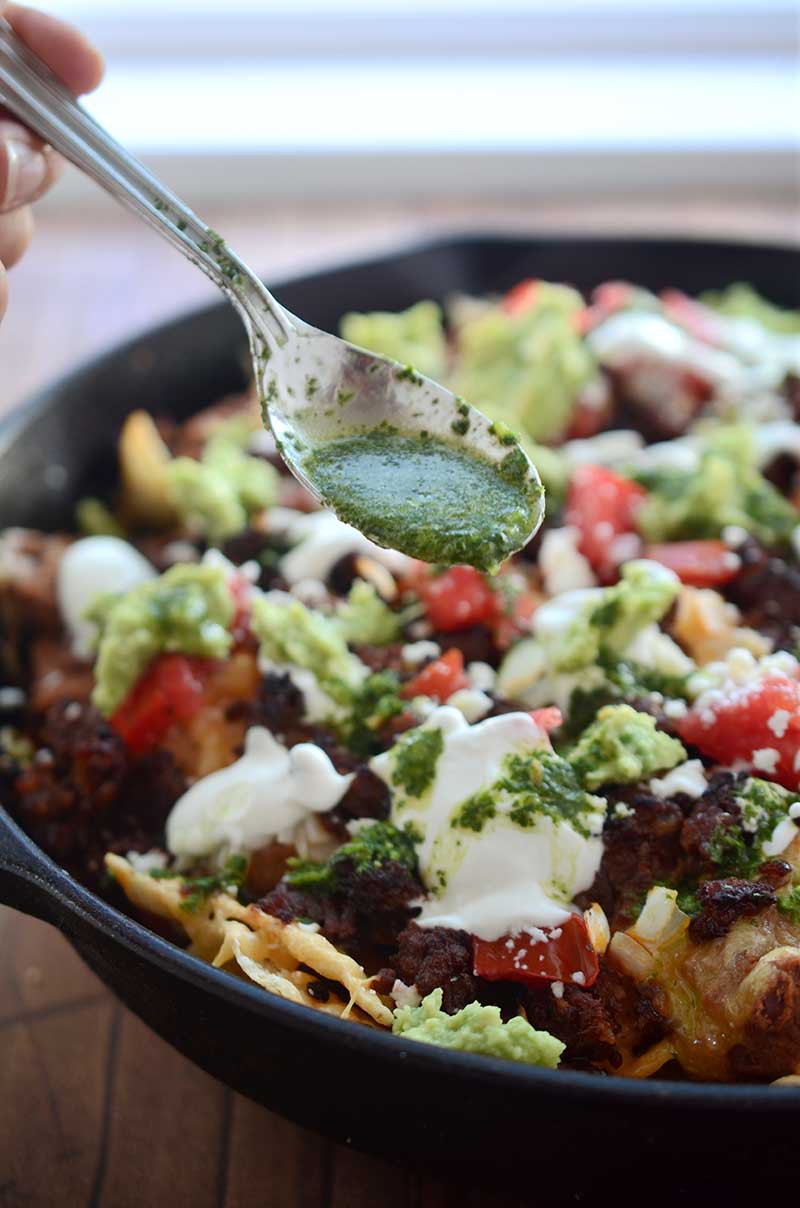 Traditional chimichurri is pretty much the bees knees but I wanted to spice things up a bit with this version. To do that, I added a habanero pepper to the mix. I loved the amount of heat it added. Not enough to make your eyes water but enough to give it a little kick.
Now, let's talk about these Chorizo Skillet Nachos.
Have you made skillet nachos before? I love making them in a skillet because you can really pile all the goodies on. Take these Chorizo Skillet Nachos for instance. They are packed to the brim. There is cheddar cheese, refried beans, chorizo, onion, fresh tomatoes, guacamole, sour cream, cotija cheese and of course, the habanero chimichurri. Finally, for some zing, a squeeze of fresh lime juice.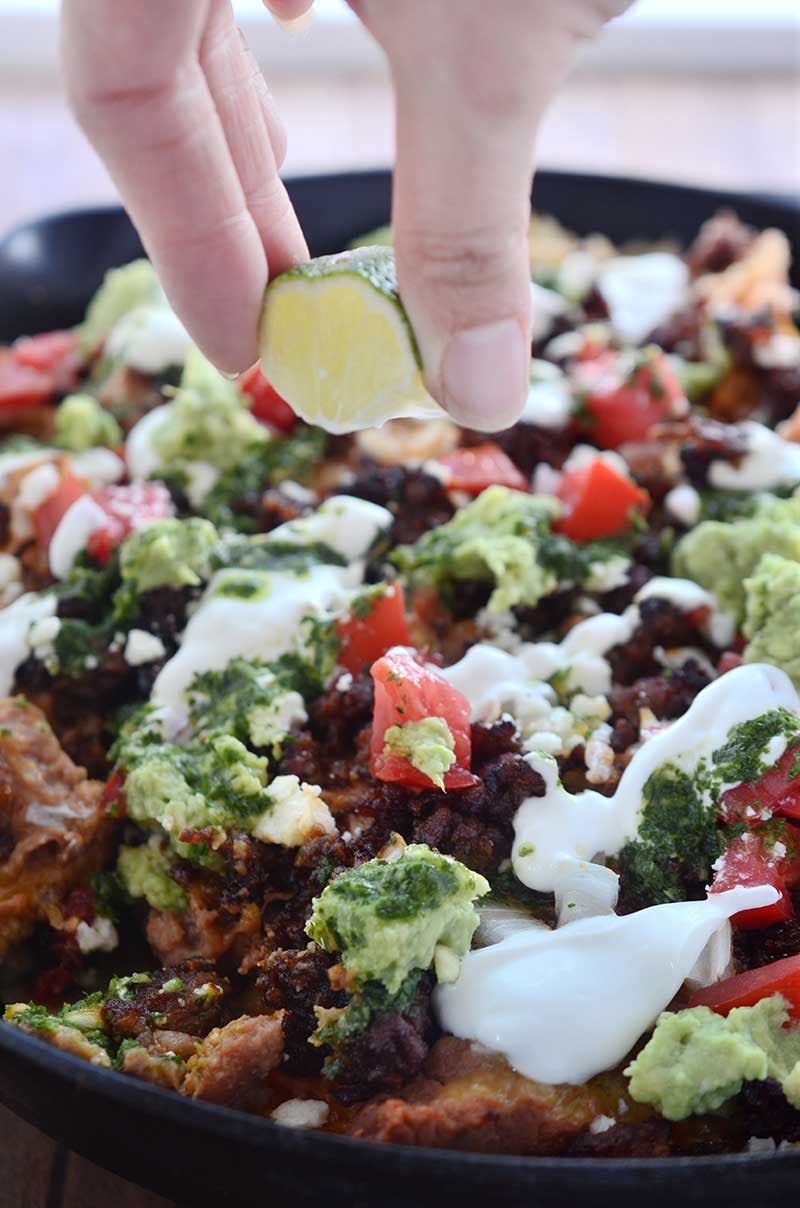 So. Much. Goodness.
One last thing: This chimichurri recipe makes about 1 cup of sauce. You won't need that much for the nachos but I used it for other things like chips and salsa, drizzling over meat and, you know, eating with a spoon.