Greek Stuffed Artichokes
HELLO SPRING! It has been sunny and *somewhat* warm here in Seattle this week with a forecast of 70 by Friday. YAHOO! It's really starting to feel like spring is here and I am ready. I'm ready for maxi skirts and sunshine, flowers and chirping birds. Perhaps I am most ready for light and scrumptious spring recipes. Recipes for things like these Greek Stuffed Artichokes. 
While at the grocery store the other day I was struck with some inspiration when I saw some GORGEOUS artichokes. Sure I could roast them or grill them but I wanted to try something I hadn't before. Enter these Greek Stuffed Artichokes. They are loaded with tomatoes, garlic, capers, feta, parsley, oregano, olive oil, bread crumbs and kalamata olives.
Confession time: I've wanted to make stuffed artichokes for a long time but I've been intimidated. I don't get intimidated by much in the kitchen but stuffed artichokes.
As are oysters, but I'll save those for another time.
But guys, stuffed artichokes aren't nearly as hard to make as I thought they would be.
First, you've got to prep them. This is the most intimidating part. But it's actually pretty easy.  All you need to do is cut off the top inch of the artichoke, clip the pointy leaves and dunk the whole thing in lemon water before you steam it. Here's a tutorial incase you need a visual. After you've prepped and steamed the artichoke, then you stuff it. It's easier to stuff the artichoke after it's been steamed. After you steam the artichoke, the center leaves and fuzzy choke will be easier to remove. Once steamed, fill the center of the artichoke and some of the outer leaves with stuffing, bake for 15 minutes and BOOM! A delectable, not to mention pretty,  Greek Stuffed Artichoke.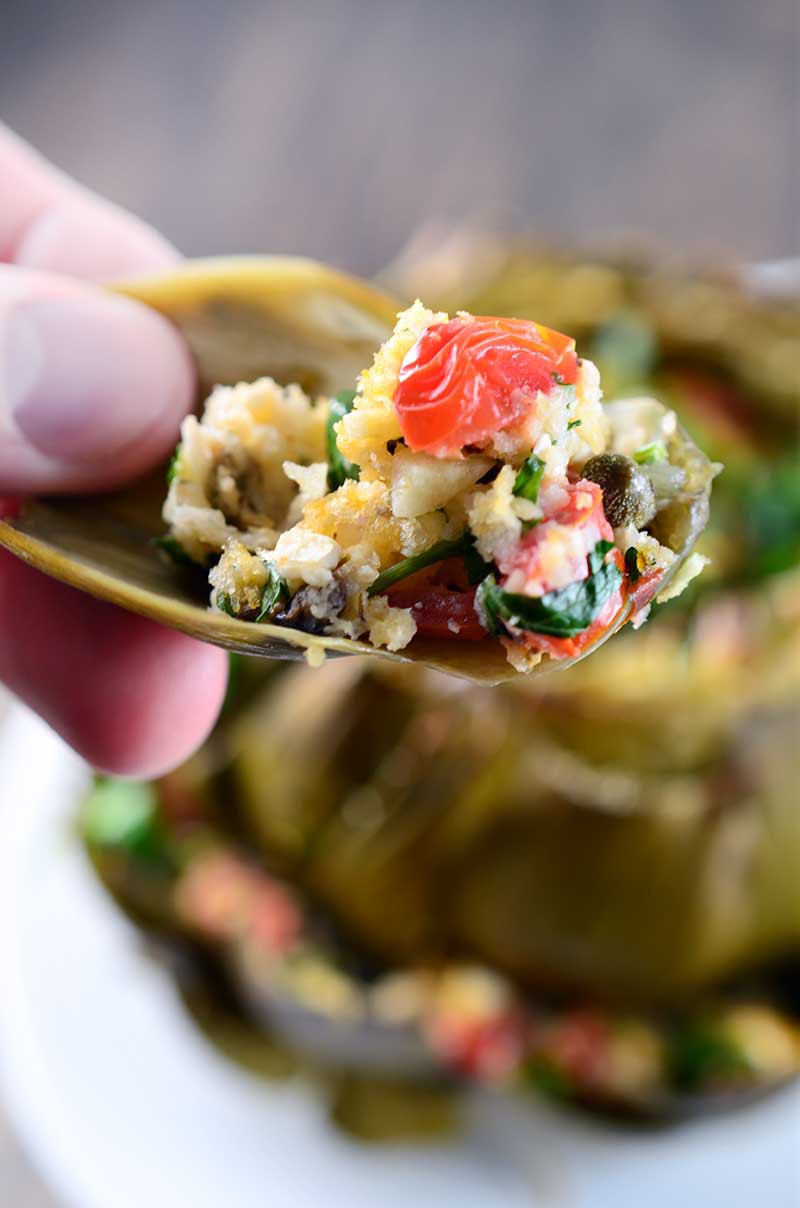 Now that I'm a bit more comfortable with the whole stuffed artichoke thing, I can't wait to try a whole host of other fillings. And now that I can cross "stuffed artichokes" off my list of intimidating kitchen things, maybe I'll give oysters a whirl.
Maybe.