Hi all! It's Patricia here from Grab a Plate.  I was thrilled when Des reached out and asked if I'd like to share some of my recipes with you all here on her fabulous site! How could I say no? I hope you'll enjoy my recipes, like this one for Greek-Style Pizza Muffins. I try to make each meal memorable with uncomplicated dishes made from quality ingredients.
Greek-Style Pizza Muffins make a fun snack served warm…or not! They're filled with veggies and cheese, and that makes them super tasty. If you'd like to make them even more pizza-like, serve them with a side of marinara sauce for dipping.
Muffins aren't always sweet or stuffed with fruit and oats, and these Greek-Style Pizza Muffins are a perfect example. I used a basic muffin recipe as the base for these goodies, and they "go Greek" with the addition of feta cheese, black olives, and red bell peppers. If you like savory muffins, check out my recipe for Kale, Corn, and Pancetta Muffins! 
Greek-Style Pizza Muffins make the perfect grab-and-go snacks. I love swiping one (or two) in the morning as I'm headed out the door, but they're also just the thing to toss into lunch boxes, and they hit the spot as a snack after school or after running errands.
Think of the ways you could personalize these muffins to fit your tastes: don't like red bell peppers? Leave them out. Or swap in zesty red onion pieces for the green onion. Use fresh garlic instead of dried. You get the picture!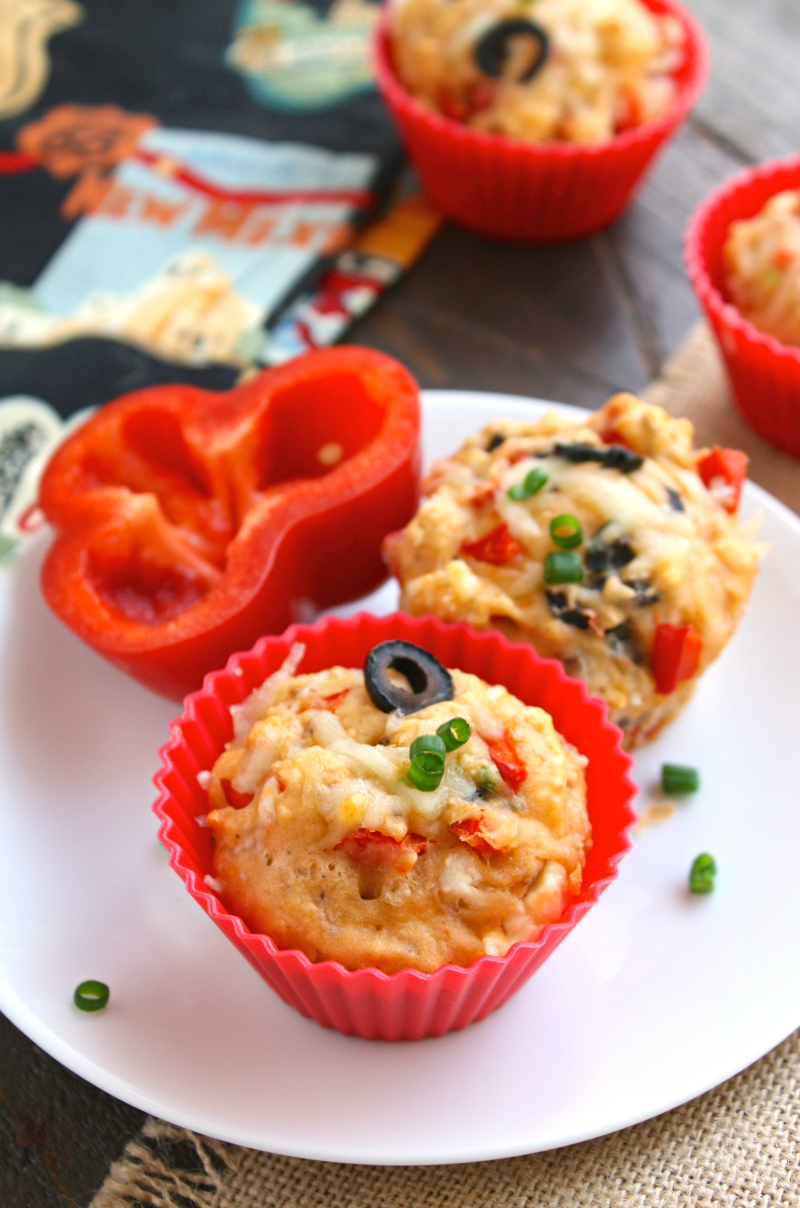 There are so many options you can try: Italian and Mexican versions quickly come to my mind, as well as a Hawaiian version with pineapple and ham or bacon. See what I mean – so many possibilities!
I like Greek-Style Pizza Muffins a little on the spicy side, so I add a bit more of the red pepper flakes, but if you're serving them to kids, you might want to take a lighter touch.
If your household is like mine, pizza always goes over with flying colors, both with kids and adults. Here's your chance to switch things up in the a.m. or p.m., and try a pizza-inspired muffin.
Greek-Style Pizza Muffins are great to have on hand as an easy-to-make snack everyone will love. Serve them with marinara sauce on the side and watch them disappear!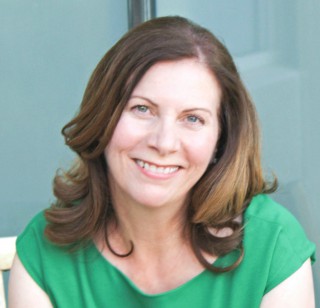 Connect with Patricia ~ Blog ~ Facebook ~ Pinterest ~ Instagram ~ Twitter
Ingredients:
2 cups all-purpose flour
1 teaspoons baking powder
1/2 teaspoon salt
1/2 teaspoon sugar
1/2 teaspoon dried minced garlic
1/4 teaspoon ground black pepper
1/4 teaspoon red pepper flakes
1/4 teaspoon dried oregano
1 egg
3/4 cup milk
3 tablespoons marinara sauce
3 tablespoons shredded mozzarella cheese, plus extra
2 tablespoons crumbled feta cheese
3 tablespoons black olives, rough chopped
2 tablespoons red bell pepper, diced small
1 green onion, ends trimmed, chopped
Nonstick cooking spray
Instructions
1
Preheat the oven to 400 degrees F. Line a regular-sized muffin tin with silicon liners, or if you don't have them, spray the wells of the tin with the nonstick cooking spray. Set aside.

2
In a large bowl, combine the flour, baking powder, salt, garlic, black pepper, red pepper flakes, and oregano. Use a whisk to mix the ingredients together thoroughly.

3
In a separate large bowl, add the egg and beat lightly. Add the milk, the marinara sauce, the mozzarella and feta cheese, then fold in the olives, bell pepper, and green onion. Mix to combine.

4
Add the dry mixture to the wet mixture, a little at a time. Mix until the ingredients are combined, but take care not to overmix.

5
Spoon the batter evenly into each muffin liner (or well of the tin), 3/4 of the way to the top.

6
Bake in the middle rack for 15-18 minutes, or until the tops are lightly golden and a toothpick inserted into the center of a muffin comes out clean.

7
I added a tiny bit of mozzarella cheese to the tops of each muffin when I took them out of the oven.

9
Serve warm or at room temperature, and with extra marinara sauce for dipping (optional).