Pumpkin Cake with Amaretto Cream Cheese Frosting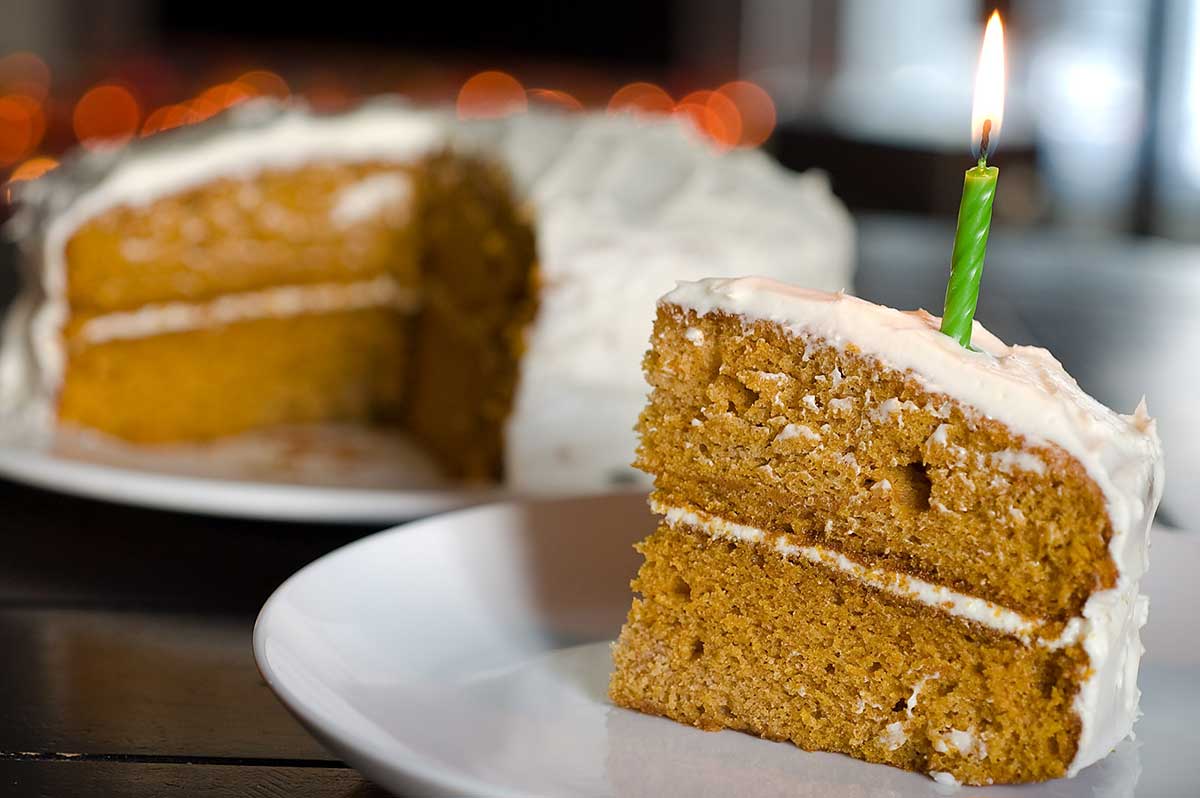 You may be wondering why this cake has a candle in it. While I will say hello to the latter half of my 20's on Friday, that is not the reason. This cake has a candle in it because exactly one year ago today I posted my very first post on Life's Ambrosia. I can't believe that it has already been a year. And I could not think of a better way to celebrate this occasion than with a super moist pumpkin cake with delectable Amaretto cream cheese frosting.
When this blog was started on October 7, 2008 it was a bit of a smorgasbord, if you will, of topics. And there were actually two writers. We had so many ideas in our heads of what we wanted to do. We wanted to write about food and travel. We were going to have a section about wine, our favorite books and daily quotes. Like I said, a smorgasbord.  About a month after starting the blog,  my friend decided that it wasn't the right fit for her. However, we had the domain name for at least a year  so I figured what the heck, why not keep it going? After a few weeks of rather sporadic posting, I finally got into a groove. The cooking, the writing, the picture taking, it all became a part of my (and Ryan's) everyday life. The smorgasbord of topics was whittled down and the blog became a lot more food focused. After a whole lot more cooking, one new camera and a fresh new design the blog evolved into what you see today.
Despite all of the cooking and writing that I do,  this blog would not be what it is today without the help of others. First of all, I want to say thank you to my dear husband Ryan. We make a great team. Without your awesome web design and photog skills as well as your willingness to try just about anything I cook, I would probably be spending a lot less time in the kitchen and a few more hours watching SVU reruns. I want to say thank you to my family and friends who have given me tons of inspiration, recipe ideas, tips and memories along the way. And I cannot forget you, my readers. I want to thank you for your wonderful comments and the heads up when you find typos.  Thank you for reading every day and thank you for joining me on my journey as I explore my passion for food. It's only just getting started.
And now…Let's eat cake