Tomorrow's the day! I know that most of you probably already have your menu planned but if you are looking for one last minute appetizer then these Rosemary and Cranberry Turkey Rollups are where it's at. A spread made of rosemary, cranberries and cream cheese is spread on deli turkey, rolled up and cut into bite size pieces. They are the perfect little bite to get you ready for the big feast.
I got this idea from a recipe that my dad would make when we'd visit him for Thanksgiving. He'd always have a plate of ham and cream cheese roll ups. So simple. Just cream cheese, a green onion all rolled up in ham and then sliced into bite size pieces. It was one of my favorite Thanksgiving appetizers.
As Thanksgiving approached, I started thinking about that appetizer  and then remembered one of my most popular recipes when the holidays roll around: Rosemary and Cranberry Spread. And I thought that instead of ham, wrapping the spread in turkey would make a great little bite. That's when these Rosemary and Cranberry Turkey Rollups were born. They are a little sweet, a little savory and all kinds of delicious.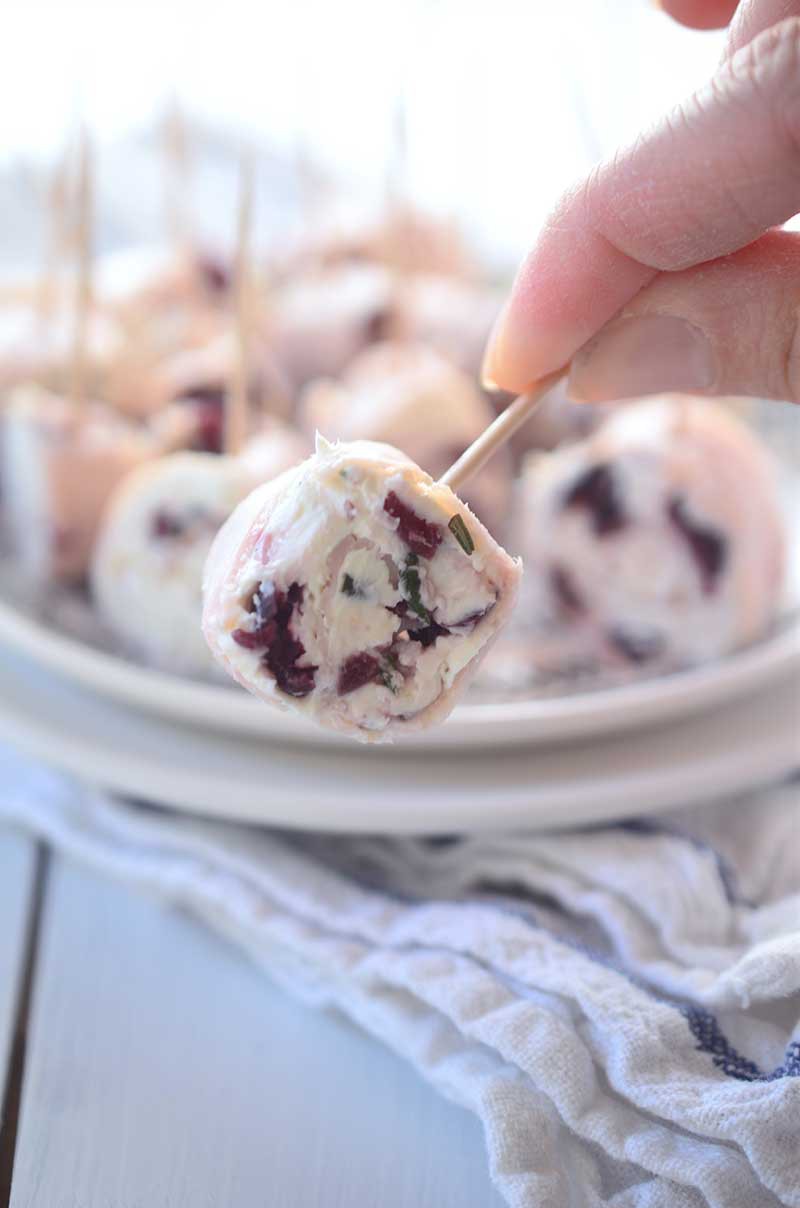 These couldn't be easier to make. I just have a few tips. You want the turkey meat to be a little thicker. Not the super thin deli meat. You just want it to be thick enough that when you roll it the cheese won't cause the turkey to tear. Another tip is to make sure that the cream cheese mixture is nice and soft when spreading it on the turkey, this is to also prevent tears. Also, after you get them all rolled up, chill them for about half an hour before slicing. They slice much easier when they are firm. And finally, this can easily be doubled if needed!
That's it! Pretty easy huh?
Delicious Rosemary and Cranberry Turkey Rollups aside, I hope you all have a wonderful Thanksgiving full of family, friends and of course lots of yummy food! xoxo -Des

Ingredients:
4 ounces cream cheese, softened
1/4 teaspoon garlic powder
2 tablespoons dried sweetened cranberries
1 teaspoon chopped fresh rosemary
fresh cracked pepper and kosher salt
3 - 4 slices deli turkey
Instructions
1
Combine cream cheese, garlic powder, cranberries and rosemary together in a bowl. Mix well. Season to taste with salt and pepper.

2
Spread a thick layer of the mixture on a slice of deli turkey and then roll away from you. Repeat with remaining ingredients.

3
Place roll ups in the refrigerator for about 30 minutes to firm up.

4
Slice into 1 inch pieces. Serve.