I knew that I wanted to get one more Memorial Day dish up before the weekend so that you had some time to add it to your menu. And I knew that I wanted it to be a pasta salad but it took me a while to figure out what kind of pasta salad I wanted to share. Then I started thinking. What are my favorite BBQ foods? I love the burgers, the hot dogs, the watermelon, the seven layer dip, the macaroni salad. That is when it hit me!  Seven Layer Dip Macaroni Salad. It's the best of both worlds and you and your family and friends are sure to love it. I know we did.
When I sat down to create this Seven Layer Dip Macaroni Salad I wrote down all of the ingredients in a traditional seven layer dip. You've got your refried beans, your guacamole, your sour cream/mayo/taco seasoning mixture, tomatoes, olives, green onions and cheese. Looking at the list, I knew that I was going to have to make a few modifications if I was going to turn this into a pasta salad. First, I knew that the "dressing" for the salad was definitely going to be the sour cream/mayo/taco seasoning mixture, which in all honesty is my favorite part. Then I got to thinking that refried beans wouldn't really work well in a pasta salad so I decided to substitute whole black beans. Instead of guacamole, I decided to use diced avocado. And while you could certainly use shredded cheddar cheese, I wanted some bigger chunks of cheese so I used diced cheese.
This Seven Layer Dip Macaroni Salad came together really quickly. And as much as I wanted to dive right in, I thought that waiting would make it taste even better. So I covered it. Put it in the fridge and waited a couple of hours.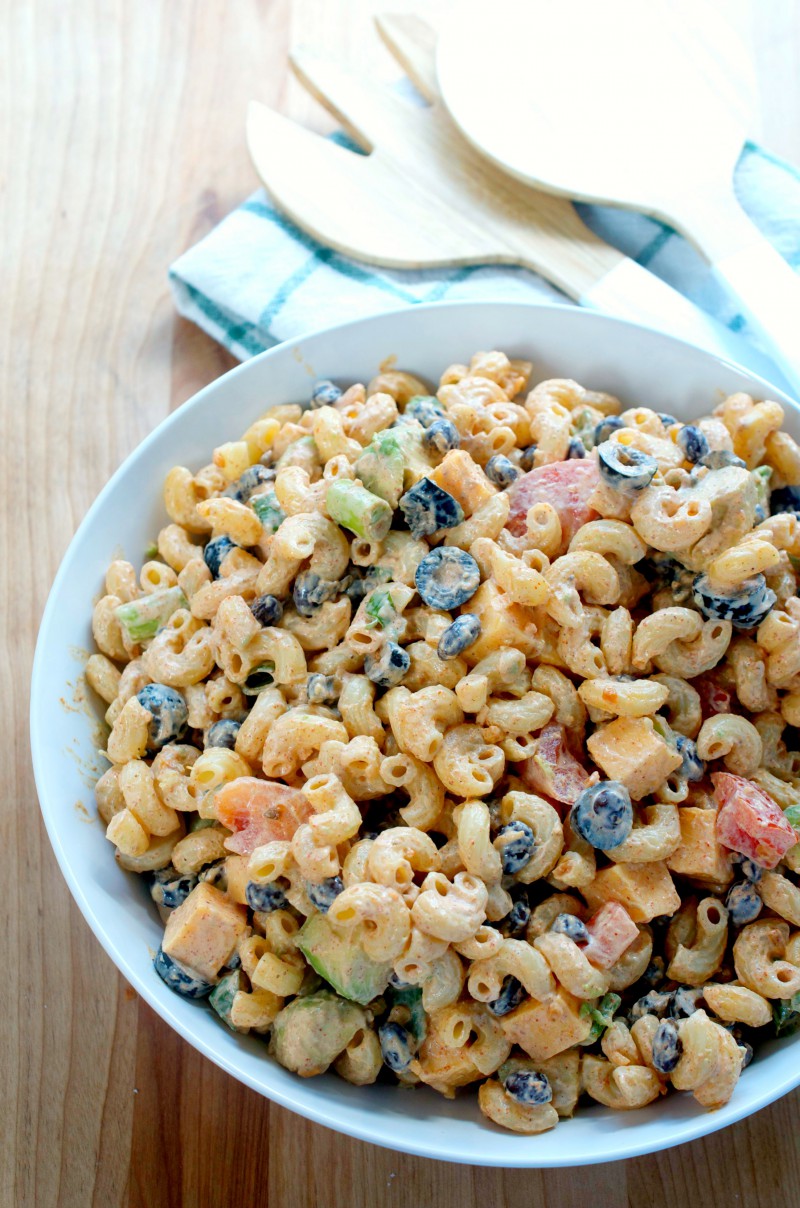 Boy am I glad I did. The flavor babies that this Seven Layer Dip Macaroni Salad made are unbelievable. And it will be the perfect addition to your Memorial Day spread this weekend!
Update: this post was originally posted in 2014 but was updated with new pictures in May 2016.

Ingredients:
2 1/2 cups dried elbow macaroni
1/2 cup mayonnaise
1/2 cup sour cream
3 tablespoons taco seasoning
1 (15 ounce) can black beans, rinsed and drained
1 1/2 cups diced tomatoes
1 cup diced green onions
1 cup diced cheddar cheese or 2 cups shredded cheddar cheese
1 ( 6 oz) can sliced black olives
2 avocados, diced
salt
Instructions
1
Bring a large pot of water to boil. Cook pasta according to package directions. Drain and rinse with cool water.

2
Meanwhile, whisk together mayonnaise, sour cream and taco seasoning.

3
Add in black beans, diced tomatoes , green onions, cheddar cheese, black olives and diced avocados. Stir in macaroni. Toss to combine. Cover and refrigerate for at least one hour. Adjust seasoning with salt if desired. Serve.
Notes
Note: This can be made a day ahead, but wait to add the avocado until just before serving.

Enjoy!