Slow cooker Italian beef sandwiches are the perfect party food for a large crowd. This easy slow cooker recipe is the food that game day fans crave!
Happy Monday! I hope you all had a wonderful Valentine's Day weekend. Ours was pretty mellow, just the way we like it. And now, as the busy work week starts again, I've got the perfect meal to toss in the slow cooker before you head out in the morning: Slow Cooker Italian Beef Sandwiches.
We make a lot of Slow Cooker Pulled Pork around here. Which means that we eat lots of pulled pork sandwiches. Why I never thought to give Slow Cooker Italian Beef Sandwiches a try until now is beyond me.
I love all of the goodies piled on these things. You've got the toasted bun. The tender, slow cooked Italian beef. A slice of smoked provolone cheese.  As well has heaping portions of pepperoncini, giardiniera and spicy pickles. Really, what it comes down to is that there is a whole lot to love about these Slow Cooker Italian Beef Sandwiches.
And it all starts with the beef.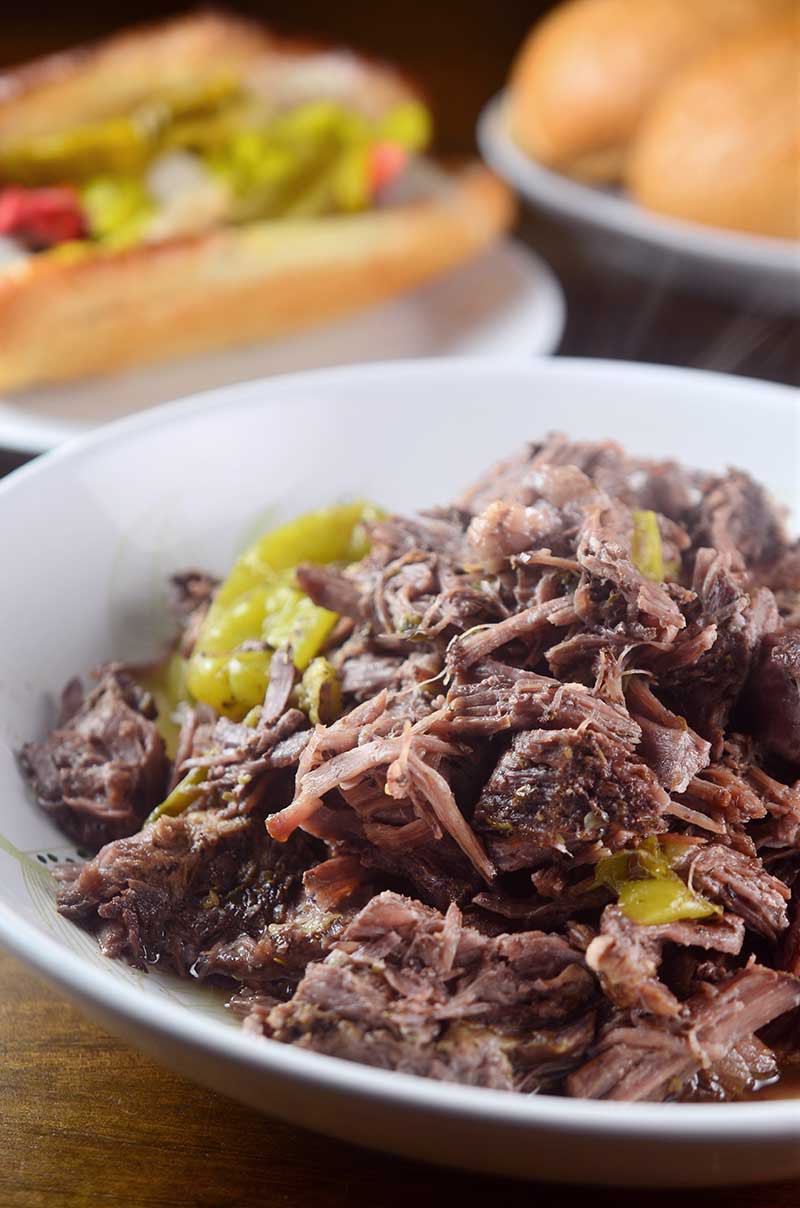 To make slow cooker Italian beef sandwiches, you're going to want to use a chuck roast. The same roast that you'd use if you were making a pot roast.
Then you'll want to season the roast generously with salt, pepper and Italian seasoning. Finally, you place it in your slow cooker, scatter some pepperoncini over top, pour in some beef broth and juice from the pepperoncini and let it cook until it is melt in your mouth tender.
Now, the beef is pretty good just like this. I should know, I snacked on it quite a bit as I was putting the sandwiches together. But, this is a post about Slow Cooker Italian Beef Sandwiches, so I should probably include the sandwich part. :)
For the toppings, I chose thick cut smoked provolone (Tillamook only friends, trust me), pepperoncini, giardiniera and spicy pickles. Spicy pickles are super traditional with Slow Cooker Italian Beef Sandwiches, but my grocery store didn't carry a spicy giardiniera and you know how I like my spice. So I went with the next best thing, spicy pickles. It worked great. They added a nice crunch to the sandwich.
What also added a nice crunch to the beef sandwiches was toasting the bread. With all the goodies, I highly recommend toasting the bread under the broiler before you assemble the sandwich. And once more, after you add the cheese.
Because…melted cheese.

Ingredients:
2 teaspoons salt
1 teaspoon black pepper
1 tablespoon Italian seasoning
1 (3 pound) chuck roast, cut into large chunks
8 - 10 whole pepperoncini peppers, plus 1/4 cup liquid from peppers
1/2 cup beef broth
hoagie rolls
mayonnaise
thick cut smoked provolone
sliced pepperoncini
giardiniera
spicy pickles
Instructions
1
Combine salt, pepper and Italian seasoning together in a bowl.

2
Place roast in the slow cooker. Sprinkle seasoning over the beef and toss to coat. Add in whole pepperoncini. Pour in juice from peppers and beef broth. Cover and cook on high for 5 1/2 hours.

3
After cooking, use a slotted spoon to remove the beef from the slow cooker. Shred.

4
Toast hoagie rolls under broiler.

5
To assemble a sandwich: spoon a generous portion of beef onto one half of hoagie roll and top with provolone. Place back under broiler for 1 minute or until cheese melts. Top with pepperoncini, giardiniera and spicy pickles. Spread mayo on the other half of the hoagie roll. Serve immediately.