Decadent Strawberry Amaretto Brownies. A thick fudgy brownie topped with a delectable strawberry cream cheese frosting. 
Brownies are probably my favorite dessert ever. I love the chocolaty, fudgy bites. I like them fresh out of the oven, after the've been fridge, plain, topped with ice cream or frosting. Basically, anyway you serve me a brownie, I am going to love it.
Except nuts. Especially walnuts. No thanks!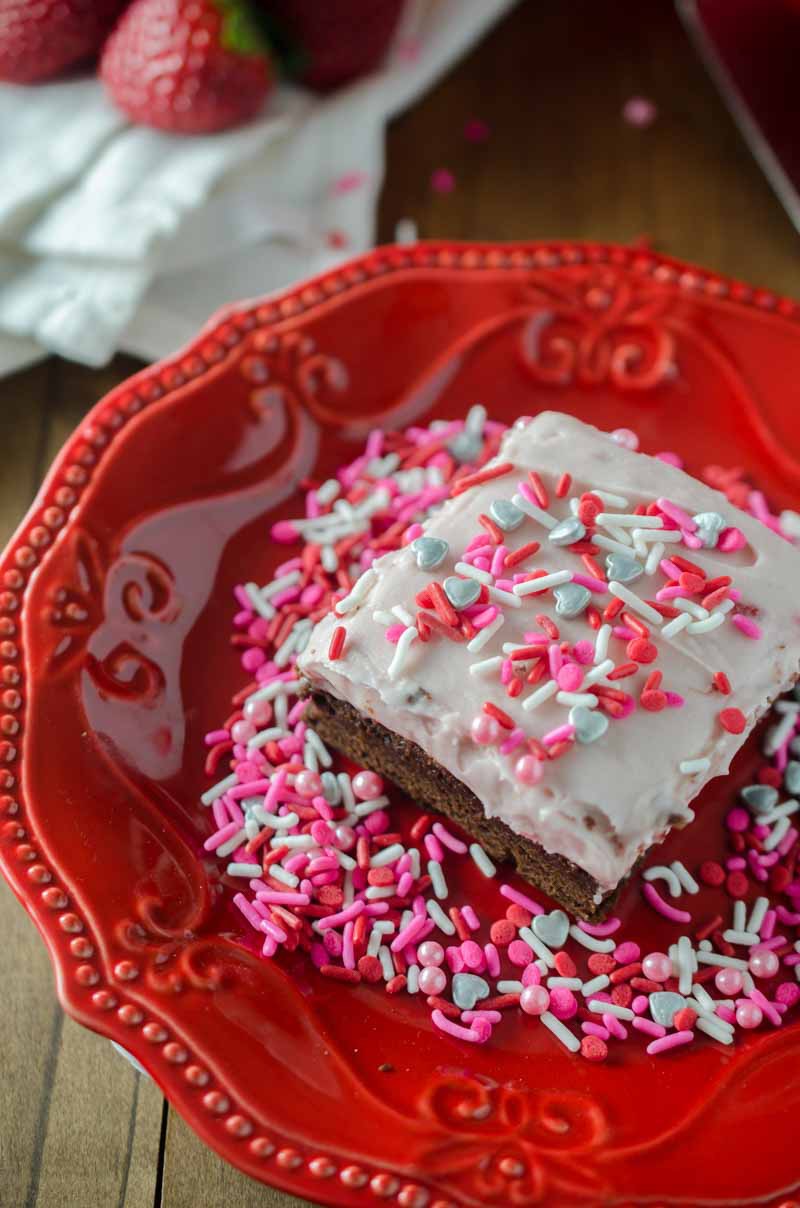 It's not that I don't like the flavor of almonds or walnuts, I do. I just don't like the texture that they add to brownies. These Strawberry Amaretto brownies have Amaretto mixed into the batter to give a slight nutty almond flavor without adding the nuts.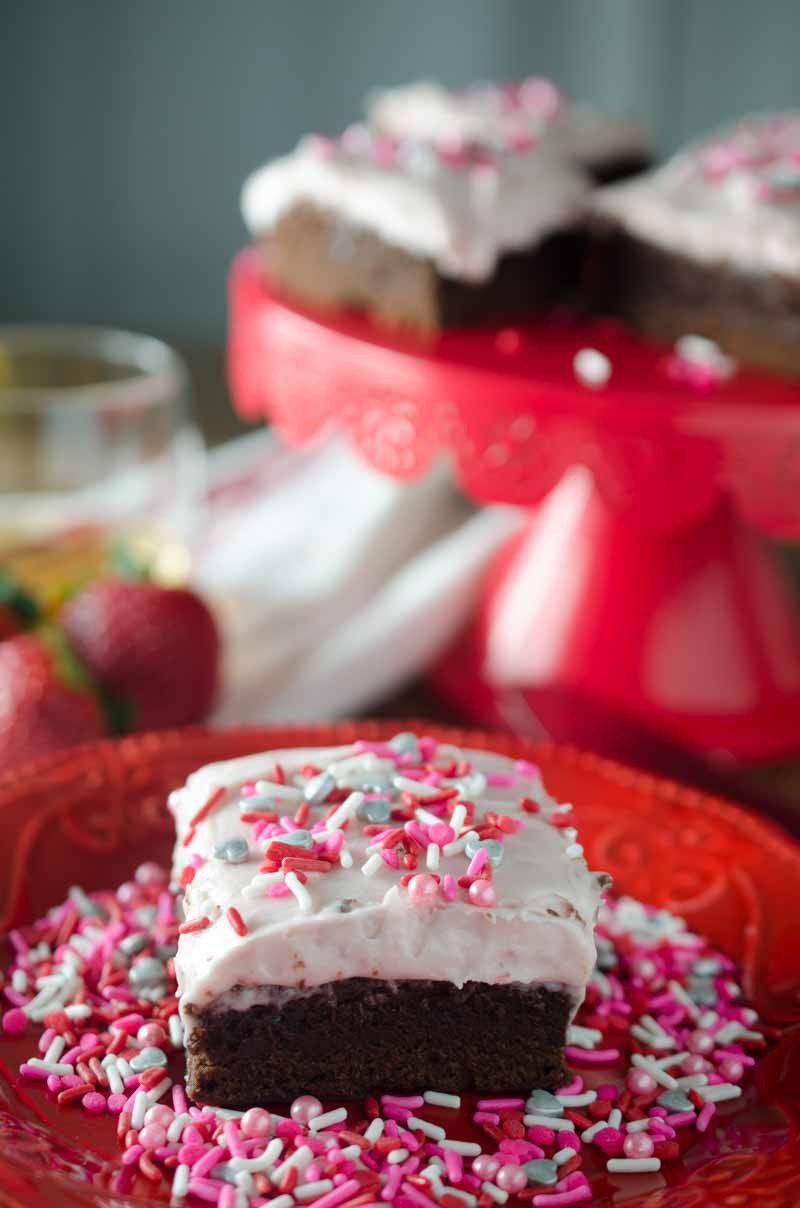 Now let's talk frosting. I went through a couple different recipe tests on the frosting before I got it just the way I wanted it. I was originally going to go with a strawberry buttercream but instead, these Strawberry Amaretto Brownies are topped with a thick, creamy layer of Strawberry Cream Cheese Frosting. And oh mama is it good.
Just look at it.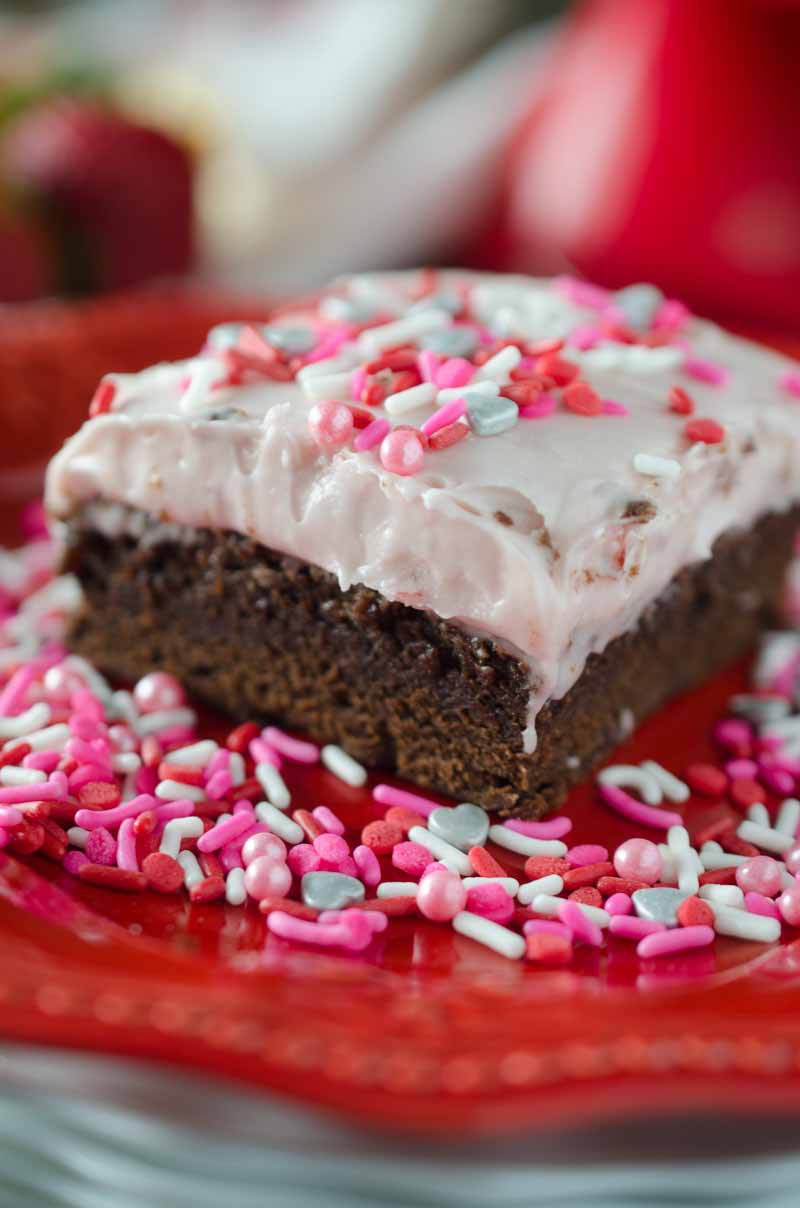 These Strawberry Amaretto Brownies are thick, chocolatey and perfect for Valentine's Day. Or, to be totally honest, any day. Because any day is good for brownies. Am I right?!

Amaretto Brownie Ingredients:
10 tablespoons unsalted butter, melted and cooled
1/2 cup unsweetened cocoa powder
1 cup granulated sugar
2 eggs
1 teaspoon vanilla extract
1/4 cup amaretto
1 cup all purpose flour
1/4 teaspoon salt
Strawberry Cream Cheese Ice Cream
4 ounces cream cheese, softened

4 tablespoons unsalted butter, softened

2 - 2 1/2 cups powdered sugar

2 tablespoons strawberry preserves
Instructions
1
Preheat oven to 350 degrees. Line an 8x8 baking sheet with parchment paper.

2
Whisk together butter and cocoa powder. Whisk in sugar. Whisk in eggs 1 at a time. Whisk in vanilla extract and amaretto. Fold in flour and salt. Mix just until combined.

3
Spread batter into prepared pan. Bake in preheated oven for 30 - 35 minutes or until a toothpick inserted comes out with a few crumbs.

4
Transfer brownies to a cooling rack and cool completely.

5
While brownies are cooling, make frosting. Beat together cream cheese and butter until smooth. Beat in 2 cups of powdered sugar. Beat in strawberry preserves. Continue mixing until a stiff but spreadable mixture forms. Add remaining powdered sugar if needed.

6
Spread frosting over cooled brownies. Cut and serve.