Tortellini Puttanesca is loaded with tomatoes, olives, capers, garlic and red wine. It is a family hit that will make weeknight dinners a breeze!
I have already shared two quick and easy dinners this week: quick and easy pork and veggie stir fry & Cod and Asparagus Sheet Pan Dinner, so I figured not finish out the week with one more quick and easy weeknight meal.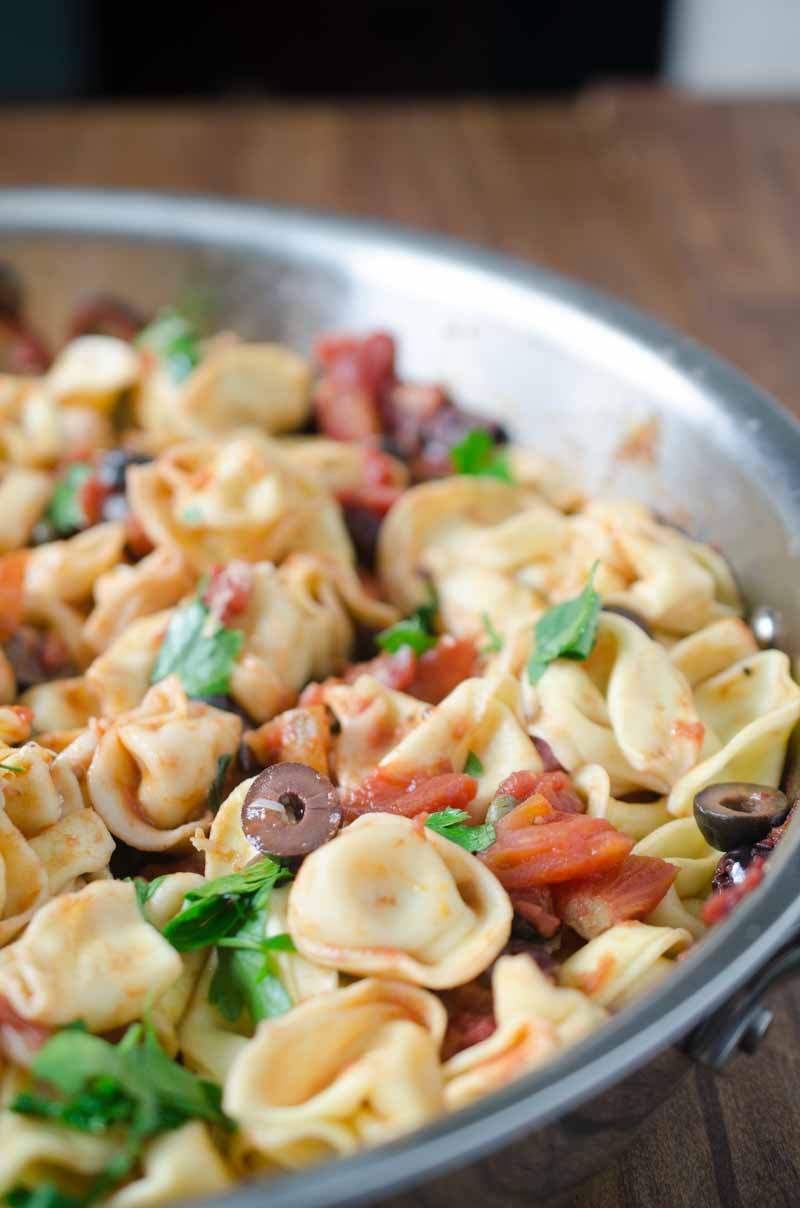 This Tortellini Puttanesca is one of our family favorites. My boys like it because they love olives and capers. Ryan likes it because he loves tortellini and I love it because of all of thee above. And the splash of red wine doesn't hurt either.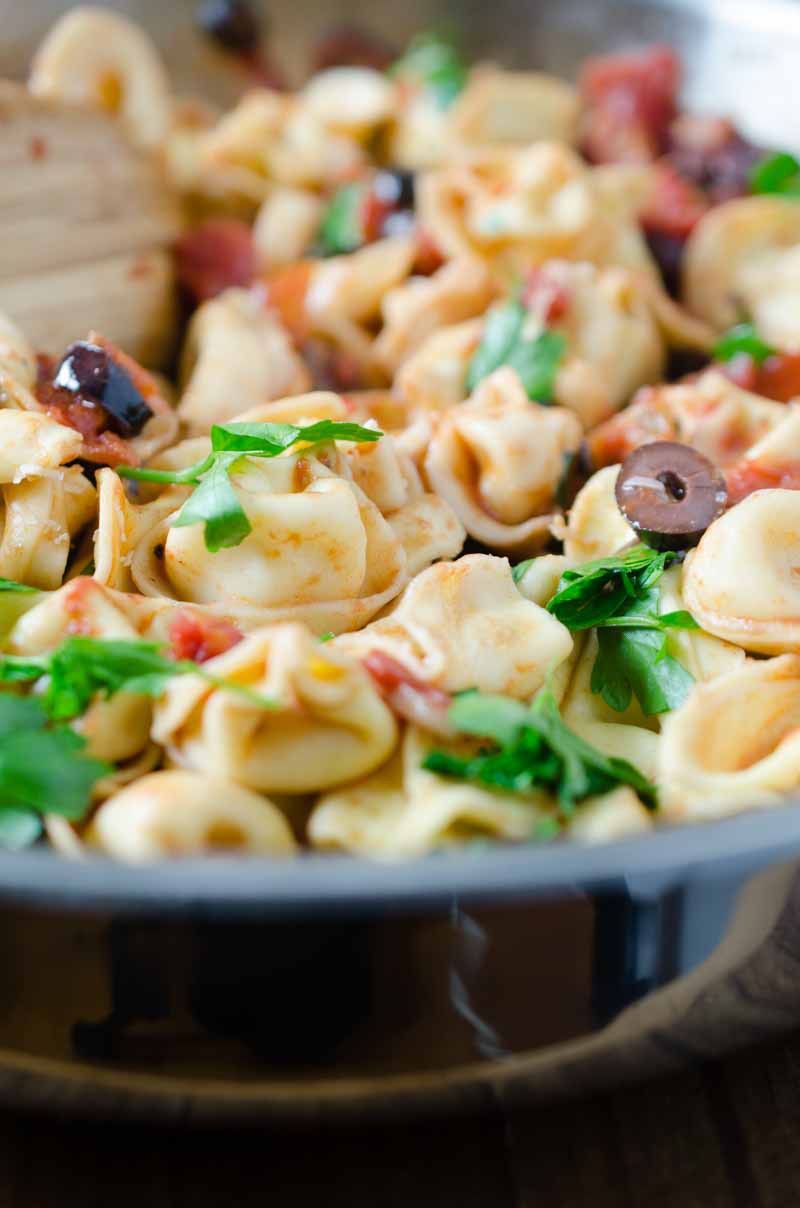 I also happen to love this Tortellini Puttanesca because it is a hearty meal to serve my family, without meat. Don't get me wrong, we are carnivores in this house, but I like to serve meatless dinners at least once a week. I usually get turned up noses (from kiddos and husband alike) asking "where's the meat?!" when I serve vegetarian meals. However, with this pasta, they gobble it up without even asking about meat. Win!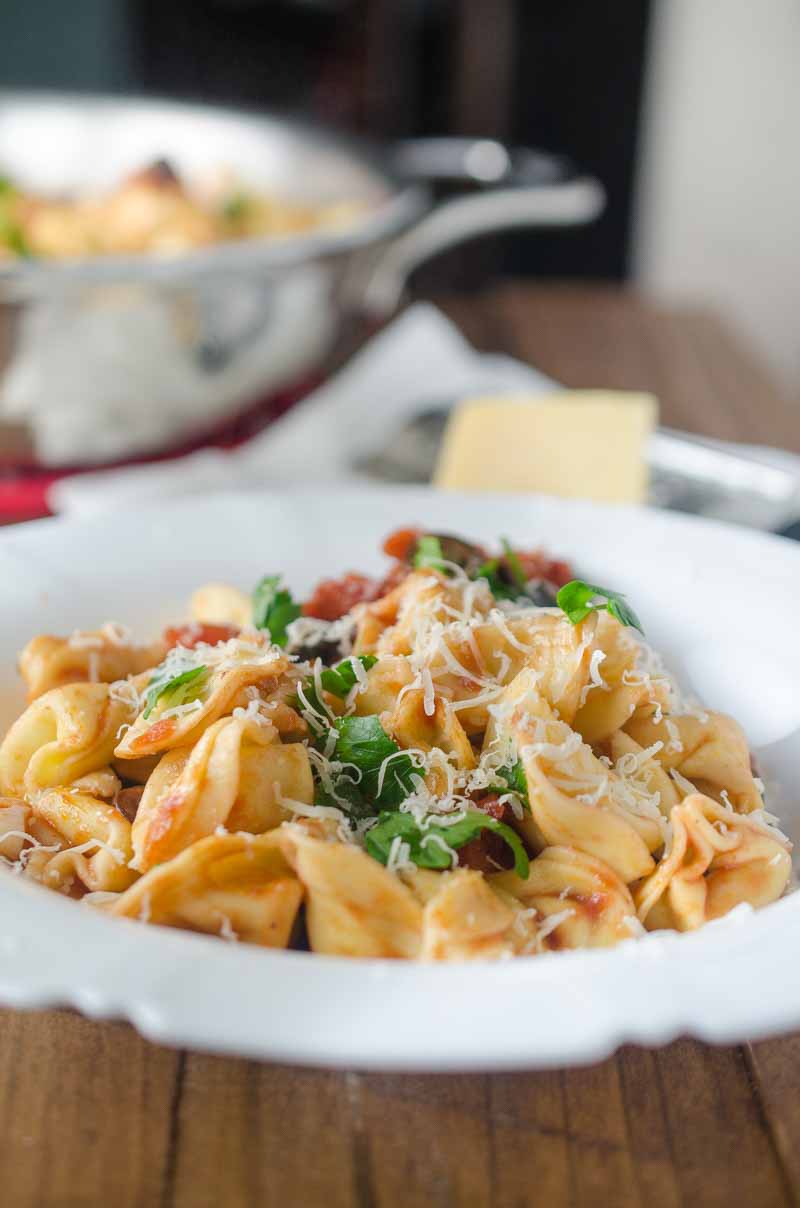 To make this, I usually buy the fresh tortellini that you find in the prepared food section of the grocery store. To keep with the vegetarian theme, I always go for the three cheese tortellini. The cheese are ricotta, Parmesan and Romano. That being said, if you (or your family) want to add some meat, I've seen and herb and chicken tortellini that would be perfect in this!

Ingredients:
1 pound three cheese tortellini
1 tablespoon avocado oil
4 cloves garlic, minced
1 can diced tomatoes
1/2 cup sliced kalamata olives
1/2 cup sliced black olives
2 tablespoons non-pairel capers
1/4 cup red wine
1 tablespoon tomato paste
1/4 cup chopped Italian parsley
salt and pepper
Instructions
1
Bring a large pot of water to boil and cook tortellini according to package directions. Drain.

2
Meanwhile, heat avocado oil in a skillet over medium heat. Add garlic and cook just until garlic is fragrant, about 30 seconds. Add in tomatoes, kalamata olives, black olives, capers, red wine and tomato paste. Simmer over medium heat until sauce reduces by 1/3 about 10 minutes. Add tortellini to the pan and parsley to the pan and toss to coat. Season to taste with salt and pepper.