Who's ready for Halloween? It's only a couple weeks away now! While it is coming fast, there is still time in the next couple of weeks for you to make some cute holiday treats. Treats like these Killer Brownies. Stuffed with Three Musketeers, topped with a layer of decadent chocolate ganache and a little Halloween flare they are perfect for all of your Halloween celebrations.
When do you think you eat more candy? Halloween? Christmas? Easter? After your football team blows a 17 point lead in the fourth quarter?
For me it's Halloween AND the 4th quarter thing but lets not dwell on that last one.
During Halloween I always buy a couple of bags of Halloween candy and we are rarely home to actually hand it out. I buy it under the guise I'm going to give it away but really we usually eat it all and rarely does it make it to Halloween. Ryan goes for the Nerds and Skittles but my favorite, by far are the little fun size candy bars. Three Musketeers to be exact. Rarely will I sit down and eat an entire candy bar but I feel way less guilty about munching a couple of those fun size bars while I'm chasing the boys around the house.
This year as I was browsing the Halloween candy aisle at Target, I found Three Muskefears. They are the same candy that we're all used to but the center is colored red for Halloween. One look and I just knew they would be perfect to stuff inside some brownies for the perfect Halloween treat.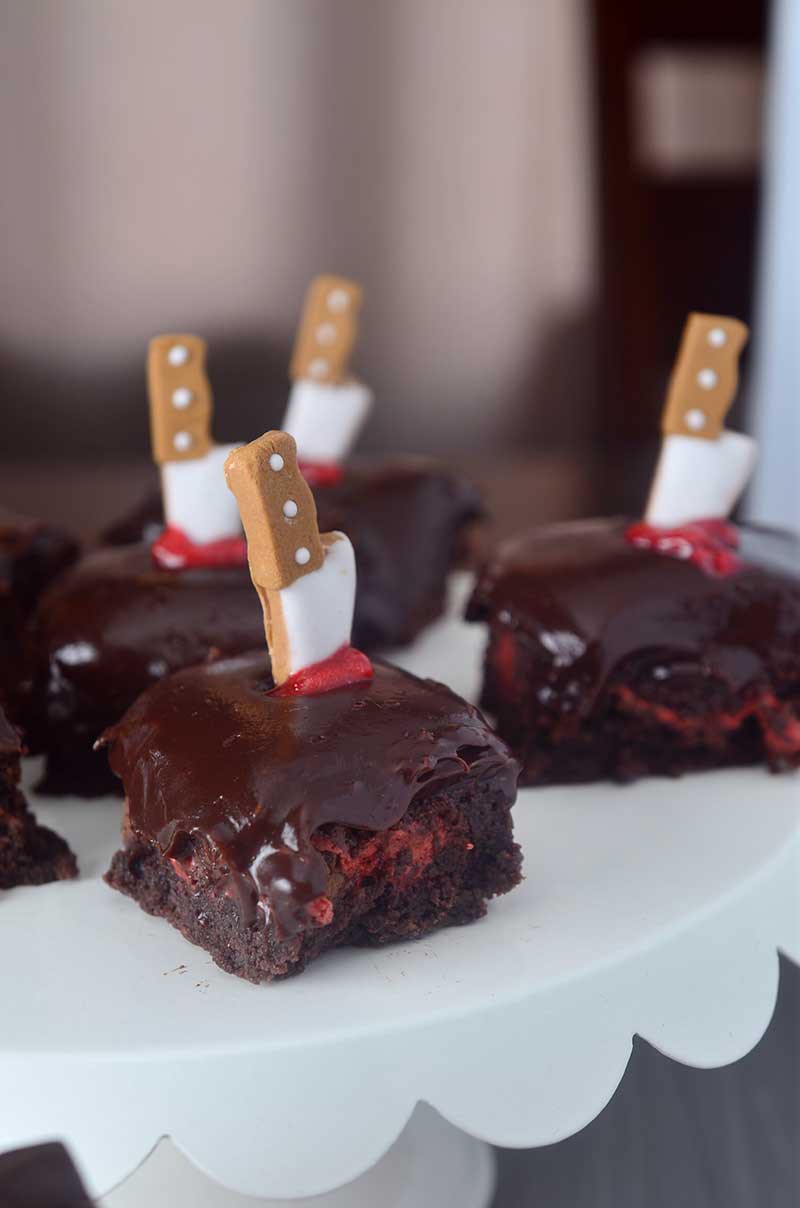 Of course, the red center wasn't enough for me. I decided to go all Halloween nerdy and make these Killer Brownies by picking up some candy knives and red gel frosting.
And then I decided to put a thick layer of chocolate ganache on top because…ganache.

Brownie Ingredients:
1/2 cup unsalted butter
1/2 cup unsweetened cocoa powder
1 cup granulated sugar
2 eggs
1 teaspoon vanilla
1/2 cup all purpose flour
1/4 teaspoon salt
10 fun size red Three Musketeers, cut into quarters
16 candy knives
red gel frosting
Ganache Ingredients:
2/3 cup heavy cream

1 cup semi-sweet chocolate chips
Instructions
1
Preheat oven to 350 degrees. Line an 8 x 8 baking dish with enough aluminum foil to have some hang over the sides. Grease and flour the aluminum foil.

2
Melt butter in a saucepan over medium heat. Once melted allow to cool.

3
Once cool, whisk in cocoa powder. Whisk in sugar. Once mixed, whisk in eggs one at a time. Whisk in vanilla. Add in flour and salt and mix just until combined. Don't over mix.

4
Spread half of the batter in the bottom of the prepared pan. Scatter quartered Three Musketeers. Spread remaining 1/2 of brownie batter over the top. Bake in preheated oven for 25 - 30 minutes or until a toothpick inserted comes out clean. Place on a cooling rack to cool completely.

5
Make the ganache by heating the heavy cream in a saucepan over medium-low heat just until steaming. Once steaming, remove from heat and whisk in chocolate chips. Whisk until smooth and shiny. Allow to set for two minutes. Pour over the brownies. Allow to set until hardened.

6
Once ganache has hardened, cut into 16 brownies. Place knives in the middle of all of the brownies and squeeze a little of the red frosting near the base. Serve.