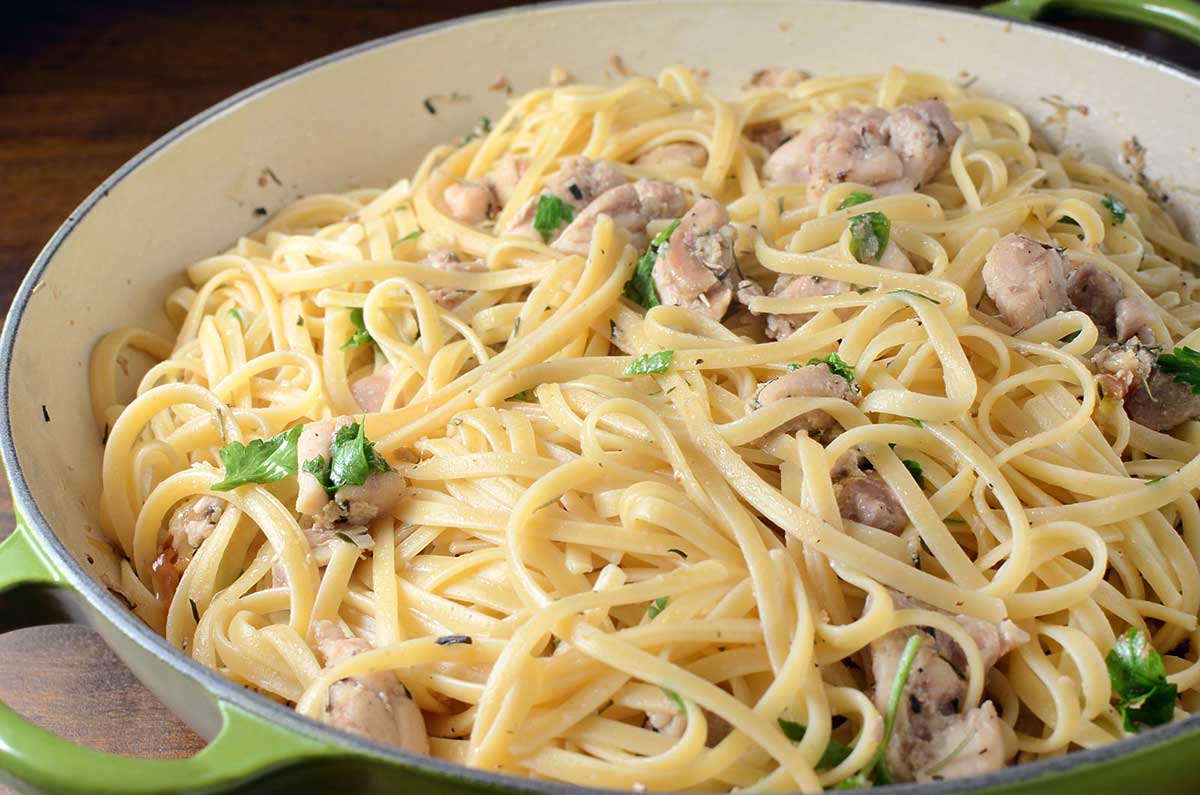 40 Clove Chicken Linguine
When you look at the title of this post you may think good Lord that is a lot of garlic. And yeah, it is. But it works. This dish is based on the traditional 40 clove chicken dish that many of you have probably heard about. But I tweaked it a bit to make it a pasta. It all starts with sweet roasted garlic that is then cooked in white wine, chicken broth and herbs before the whole thing is tossed with sauteed chicken and linguine. It is heaven I tell you. Heaven.
I have always loved garlic. Always. I would eat cloves when I was a kid. I still eat cloves now. I like it pickled. Stuffed in green olives. I like it sauteed. I even like to eat tiny pieces raw.  But my absolute favorite way to eat garlic is to roast it. It still has that wonderful garlic flavor that I look for, but roasting it gives it a touch of sweetness too. I think that that is why I adore this pasta so much. And if you're even half the garlic lover that I am, you will to.
One last thing, to be completely honest, because I roasted the garlic in this recipe, I didn't exactly count out 40 cloves. To make things easier I just roasted two whole heads of garlic. It might be a little more than 40 or a little less but it won't be that big of a difference to alter the flavor.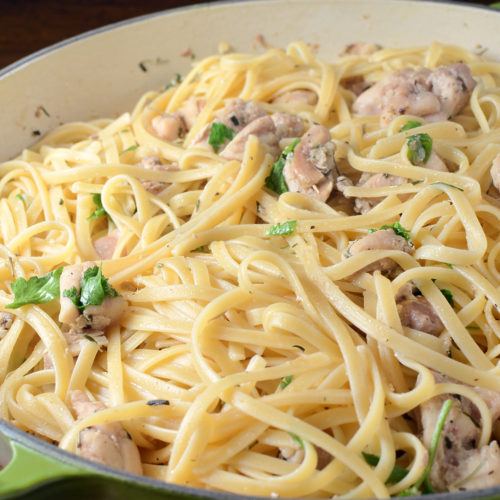 40 Clove Chicken Linguine
Forty cloves of roasted garlic, chicken, white wine, herbs and linguine = an unbelievably delicious pasta.
Ingredients:
2

heads garlic

2

tablespoons

plus 2 teaspoons olive oil

1

pound

dried linguine

1 1/2

pounds

boneless

skinless chicken thighs, diced

1/4

teaspoon

kosher salt

1/4

teaspoon

pepper

1

teaspoon

dried summer savory

1

teaspoon

dried rosemary

1/2

cup

dry white wine

1/2

cup

chicken stock

1/2

cup

chopped fresh parsley
Preheat oven to 400 degrees.

Cut 1 inch off the top of each head of garlic. Divide two teaspoons of olive oil to drizzle over the top of the garlic heads. Wrap in aluminum foil. Cook for 45 – 60 minutes or until garlic is soft and a golden brown color. Remove from oven and allow to cool. Once cool use a fork to remove the cloves from the skin.

Bring a large pot of water to a boil and cook according to package directions. Drain but Reserve 1/2 cup of pasta water.

While pasta is cooking, heat 2 tablespoons of olive oil in a large pan over medium heat, season chicken with 1/4 teaspoon salt and pepper. Cook in olive oil over medium heat until browned. Transfer to a plate and set aside.

Stir in summer savory, rosemary and garlic cloves, cook just until fragrant, about 30 seconds. Pour in white wine to deglaze the pan, be sure to scrape up any brown bits off the bottom of the pan. Pour in chicken broth. Allow sauce to cook until it reduces by 1/3, about 10 minutes. Stir occasionally.

Return chicken to the pan, add pasta and parsley. Toss to coat the pasta in the sauce. If the pasta seems to dry add a bit of the reserved pasta water. Season to taste with salt and pepper. Serve hot.
Keywords:
40 clove chicken, chicken, dinner, entree, Food, forty clove chicken, pasta, Recipe