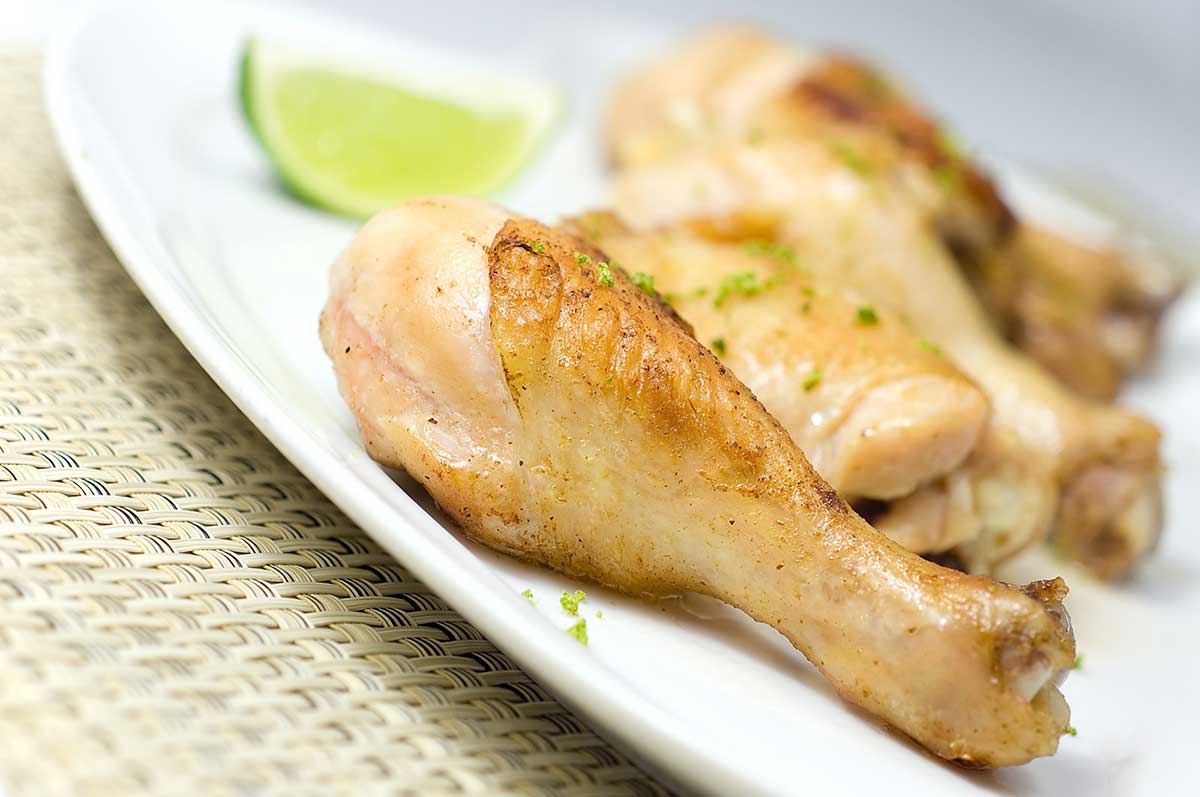 Adobo-Lime Chicken
After quite a few days of plate, after plate, after plate of traditional American comfort food, I decided it was time to cook something with a little different flavor. Something with some pizazz, something that reminded me of the warm yet breezy days of summer.  Seasoned with adobo seasoning, roasted on a bed of sauteed onions and garlic and finished with a squeeze of lime and sprinkle of lime zest, this Adobo-Lime Chicken did just that.  Close your eyes, take a bite and you just might think it's July.
This chicken may have the word adobo in it but it is not to be confused with this Chicken Adobo. This recipe is called adobo-lime chicken because it calls for the adobo seasoning found in the Latin American aisle at the grocery store.  In my never ending quest to try different spice blends, I find it odd that I have never tried this blend before. It is an all purpose seasoning with salt, oregano, pepper, cumin and garlic and frankly, it's pretty darn delicious. I decided to buy the adobo seasoning with cumin but if you aren't a cumin fan you can pick up any one of the other varieties.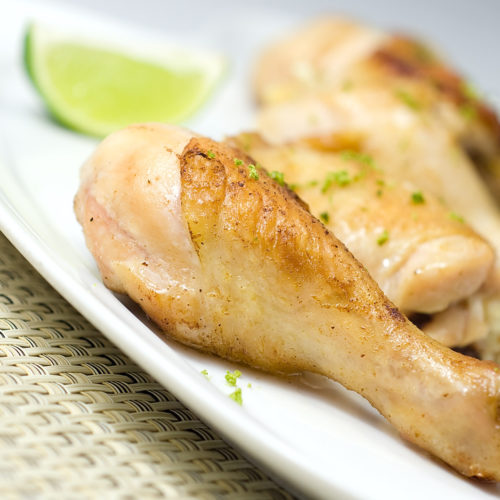 Adobo-Lime Chicken
Adobo seasoned chicken roasted on a bed of sauteed onions and garlic and finished with a squeeze of lime and lime zest.
Preheat oven to 350 degrees.

Rinse and pat dry chicken pieces. Sprinkle both sides with adobo seasoning.

In a large, heavy bottom, oven proof skillet heat olive oil and butter over medium heat. Once butter has melted add chicken and cook 5-7 minutes on each side or until lightly browned. Transfer to a plate. Set aside.

Reserve 2 tablespoons of pan drippings. Add sliced onions and garlic to the pan. Cook 5 minutes, stirring occasionally. The onion will soften and start to caramelize. Spread onion mixture around in the pan so that it makes a bed for the chicken. Place chicken on top of the onion mixture. Transfer to oven and cook for 20-25 minutes or until chicken is cooked through.

Transfer chicken to a serving platter. Squeeze lime juice over the top and sprinkle with lime zest. Serve.
If you've got an onion-lovin' family be sure to serve the caramelized onions along side.Enjoy!
Keywords:
adobo, adobo chicken, chicken, chicken pieces, Food, garlic, lime, lime juice, lime zest, onions, Recipe