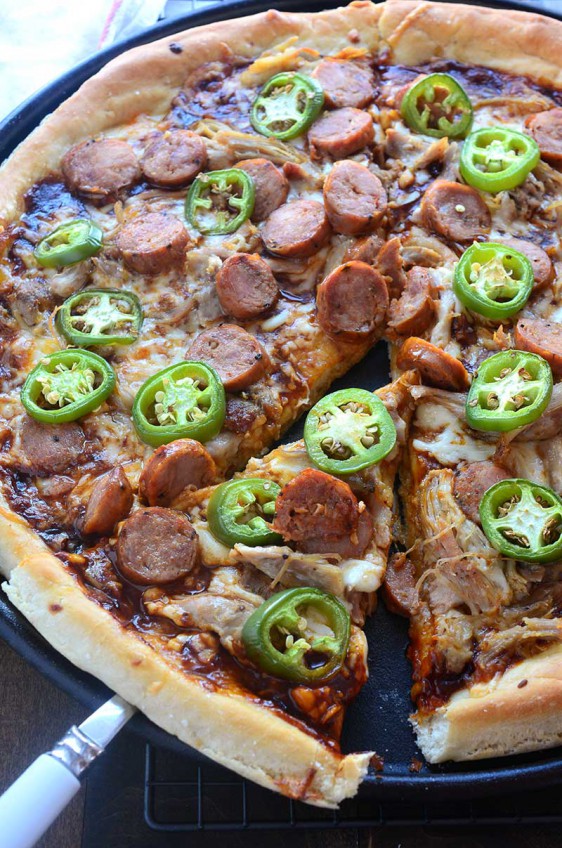 Andouille and BBQ Chicken Pizza
Ohhhh man. This pizza. It. Is. Heavenly. If you are a fan of spicy BBQ, you are going to fall head over heels in love with this Andouille and BBQ Chicken Pizza. This pizza is loaded with BBQ sauce, pepper jack cheese, mozzarella cheese, shredded chicken, andouille sausage and sliced jalapeños. It's sweet, spicy and down right scrumptious.
Confession time: I have not always been a fan of BBQ Chicken Pizza. In fact, when it came to pizza, BBQ Chicken Pizza was always last on my list. I think it was because I always thought that pizza sauce had to be marinara. I didn't get the whole BBQ sauce on pizza thing. I think it was that BBQ sauce was just too sweet for me. And I don't really like my pizza sweet. I like it savory…and spicy.
Ryan, on the other hand, is a huge BBQ Chicken Pizza fan. It might be one of his favorites. In attempt to please both our palates I created this Andouille and BBQ Chicken Pizza. It's got that sweet, smoky BBQ flavor but it also gets a little kick from some jalapeños and andouille sausage.  It's the best of both worlds really.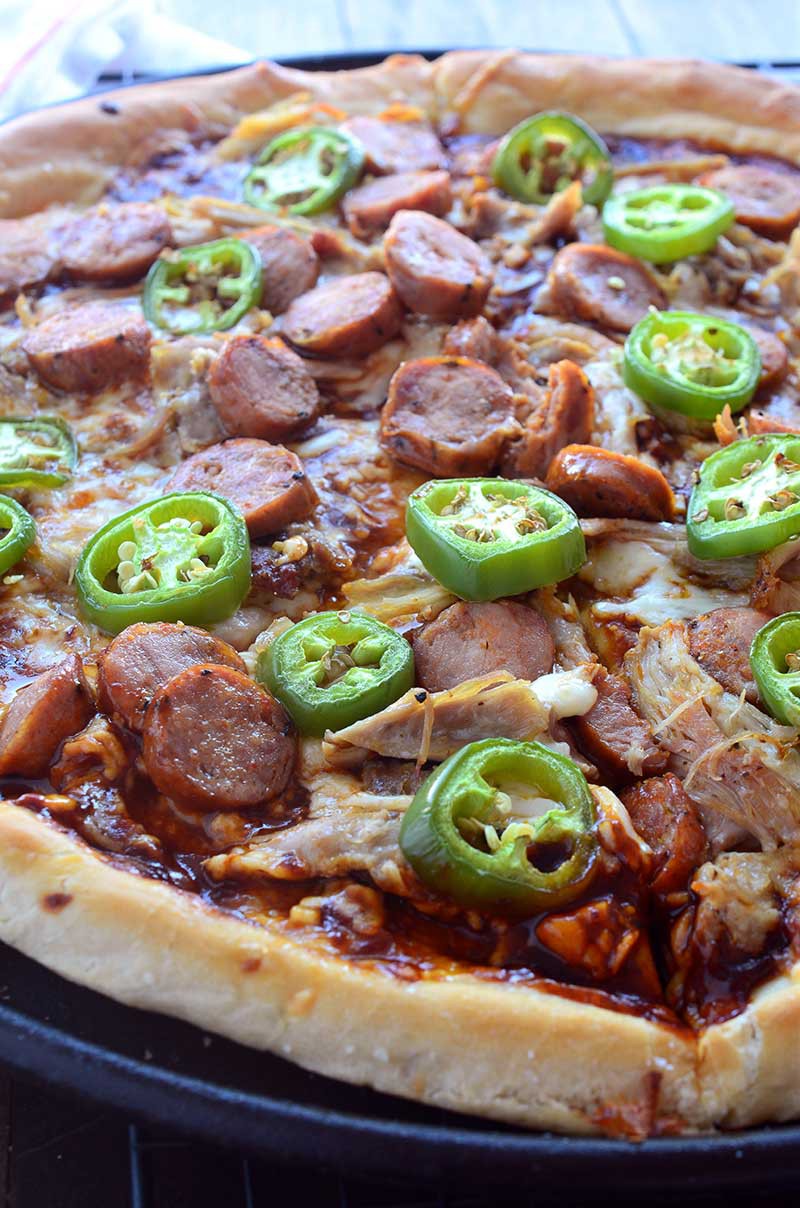 When it comes to the sauce, I wanted to choose one that was also sweet n' spicy. I went with Stubb's Sweet Heat. It is by far my favorite BBQ Sauce. Ever since I tried the sauce when I was in Austin a few years back, I always have a bottle in my fridge. It made the perfect base for this Andouille and BBQ Chicken Pizza. With that said, you can use whatever BBQ sauce you like best. I'd personally go with a spicy one to keep with the sweet n' spicy thing going on here :)

Andouille and BBQ Chicken Pizza Recipe
Ingredients:
1 store bought or homemade pizza dough
1 tablespoon avocado or olive oil
salt
1/2 cup Stubbs Sweet Heat BBQ Sauce
1 cup shredded pepper jack cheese
1 cup shredded mozzarella cheese
2 cups shredded chicken
2 fully cooked andouille sausage links, sliced
2 jalapeños sliced
Instructions
1
Preheat oven to 430 degrees.

2
Rollout dough and place into a 15 inch pizza pan.

3
Brush pizza dough with olive oil and sprinkle lightly with salt.

4
Bake in preheated oven for 5 minutes.

5
Remove pizza crust from oven, spread BBQ sauce over the top. Sprinkle with pepper jack and mozzarella cheeses. Layer chicken and andouille over the cheese and top with jalapeños. Bake in preheated oven for 12 - 15 minutes or until cheese is melted and crust is browned.

6
Allow to cool several minutes, slice and serve