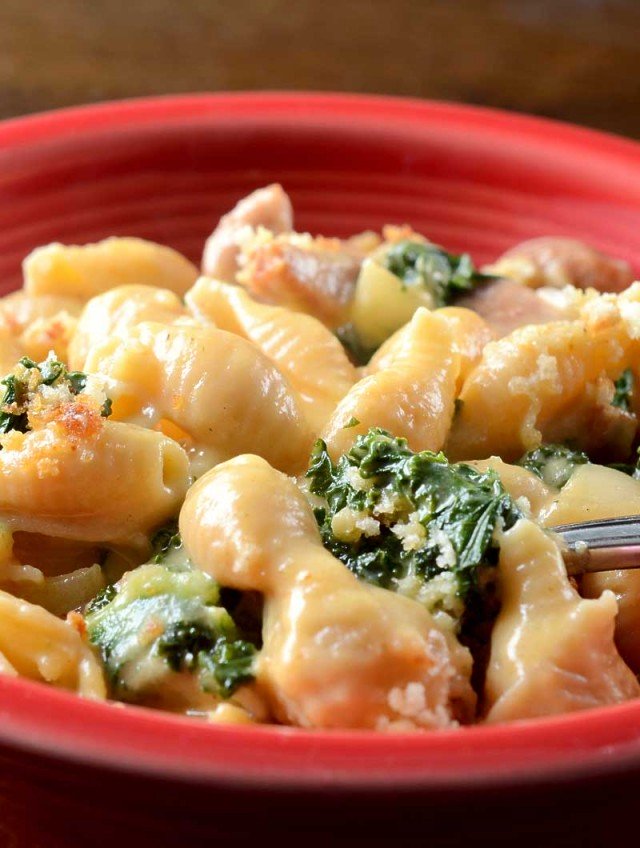 Andouille Sausage and Kale Mac N' Cheese
Is it just me or is mac n' cheese always relegated to a side dish? A delicious, creamy, cheesy side dish, but a side dish none the less. So I decided to switch things up a bit and make the macaroni and cheese the star of the show. To do that I added some spicy andouille sausage, hearty kale, topped it with bread crumbs and baked it all until bubbly and golden. It is a  mac n' cheese that won't be playing second fiddle.
I am pretty darn proud of myself. You see, unlike my experience with Zumba I am still going strong with Barre. Don't get me wrong, it hurts. But it's a good kind of hurt you know? So good I've been going 2 to 3 times  a week.
Most of the classes, like most exercise classes, are offered right around dinner time. This means that before I go I want to make sure that dinner is prepped so that when I get home I can just pop it in the oven or warm it up and we can sit down to eat. This macaroni and cheese is perfect for that. I prepped everything while Kellan was napping. Let it cool a bit and put it in the refrigerator while I went to class. When I got home, I popped it in the oven and we had dinner about 20 minutes later. And what a dinner it was. A cheesy, hearty, meaty, kaley (not a word but you get it), tummy warming dinner in a bowl.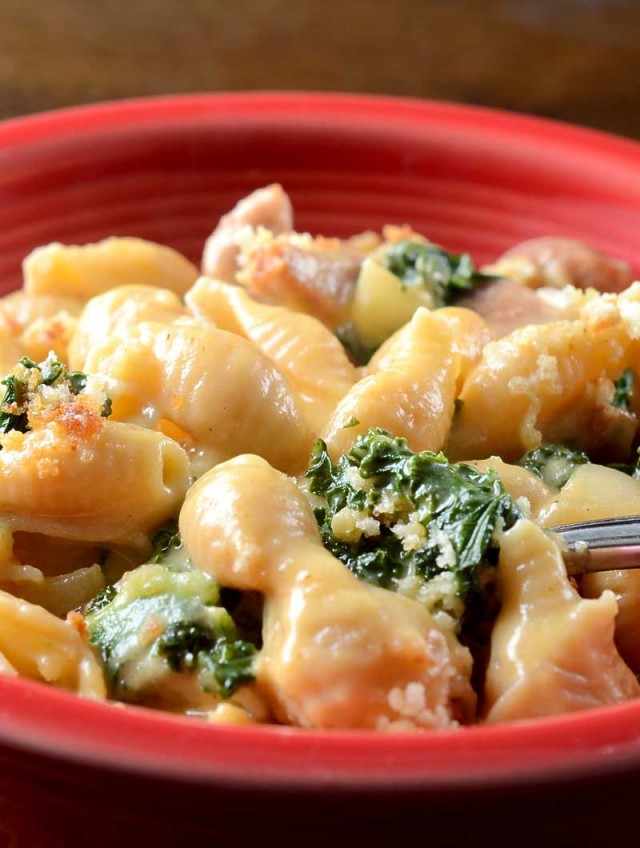 Andouille Sausage and Kale Mac N' Cheese
A hearty bowl of cheesy comfort with andouille sausage, kale, cheese and pasta.
Ingredients:
2 1/2

cups

dried shell pasta

12

ounces

andouille sausage

halved lengthwise and diced

5

cups

chopped kale

2

tablespoons

butter

4

tablespoons

flour

2

cups

whole milk

3

cups

shredded sharp cheddar cheese

1

cup

shredded mozzarella

1

tablespoon

Dijon mustard

3/4

teaspoon

Cajun seasoning

1

egg

1/2

yellow onion

diced

3/4

cup

panko bread crumbs

1/2

teaspoon

garlic powder

1

tablespoon

olive oil
Preheat oven to 350 degrees.

Bring a large pot of water to a boil and cook pasta for 7 - 8 minutes or until it's tender but still has a bite to it. Drain.

While pasta is cooking, heat andouille sausage in a skillet over medium heat. Add in kale and cook just until wilted, about two minutes. Transfer to a plate and set aside.

In the same pan, melt butter over medium heat. Whisk in flour. Slowly whisk in milk until mixture is smooth. Whisk in cheese and cook until melted. Whisk in Dijon mustard and cajun seasoning.

Slowly beat in a tablespoon of the hot milk mixture in with the egg to temper it. Slowly whisk the egg into the milk mixture. Stir in andouille sausage, kale, and onion. Mix well.

Pour macaroni and cheese into a 2 quart casserole dish.

In a bowl combine panko bread crumbs, garlic powder and olive oil. Sprinkle over the top of the macaroni and cheese. Bake in preheated oven for 20 - 25 minutes or until bubbly and the crust has turned golden. If you would like a bit more brown on the crust, turn on a broiler for a minute or two. Serve hot.
Keywords:
andouille sausge, dinner, entree, Food, kale, mac n' cheese, macaroni and chese, Recipe