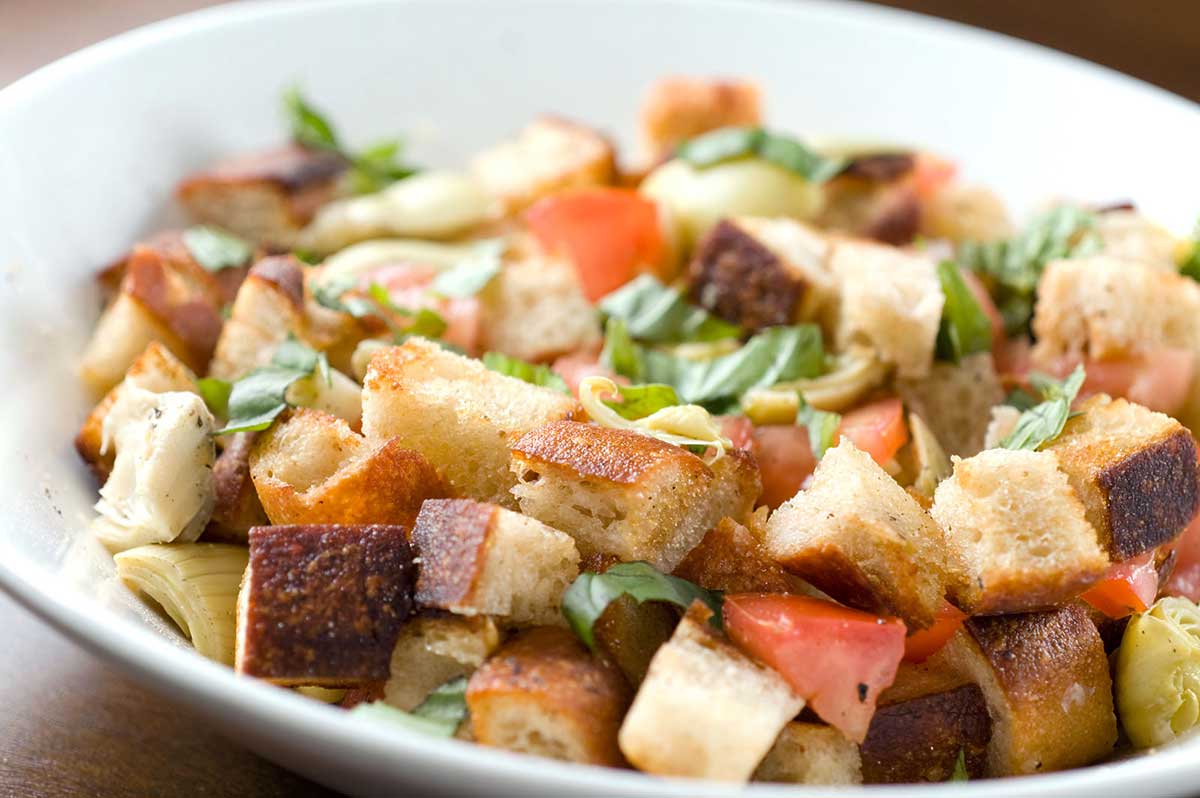 Artichoke Tomato Panzanella Salad
Artichoke tomato panzanella salad is the perfect summer salad recipe to make with fresh garden tomatoes. This Tuscan-style bread salad is easy to make and packed with fresh flavor!
September is here. This means a number of things to me: one, fall is just around the corner. Two, my first child will be born in approximately 2 1/2 months. And three, the season for fresh garden tomatoes is almost over. While the first two make me a very happy lady, the last one makes me quite sad. Recipes using garden tomatoes have been a part of my daily menu for the last month.
Summer Tomato Bruschetta and Ribeye Steaks with Fresh Tomato Tapenade are just two of my favorite meals using fresh tomatoes.
To get the most out of what is left of garden tomato season, I'm making just about every recipe I can with them…
Including this artichoke and fresh tomato panzanella salad recipe.
I believe traditional panzanella has different ingredients it. Originally, I wanted to throw some capers and red onion in, but alas, I was out of both of those. However, the marinated artichokes and perfectly sweet ripe tomatoes work wonders together. Not to mention, the sweet basil. And don't worry about the lack of dressing, the juice from the tomatoes and the marinade from the artichokes make their own dressing as the bread salad sets.
Come over and visit my Facebook page and share your favorite tomato recipes with me!
Or, leave me a comment below. I want to know what ingredients you like to add to your tomato panzanella salads.
Artichoke Tomato Panzanella Salad Recipe
Ingredients:
1 tablespoon olive oil
4 cups diced (1 inch cubes) day old bread
3 tomatoes, seeds removed, diced
1 cup chopped marinated artichokes
1/4 teaspoon salt
1/4 teaspoon fresh cracked black pepper
5 basil leaves, chopped
grated Parmesan cheese (optional)
Instructions
1
Heat olive oil in a skillet over medium-high heat. Add bread and cook just until toasted, about 5 minutes.

2
In a bowl, combine bread and remaining ingredients. Mix well. Cover and let sit at room temp for 30 minutes.

3
Toss once more, sprinkle with Parmesan cheese if desired and serve.