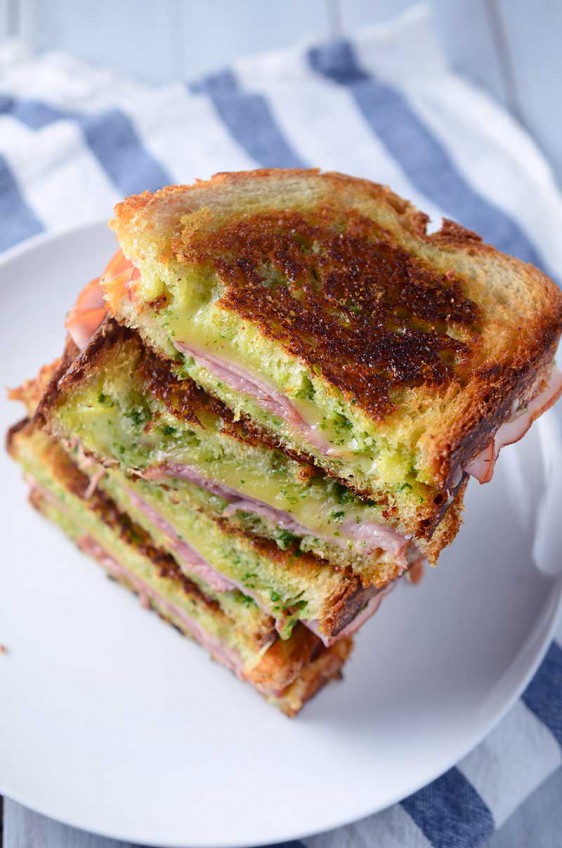 Arugula Pesto & Ham Grilled Cheese
Guys, grilled cheese month is almost over (GASP!). I hope you have celebrated accordingly. But just in case you haven't, I just had to share one more recipe full of melty, cheesy goodness. This time I'm bringing a sandwich with peppery arugula pesto, savory ham and melty Kerrygold Blarney Castle cheese. Just think of this as a ham and cheese for grown ups.
This Arugula Pesto & Ham Grilled Cheese gets it melty goodness from Kerrygold's Blarney Castle Cheese. It is a mild gouda style cheese and it melts perfectly. To increase the melt factor even more, I grated the cheese for this grilled cheese and I'm pretty sure I will be doing that from now on. Not only does it decrease cooking time, but it helps ensure that every little bit of cheese gets melted. And this is a grilled cheese sandwich after all, melty cheese is key!
As for the pesto,  I know, I know I just shared a grilled cheese with pesto on it, but to be fair that was basil pesto. This is arugula pesto. Totally different ball game. Basil pesto has that sweet, savory flavor that we are all used to and love. Arugula pesto, on the other hand is peppery and goes splendidly with ham. I didn't use nuts in this pesto because I didn't have any on hand and it totally worked without them. Just a little arugula, Parmesan, olive oil, garlic and salt. Simple and scrumptious.
Basically this whole sandwich is simple scrumptiousness. It can be made in a flash so it's perfect for lunch but it's hearty enough to make a great dinner too.
Disclousre: I was sent the cheese by Kerrygold and this post is my entry for a giveaway for members of the Kerrygold Blogger Loyalty Program. All opinions are my own.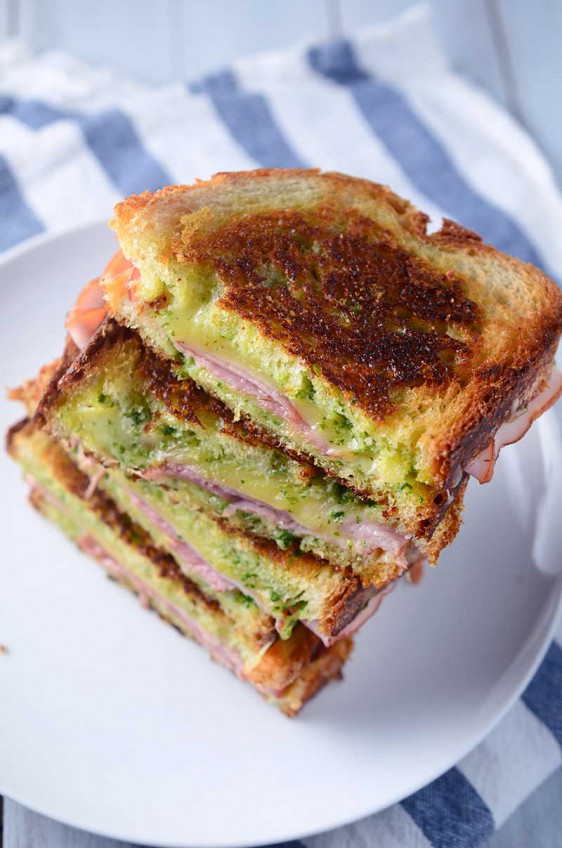 Arugula Pesto & Ham Grilled Cheese
Arugula pesto, ham and Blarney Castle cheese combine to make this grown up version of a ham and grilled cheese sandwich.
Ingredients:
2

cups

baby arugula

1/2

cup

grated Parmesan cheese

2

cloves

garlic

1/4

cup

extra virgin olive oil

salt

8

slices

crusty bread

2

tablespoons

butter

softened

2

cups

grated Kerrygold Blarney Castle Cheese

8

deli slices black forest ham
Combine arugula, parmesan and garlic together in a food processor. Process until arugula is chopped fine. With food processor running slowly drizzle in olive oil until mixture emulsifies. Season to taste with salt.

To make a sandwich, spread butter on one side of each slice of bread. Spread a thin layer of pesto on the non-buttered side. Place 1/4 cup of cheese on top of the pesto, top with two slices of ham and 1/4 cup more cheese top with the other slice of bread, pesto side down. Repeat with remaining ingredients until 4 sandwiches are made.

Heat a skillet over medium heat. Cook sandwiches until bread is golden and cheese has melted, 2 - 3 minutes per side. Serve.