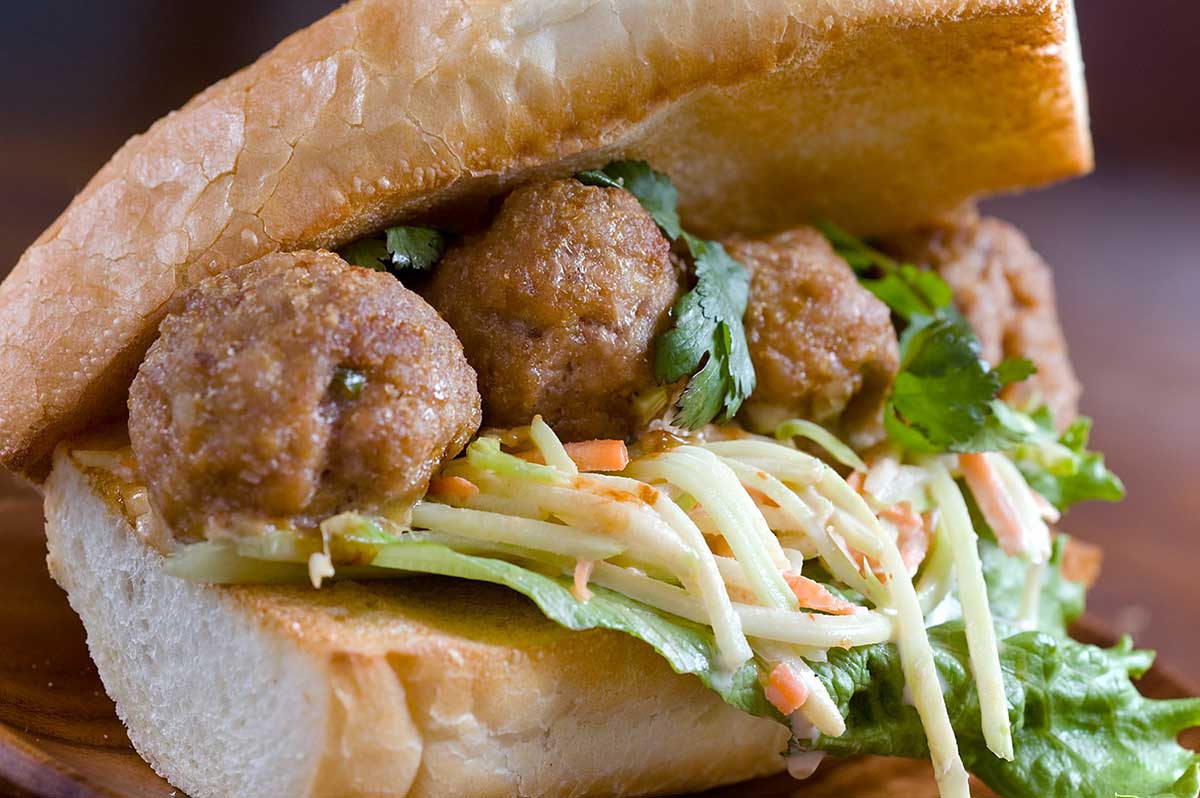 Asian Meatball Sub
Ryan is a huge fan of meatball subs, but the meatball subs that he is used to are usually more of the Italian variety. You know, the ones loaded with mozzarella and marinara. While those are delicious, I decided to go with an Asian inspired sub for this recipe. Instead of using Italian sausage for these meatballs, I mixed pork with oyster sauce, sesame oil and ginger and then instead of marinara, I decided to make a spicy sriracha slaw to top it all off. Let's just say after the look on Ryan's face after one bite I'm pretty sure he's a fan of the Asian variety of the meatball sub as well.
You might recognize the sriracha slaw that I used for this recipe. I've used it before. It's just so good. So spicy and the dressing not only coats the broccoli slaw nicely but it wiggles its way into the crevasses of the hoagie rolls making each bite juicy and flavorful.
Asian Meatball Sub Recipe
Ingredients:
1/2 cup mayonnaise
2 teaspoons sriracha
1/2 teaspoon grated ginger
2 tablespoons rice vinegar
10 ounce broccoli slaw
1 pound ground pork
1 egg, beaten
1/3 cup plain bread crumbs
1 teaspoon oyster sauce
1 teaspoon sesame oil
1 teaspoon soy sauce
1/2 teaspoon ground ginger
1/2 teaspoon kosher salt
1 - 2 serrano peppers
2 tablespoons peanut oil
4 hoagie rolls
lettuce and cilantro if desired
Instructions
1
In a bowl whisk together mayonnaise, sriracha, grated ginger and vinegar. Stir in the broccoli slaw. Mix well. Cover and refrigerate for 30 minutes.

2
Preheat oven to 350 degrees.

3
In a bowl combine ground pork, egg, breadcrumbs, oyster sauce, sesame oil, soy sauce, ginger, salt and serrano peppers. Mix well and roll into about 20 meatballs.

4
Heat peanut oil in a skillet over medium heat. Brown on all sides, transfer to a baking dish and in preheated oven for 20 minutes or until cooked through.

5
When ready to assemble sandwiches, place a couple sprigs of cilantro, 1 lettuce leaf and 5 meatballs per sandwich on the hoagie rolls, top with sriracha slaw and serve.