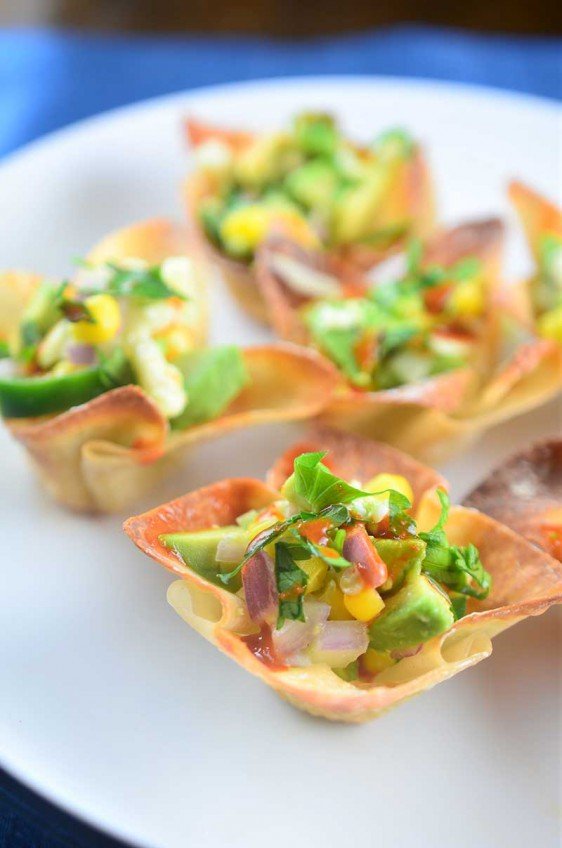 Avocado and Corn Salsa Wonton Cups
It may not be Christmas anymore but New Year's Eve is tomorrow and the Super Bowl not long after that. This can only mean one thing, friends: appetizer season is still in full swing. That means there is still lots of snacks to be made. Snacks like these Avocado and Corn Salsa Wonton Cups.
I didn't really have a game plan when I was making these Avocado and Corn Salsa Wonton Cups. Actually, I was just scouring the fridge looking for a snack to make. What I found were some wonton wrappers, an avocado, red onion, leftover corn and jalapeños. About 20 minutes later we were munching away on these Avocado and Corn Salsa Wonton Cups.
If you've never made wonton cups before, don't worry, they are really easy to make. All you need is a mini muffin tin, some wonton wrappers and non-stick spray. Simply spray the mini muffin tin with the non-stick spray, brush the wonton wrappers with oil, press them into the tin and bake them until they are golden brown. Then you have perfect bite size cups to stuff with whatever your little heart desires.
This time around my little heart desired some Avocado and Corn Salsa.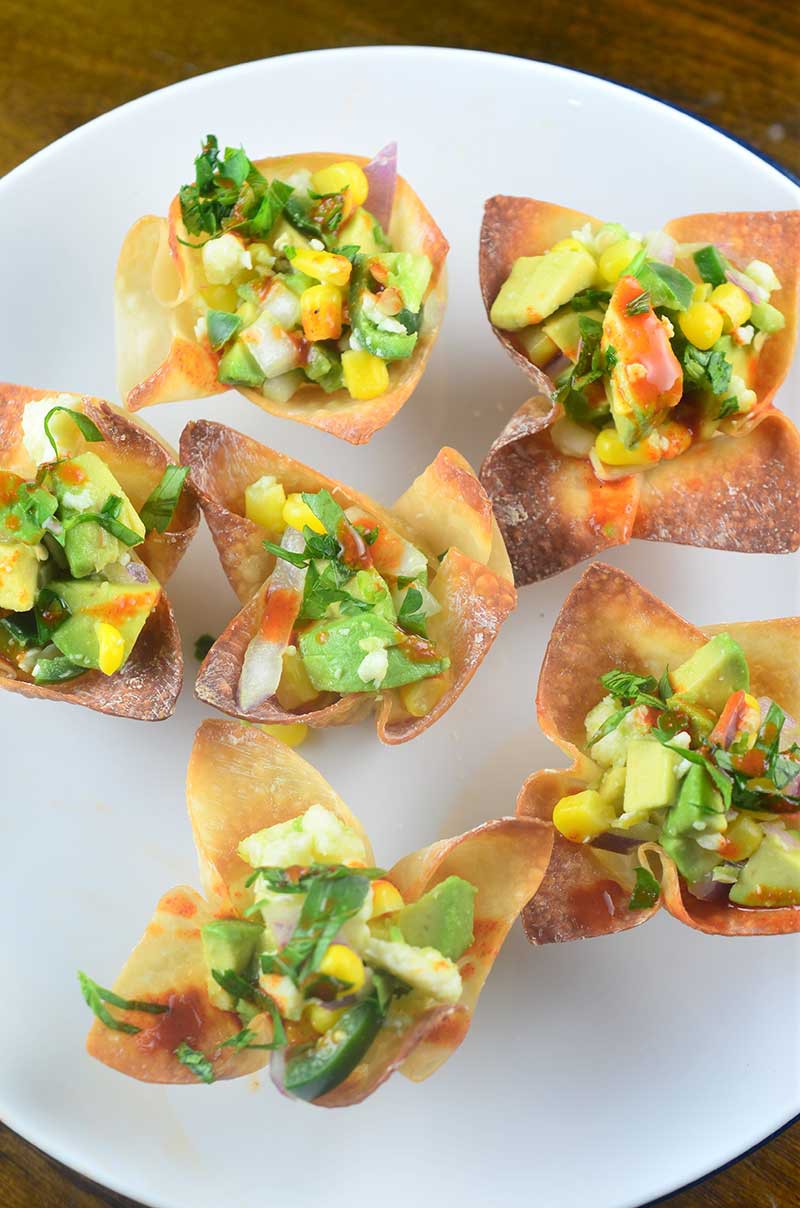 Like the wonton cups, the Avocado and corn salsa is really easy to make. I simply combined avocado, corn, red onion, jalapeño, cotija cheese and lime together. After I scooped the salsa into the cups, I decided to add a little cilantro and drizzle of hot sauce on top. I love both and thought they added some nice color. With that said, if you aren't a fan of cilantro or think that the jalapeño adds just enough heat, then go ahead and omit the cilantro and hot sauce.

Avocado and Corn Salsa Wonton Cups Recipe
Ingredients:
12 wonton wrappers
oil such as avocado or olive
1/2 avocado, peeled and diced
1/2 jalapeño, diced
1/4 cup cooked corn
1/4 cup crumbled cotija cheese
2 tablespoons minced red onion
1 tablespoon fresh lime juice
1/4 teaspoon salt, plus more to taste
chopped cilantro
hot sauce
Instructions
1
Preheat oven to 375 degrees.

2
Spray a mini-muffin tin with non-stick spray. Brush wonton wrappers with oil. Press wrappers into the mini-muffin tin holes so they form a cup. They will overlap in places and stick out.

3
Bake in preheated oven for 8 - 10 minutes or until golden brown. Remove from oven and allow to cool.

4
Meanwhile, combine avocado, jalapeño, corn, cotija cheese, red onion, lime juice and salt together in a bowl. Mix well. Season to taste with more salt.

5
Once wonton cups are cool, spoon avocado corn salsa into the cups. Sprinkle with chopped cilantro and drizzle with hot sauce. Serve.