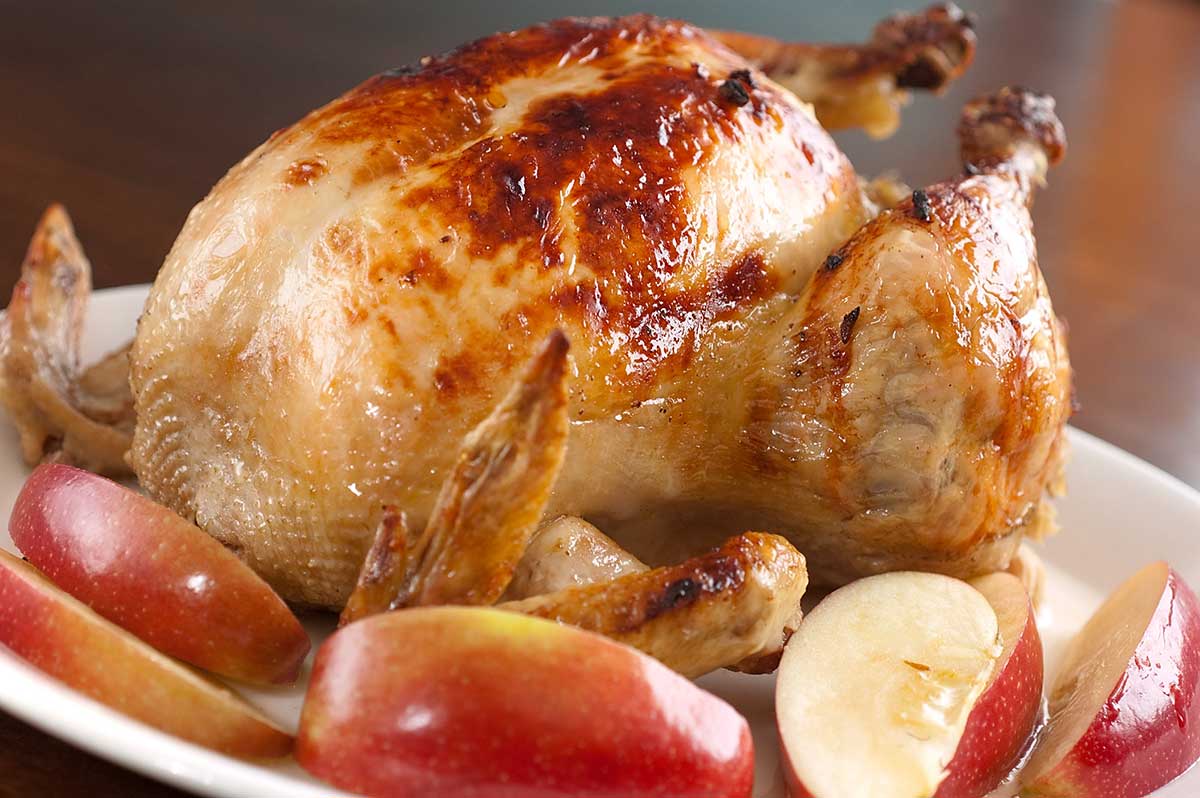 Bacon and Apple Roasted Chicken
Halloween may be behind us now, the stores might be putting out all of their Christmas decorations and I might be getting a little too eager to watch Elf, but fall is still in full swing. This chicken dish is the best way to celebrate that fact.  This recipe just screams fall. The chicken is stuffed with apples, lemon and cinnamon, topped with bacon and then slow roasted in a bath of chicken broth and apple cider.
It is no secret that I prefer the dark meat of chicken. It's just so much more tender than the breasts. Especially on roasted chicken. By the time that legs and thighs are done cooking, the breasts are dry. That used to be my problem anyway. Until I discovered that if you place bacon on the top of the chicken breast while the chicken is roasting, the bacon bastes the chicken as it is cooking. This results in one of the most moist chicken breasts I have ever eaten.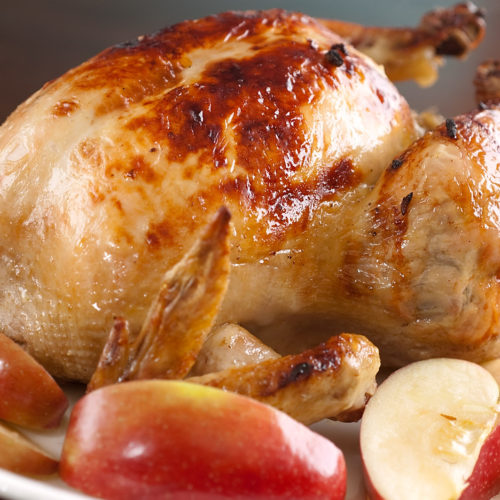 Bacon and Apple Roasted Chicken
Fall is still in full swing. Celebrate with this chicken cooked with apples, apple cider and bacon.
Ingredients:
1

5 pound chicken

4

tablespoons

unsalted butter

2

cloves

garlic minced

salt

1/2

braeburn apple

1/2

lemon

1

cinnamon stick

5

slices

pepper bacon

1

cup

chicken broth

1/2

cup

apple cider
Preheat oven to 450 degrees.

Rinse and pat dry the chicken. Be sure to remove any gizzards that are inside the bird.

Lightly season the cavity of the chicken with salt.

Mix together the butter and garlic. Gently separate the skin of the chicken from the breast and place about 1 tablespoon of butter on top of each breast. Rub the remaining butter all over the chicken. Stuff the chicken with the apple, lemon and cinnamon stick. Place chicken in a roasting pan breast side up. Lay the 5 strips of bacon across the chicken securing each with a tooth pick. Pour chicken broth and apple cider around the chicken.

Place chicken in preheated oven. Cook for 15 minutes. Reduce heat to 325 and cook for 1 - 1 1/2 hours or until temperature of the thigh reaches 170 degrees.

Remove bacon and discard. Cook for 15 - 20 minutes more to brown the skin. Remove the chicken from the oven and allow to rest for 10 - 15 minutes. The chicken will continue to cook during this time. The chicken is done when a thermometer inserted in the thigh reads 180 degrees.

Remove apples, lemon and cinnamon stick and discard. Carve and serve.
Keywords:
apples, bacon, chicken, comfort food, fall, Food, moist chicken, Recipe, roast chicken, whole chicken