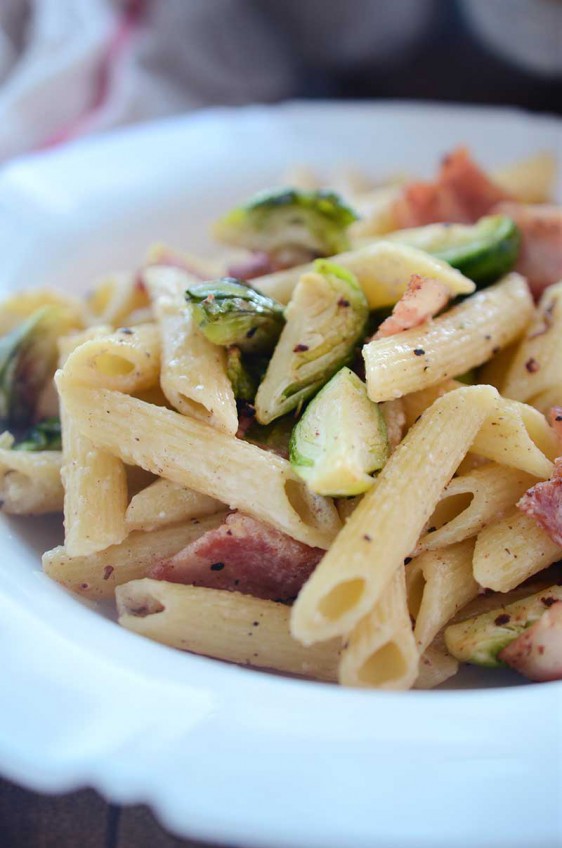 Bacon and Brussels Sprouts Penne
This is a sponsored post written by me on behalf of Tyson Foods, Inc. All opinions are entirely my own. #sponsored #ad
Bacon and Brussels Sprouts Penne is a creamy, decadent pasta dish with tender brussels sprouts and smoky bacon. It is the perfect pasta dish to welcome comfort food season.
Now that fall is upon us, I am ALL about the comfort food and what is more comforting than bacon and pasta? How about bacon and pasta tossed with brussels sprouts in a creamy sauce? If you think that sounds divine then you are going to LOVE this Bacon and Brussels Sprouts Penne. It. Is. Fabulous. When it comes to simple dishes like this you have got to make sure that you've got amazing ingredients. After all, there are not a lot of them so the ingredients that you do use need to stand out. For this recipe the stars of the show are gorgeous green brussels sprouts, fresh shredded Parmesan cheese and Wright® Brand Applewood Smoked Bacon.
When it comes to picking bacon, I am kind of picky. We eat a lot of bacon in our home and so I've come to learn what I like and don't like when it comes to bacon. First of all, when looking for bacon, I try to find some that has the perfect amount of fat and meat. If you don't have enough fat, there won't be as much flavor. If you have too much fat however, then the bacon will shrivel in the pan. A good balance of the two is what you need! Second, I like my bacon thick cut. There is nothing worse than trying to turn a slice of bacon and have it be stuck to the pan because it is so thin. I also like thick cut bacon because it gives a much more meaty, bacon-y flavor. Wright Brand Bacon excels in both of these and will now be what I reach for whenever I'm buying bacon. I just cannot get over how well it cooks up.
Take this Bacon and Brussels Sprouts Pasta for instance. Often times I will dice bacon to add to a pasta and the pieces get so small while cooking that it's almost like tiny tiny bacon bits were tossed with the pasta. With Wright Brand Bacon I didn't have this problem. This pasta has meaty, Applewood smoky pieces of bacon throughout. And if that isn't enough bacon flavor for you, I also sautéed the brussels sprouts with the bacon so they took on the same smoky Applewood flavor. Believe me, if you have someone that swears that they don't like brussels sprouts, give them this Bacon and Brussels Sprouts Pasta and you are sure to change their mind. If you want to do Bacon the Wright Way™ head to your local Kroger to check them out. There are 5 different flavors of Wright Brand Bacon to choose from. They offer Bourbon Barrel Smoked, Smoked Brown Sugar, Applewood Smoked Bacon, Hickory Smoked Bacon and Oak Barrel Smoked. For this recipe I picked up a package of the Applewood Smoked Bacon at my local Kroger store. But you can bet I'll be thinking of ways to use that Bourbon Barrel Smoked Bacon in the future. Do you have a favorite flavor?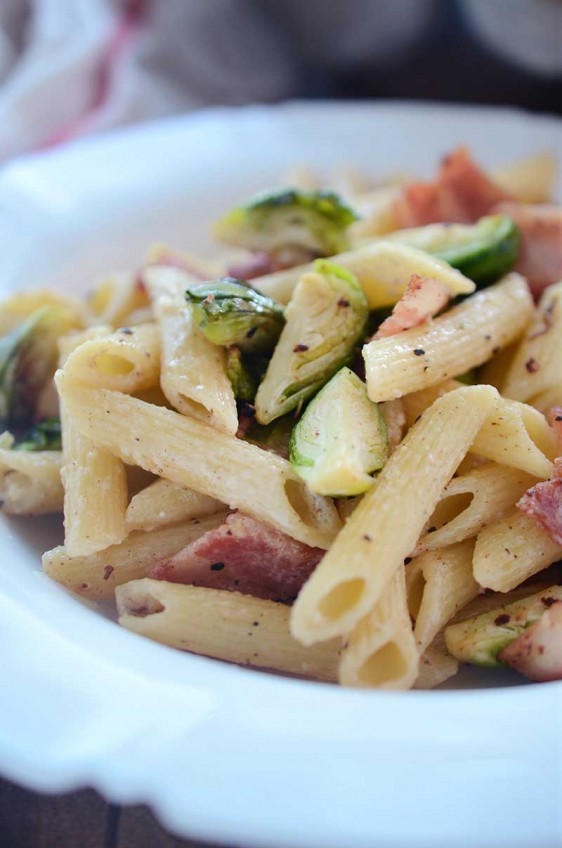 Bacon and Brussels Sprouts Penne
Smoky bacon, tender brussels sprouts and penne pasta tossed in a creamy sauce. This Bacon Brussels Sprouts Penne is pure fall comfort food.
Bring a large pot of water to boil and cook pasta according to package directions. Drain but reserve 1/2 cup of pasta water.

While pasta is cooking, cook bacon in a skillet over medium heat. After the fat has begun to render add in the brussels sprouts. Cook until bacon is browned and brussels sprouts are tender. About 7 minutes. Transfer bacon and brussels sprouts to a plate.

In the same pan melt butter with avocado oil. Once butter has melted add in garlic, cook 30 seconds or until fragrant. Pour in cream. Stir in cream cheese and parmesan cheese. Continue stirring until thickened slightly. If too thick, add some of the reserved pasta water. Return bacon and brussels sprouts to the pan.

Add pasta to the pan and toss to coat. Season to taste with salt and pepper. Serve immediately.
Keywords:
bacon, pasta, sponsored post, wright brand bacon