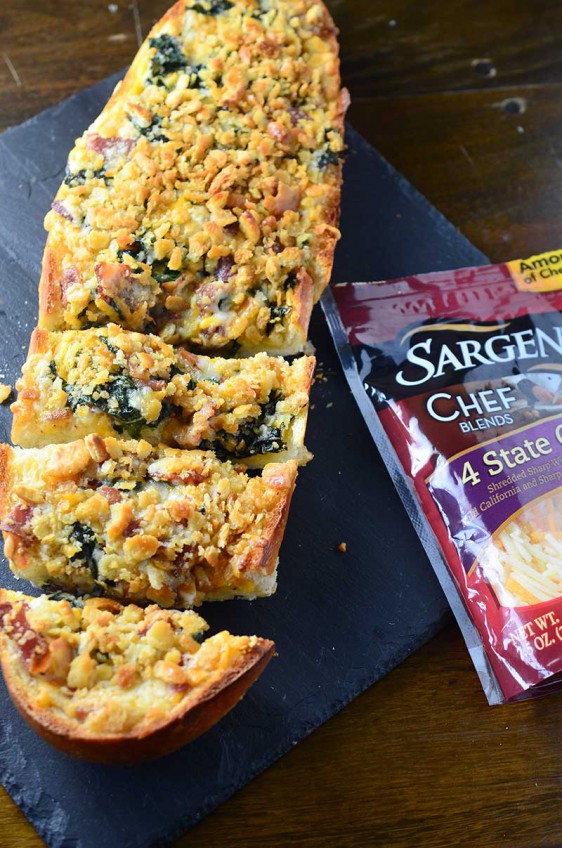 Bacon and Kale Cheese Bread
I always love a good challenge. Especially when it's a challenge in the kitchen. That is why when I was contacted by Sargento to participate in their Chopped At Home Challenge, I was all for it. Especially since this challenge included bacon and kale. It didn't take long for me to decide that I'd be making a cheese bread. A Bacon and Kale Cheese Bread to be more precise.
If you have never watched the TV show Chopped before, it is a show where contestants are given a basket of ingredients that they must use to make a dish. It can get pretty interesting with all of the different ingredients that they get. For my challenge, my "Basket" included kale, bacon, oyster crackers and Sargento Chef Blends 4 State Sharp Cheddar.
I lucked out. All of those ingredients are actually pretty easy to use. I adore kale. And bacon is bacon. And oyster crackers are just a blank canvas. And finally the 4 State Sharp Cheddar. If you are a cheddar fan you'll love it. It's got Sharp Wisconsin Cheddar, Sharp Vermont Cheddar, Sharp New York Cheddar and Mild California Cheddar. It's a bag of cheddar deliciousness and was a great addition to my chopped basket.
So what did I do? Well, I made a cheese bread.
A freaking delicious cheese bread.
First I cooked the bacon bits. Then I sautéed the kale in a little of the bacon drippings. Then I mixed the kale, bacon and cheese with a little mayo and piled it onto half a loaf of french bread. Finally, I had to figure out how to incorporate the oyster crackers. I knew they weren't going to add much flavor but would add a ton of texture so I mixed them with some of the bacon drippings and crumbled them over the bread to create a nice crunchy top. Finally, I baked it all until it was golden and bubbly.
It was pure cheese bread heaven.
Available in 30 versatile varieties, unique blends and distinct cuts, Sargento Shredded Cheese is always cut from blocks of 100% real, natural cheese. For more inspiration, check out the Sargento Pinterest page Pinterest.com/sargentocheese/ or visit Sargento.com for more information. The Chopped at Home Challenge gives viewers a chance to create their best recipe using the selected basket ingredients, including Sargento Shredded Cheese, for a chance to win $10,000!
This is a sponsored conversation written by me on behalf of Sargento. The opinions and text are all mine.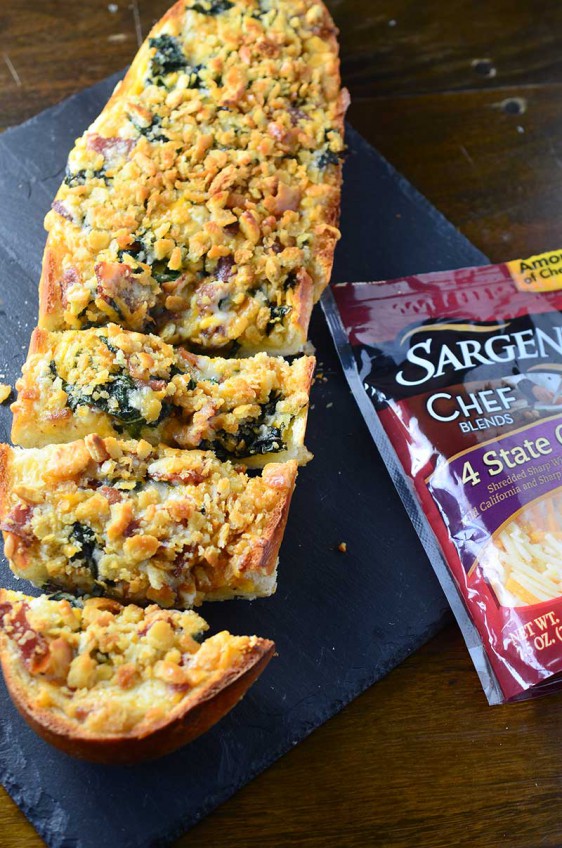 Bacon and Kale Cheese Bread
A hearty cheese bread topped with kale, bacon, oyster crackers and Sargento Chef Blends 4 State Cheddar.
Ingredients:
4

bacon slices

diced into 1 inch pieces

1

tablespoon

olive oil

2

cups

chopped kale

1/4

cup

mayonnaise

1 1/2

cups

Sargento Chef Blend 4 State Sharp Cheddar

salt and pepper

1/2

loaf of french bread

1 loaf halved lengthwise

1/2

cup

crushed oyster crackers

bake at 350 for 15 broil on high 1 - 2 minutes
Preheat oven to 350 degrees.

Cook bacon in a skillet over medium heat until cooked through. Use a slotted spoon to transfer bacon to a paper towel lined plate. Reserve 1 tablespoon of pan drippings.

In another pan, heat oil in skillet over medium heat. Add in kale and cook just until wilted.

In a bowl combine kale, bacon, mayonnaise and Sargento Chef Blend 4 State Sharp Cheddar. Mix well. Season to taste with salt and pepper. Spread mixture onto bread.

In a bowl mix together oyster crackers and reserved bacon drippings. Sprinkle over the top of the bread.

Bake in preheated oven for 15 minutes. Turn on broiler and broil for 1 - 2 minutes or until golden brown and bubbly. Remove from oven, allow to cool a couple of minutes. Slice and serve.
Keywords:
appetizer, bacon, bread, cheese bread, kale, sargento cheese