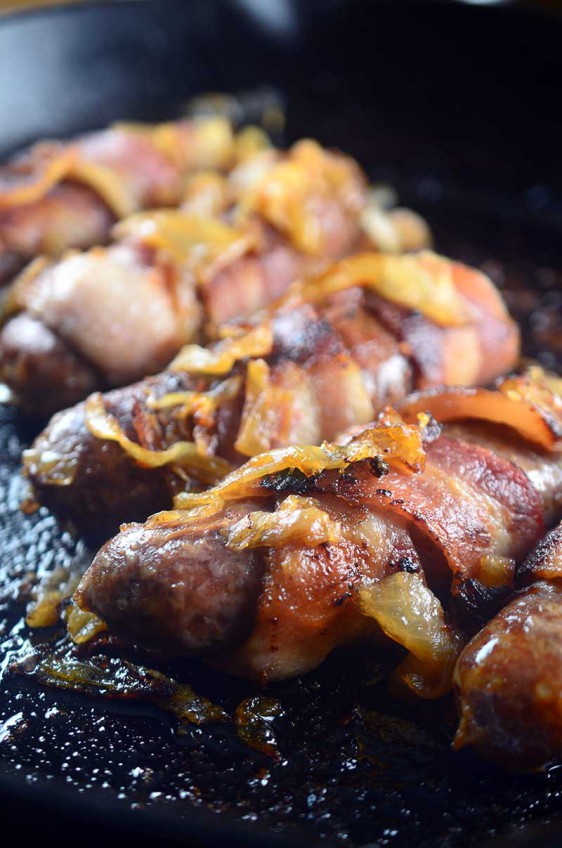 Bacon Wrapped Beer Brats
It's the first full week of January so obviously everyone is all NEW YEAR'S RESOLUTION DIET! And I'm over here like THE SUPER BOWL IS COMING. While it has yet to be determined if my Hawks are going to be in the big game, these Bacon Wrapped Beer Brats are definitely going to be on our super bowl menu.
Prior to making these Bacon Wrapped Beer Brats, I had never cooked brats in a slow cooker before. It's always been on the grill. Grilled brats are great. They get that nice char on the outside. But guys, slow cooked brats are AHmazing. So tender. So juicy.
For these Bacon Wrapped Beer Brats, things couldn't get much easier. Simply slow cook the brats in a slow cooker along with some onion, beef broth and light beer for about 6 hours. Next, comes the trickiest part: wrap the perfectly cooked brats in bacon. I say trickiest because I had a hard time getting the bacon to stay wrapped around the brats the first time I made these. My suggestion is to just wrap the bacon as tightly as you can with the two ends of the bacon on the side of the brat you are going to cook first. That way it sticks when you turn them over to cook the other side.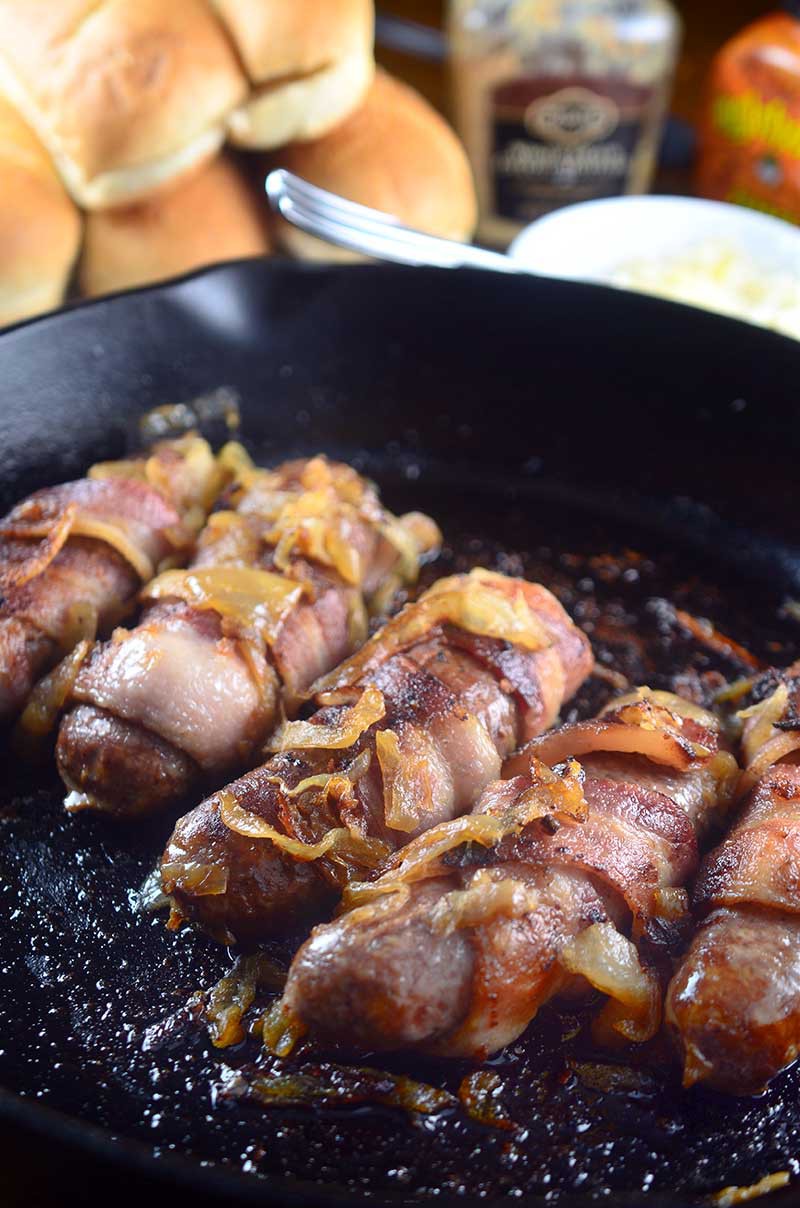 My other tip? Save the onions. The onions are slow cooking in that same beery, porky deliciousness that the brats are so they are pretty awesome too. Because I like my onions nice and caramelized I added them to the pan with the brats. If you like them a little less crispy just scoop them right out of the slow cooker on top of the brats.
Finally, when it comes to toppings I kept it pretty simple with sauerkraut and whole grain mustard. If you like things a little spicier, go with a sweet hot mustard.
Either way, these Bacon Wrapped Beer Brats are the perfect way to root for your favorite team. Which is the Seahawks right?! ;)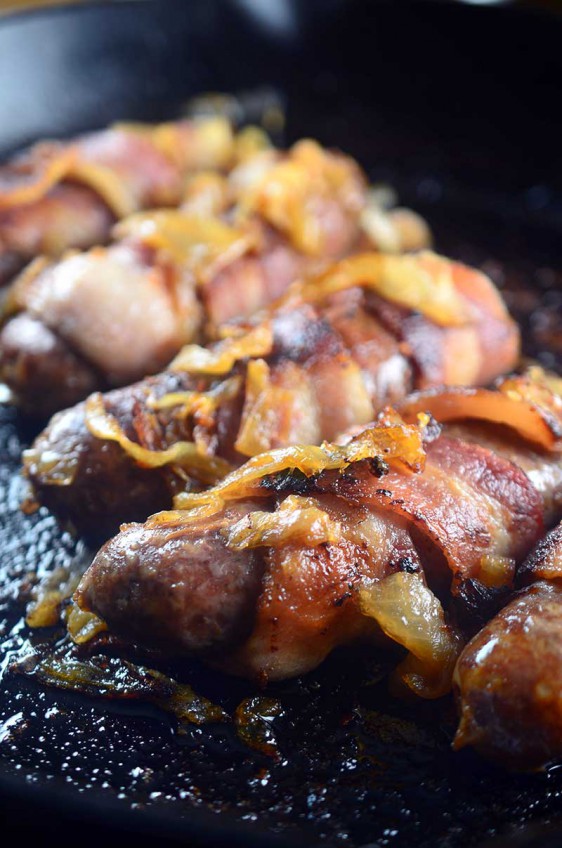 Bacon Wrapped Beer Brats
Bacon Wrapped Beer Brats are slow cooked with beer and onions, wrapped in bacon & finished in a skillet. Meaty porky goodness that is perfect for game day!
Ingredients:
1

medium onion

sliced

5

bratwurst sausage links

1

cup

beef broth

1

12 ounce can light beer

5

slices

center cut bacon

hot dog buns

sauerkraut

whole grain mustard
Place onion on bottom of slow cooker. Place sausage links on top. Pour in beef broth and beer. Cover and cook on low for 5 - 6 hours.

Remove bratwurst from slow cooker and allow to cool just enough so you can handle them. Wrap the bacon around the bratwurst. Place in a skillet. Use a slotted spoon to remove the onions from the slow cooker. Add onions to the skillet.

Cook the bacon wrapped brats and onions over medium heat , stirring occasionally, until bacon is cooked through and crisp, 3 - 4 minutes.

Place a brat in a hot dog bun top with caramelized onions, sauerkraut and mustard.
Keywords:
bacon, brats, slow cooker, super bowl