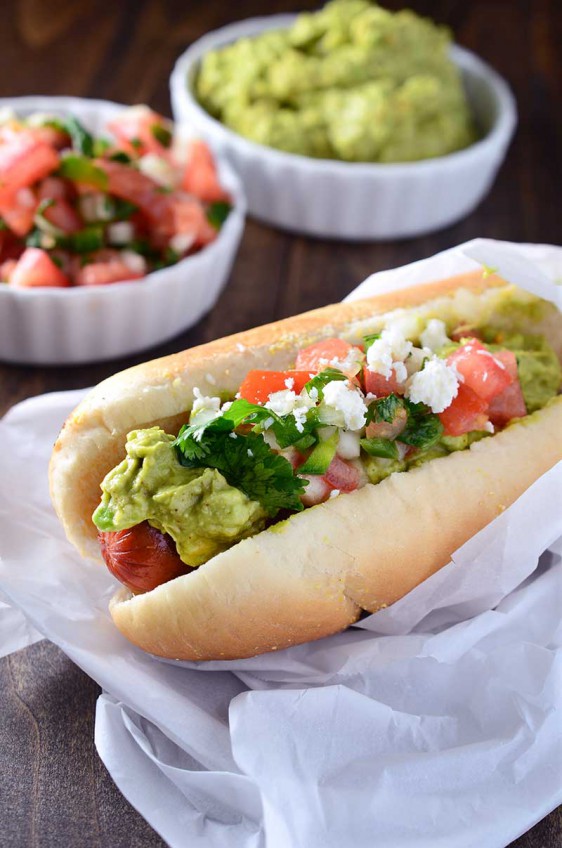 Bacon Wrapped Guacamole Hot Dogs
This is a total summer recipe. Or a total Cinco de Mayo recipe. Not a recipe one would typically share on a Monday in March. Unless, of course, you have been experiencing the amazing weather that we have been experiencing in Seattle the last week. We're talkin' sunny and mid 60s. I know that might not sound like much but for those of us that are accustomed to rain, clouds and 40 this time of year, this is darn near paradise and has got me in the mood to do what I do in the summer: put guacamole on all the things. Today it's Bacon Wrapped Guacamole Hot Dogs.
Wrapping a hot dog in bacon is one of those things that you hear about and think "really? Do we really need to be wrapping bacon around hot dogs?"
The answer: No, we probably don't need to.
The second half of that answer: But oh my gosh we SO want to.
And sometimes, we should just do what we want.
Bacon wrapped hot dogs are just enough of a change on the original hot dog to make it feel like a whole other meal. The bacon doesn't get super crispy but it adds a nice smoky crunch to the dogs.
Of course, like all hot dogs, you could add anything you want to bacon wrapped hot dogs and I'm sure they would be good.
A little cream cheese for a true Seattle dog would be divine.
Chili would be pretty fantastic.
Even a good ol' fashioned dog topped with ketchup, mustard, relish and onions would be amazing because guys, BACON WRAPPED HOT DOGS.
I decided to do a southwestern theme (see previous comment about putting guacamole on all the things when the sun comes out) and top our bacon wrapped hot dogs with fresh made guacamole, fresh made pico de gallo and a little crumble of cotija cheese.
I enjoyed mine with a Corona and lime because, I mean really, why wouldn't you?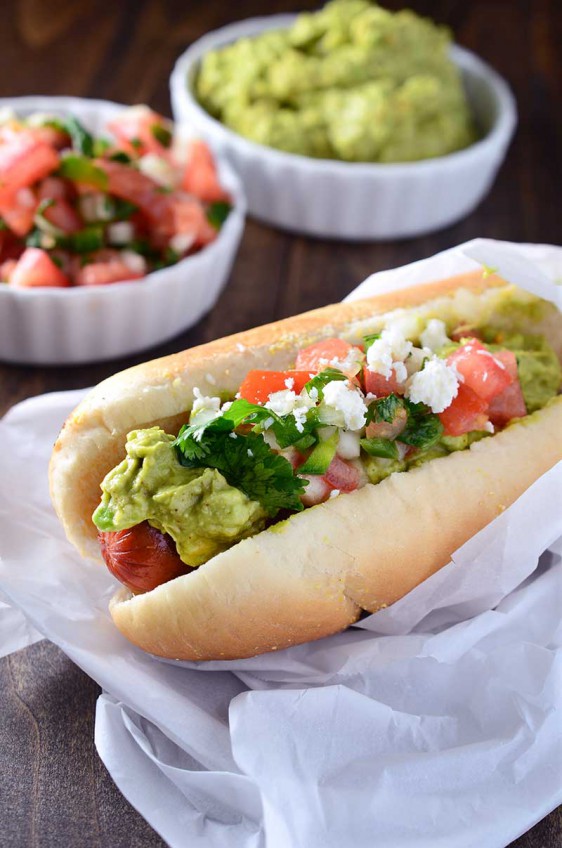 Bacon Wrapped Guacamole Hot Dogs
Jazz up your next BBQ with these southwestern inspired hot dogs. Bacon wrapped hot dogs are topped with guacamole, pico de gallo and cotija cheese.
Bacon Wrapped Hot Dogs:
4

hot dogs

4

slices

bacon

4

hot dog buns

cotija cheese
Guacamole:
2

medium avocados

pit removed

1

clove

garlic

minced

1

teaspoon

lime juice

1/4

teaspoon

cumin

1/4

teaspoon

chili powder

1/4

teaspoon

salt
Make pico de gallo by combining all of the ingredients together in a bowl. Let set at room temperature until ready to use.

To make guacamole, mash avocados together. Mix in remaining ingredients. Cover and refrigerate until ready to use.

Heat a grill or grill pan over medium-high heat.

Wrap hot dogs in bacon. The bacon should stick to the hot dog without a toothpick but you can use one if desired.

Cook hot dogs until bacon is cooked and hot dogs are warmed through.

Place hot dogs in buns, top with guacamole, pico de gallo and crumbled cotija cheese.
Keywords:
entree, guacamole, hot dog, mexican hot dogs