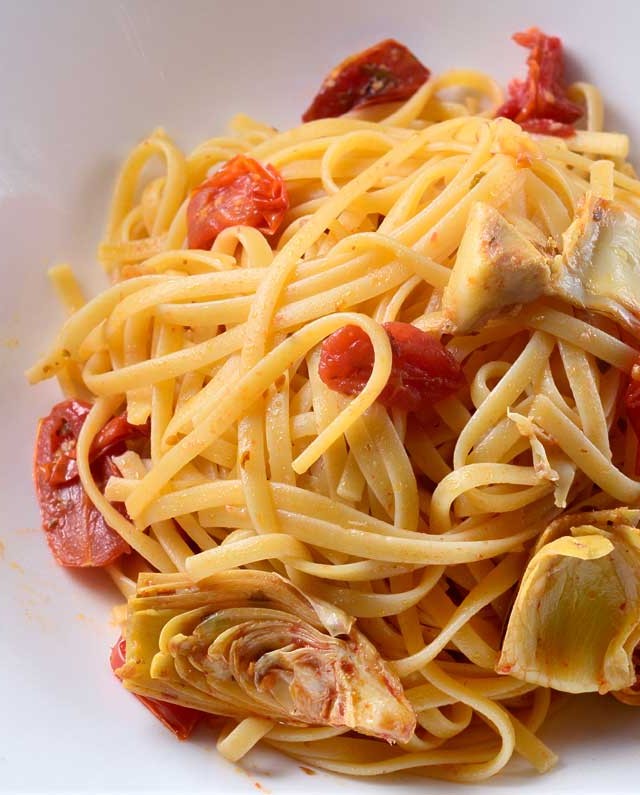 Balsamic Artichoke and Tomato Pasta
I don't care that it is the middle of winter, I have been craving tomatoes like no one's business. I want them with everything. Snacks, in salads and in pastas. I am finding that because they aren't at their best right now though, that it is best to dress them up a bit like I did in this pasta. I marinated them, along with some artichokes with balsamic vinegar and seasonings then roasted them before tossing it all with hot pasta. It totally satisfied my craving.
You know they say every pregnancy is different. And that couldn't be more true in my case. I have been sicker this pregnancy. I have had headaches that I didn't have with Kellan. And with Kellan I craved all things mayonnaise, all things cheesy and all things sweet. This pregnancy, cookies totally turn my stomach. Dairy makes my tummy hurt. And I want all things vegetables.
Weird no?
They also say that sometimes things like this means that you're having the opposite sex. I guess we'll see! We find out at the end of the month. I'll be sure to keep you posted :)
Now, on with the pasta.
Balsamic Artichoke and Tomato Pasta Recipe
Ingredients:
10 ounces cherry tomatoes, halved
1 (14 ounce) can artichoke heart quarters
2 cloves garlic, minced
1 tablespoon olive oil
1 tablespoon balsamic vinegar
1 teaspoon dried oregano
1/2 teaspoon salt
3/4 pound dried linguine
1 tablespoon butter
2 teaspoons olive oil
Instructions
1
Combine tomatoes, artichoke hearts, garlic, olive oil, baslamic vinegar, oregano and salt together in a bowl. Cover and let sit at room temperature for 30 minutes.

2
Preheat oven to 400 degrees.

3
Place marinated vegetables in a baking dish and roast for 15 minutes. Turn and continue roasting for another 15 minutes.

4
While vegetables are roasting, bring a large pot of water to boil and cook according to package directions. Reserve 1/2 cup of pasta water. Then drain the pasta.

5
Return the pasta to the pan, add butter and olive oil. Remove vegetables from the oven and add them, as well as any juices that have accumulated, to the pasta. Toss well. If pasta seems dry add 1/4 of reserved pasta water. If it still seems dry add the remaining 1/4. Serve.