Basil Guacamole
Basil. The quintessential summer herb. I always try to have a plant or two in my garden every year. I cannot get enough of the stuff. For one, it smells amazing. And secondly, I love it in pretty much anything. Of course there is pesto. And caprese. It's wonderful in pasta and sprinkled on top of pizza. It's even kind of delicious when added to sparkling water. And now, after trying this Basil Guacamole, I kinda dig in in my guacamole too.
I hadn't thought about putting avocado with basil before. That is, until I made this Zucchini Noodle, Avocado and Tomato Salad with Lemon Basil Vinaigrette. Immediately upon trying the two together, it was love at first bite. They pair so well together that it got me to thinking, what would it be like to make a guacamole out of the two?
The answer?
Spectacular.
Now, when it comes to guacamole, I don't usually like to mess with a good thing. I mean really, avocados themselves are all kinds of perfect. I've been known to just eat one sprinkled with a little salt and lime juice for lunch. You really don't need a whole lot to make them taste good. For that reason, there isn't a lot going on in this Basil Guacamole. And that is exactly how I wanted it. It's simple, straight forward and perfect. I only use avocados, fresh basil, lime juice, garlic and salt. It doesn't get much easier!
The hard part is waiting the 30 minutes while the flavors chill out together. You're going to want to dig right in, I get it. I really do but trust me when I say it tastes even better if you let it sit a while. Then it's totally acceptable to dig in with a bag of chips, or a spoon, or simply do a face plant.
No judging here.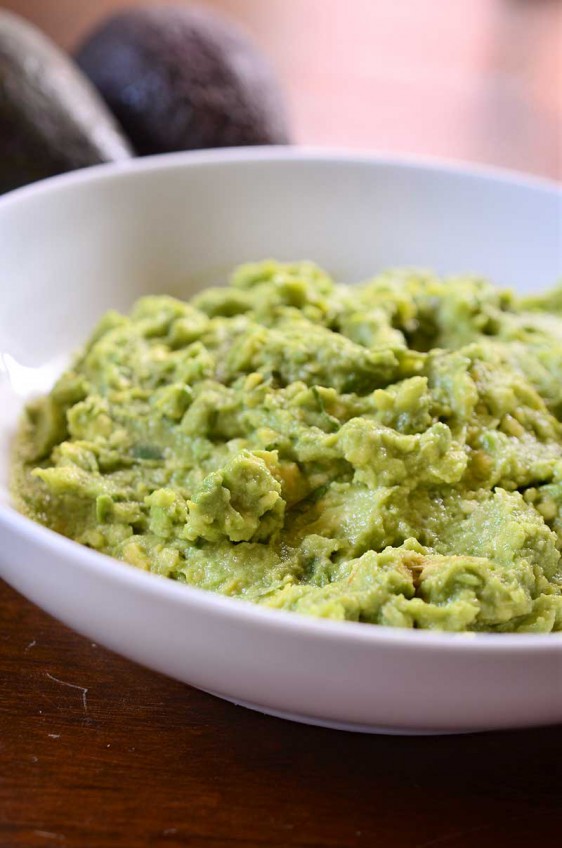 Basil Guacamole
This basil guacamole is the perfect summer dip with avocado, basil, lime and garlic.
Place avocados in a bowl and mash with a fork.

Mix in garlic, lime juice, salt and basil leaves. Cover and refrigerate for at least 30 minutes. Serve.
Keywords:
avocado, basil, Dip, guacamole, snack