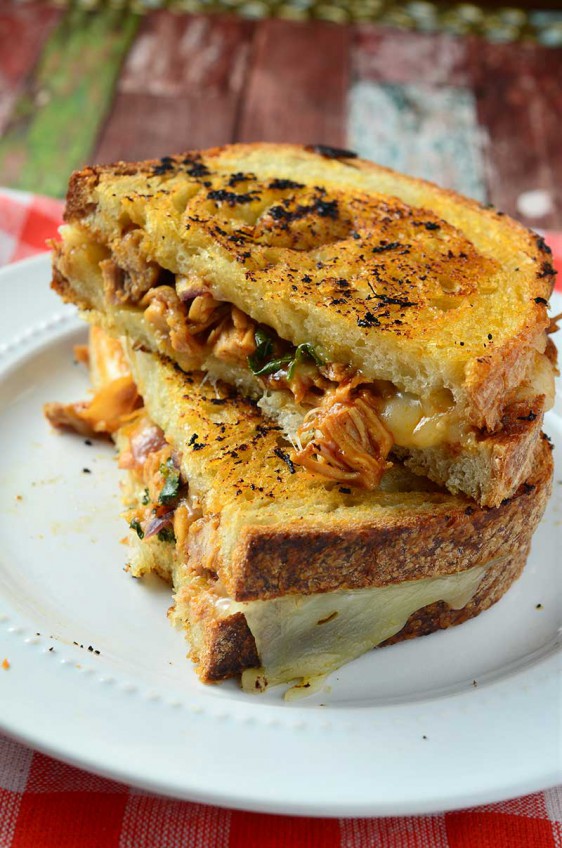 BBQ Chicken Grilled Cheese Sandwiches
When you think about comfort food there a few things that come to mind: spaghetti, mashed potatoes and grilled cheese. We just love grilled cheese around here. They are perfect for quick lunches. Tummy warming when dunked in tomato soup on cold days. And when kicked up a notch or two with some meat and veggies they can make some pretty hearty dinners too.
I am always looking for new ways to enjoy grilled cheese and recently jazzed it up by making a BBQ Chicken Grilled Cheese. It's loaded with shredded chicken, onions, sweet bbq sauce and cheese.
Sounds scrumptious no? Well you better head on over to Oh Sweet Basil where, as of today, I am now a contributor, and check it out! If you aren't familiar yet with Carrian and her blog, you are going to love it. She cooks simple, comforting food, a lot like me.
In addition to all the yummy recipes I'll be sharing here on Life's Ambrosia, I'll be creating and sharing a new one over there once a month. I'm super excited about it and I hope you'll check it out!
Get the recipe for BBQ Chicken Grilled Cheese Sandwiches on Oh Sweet Basil.