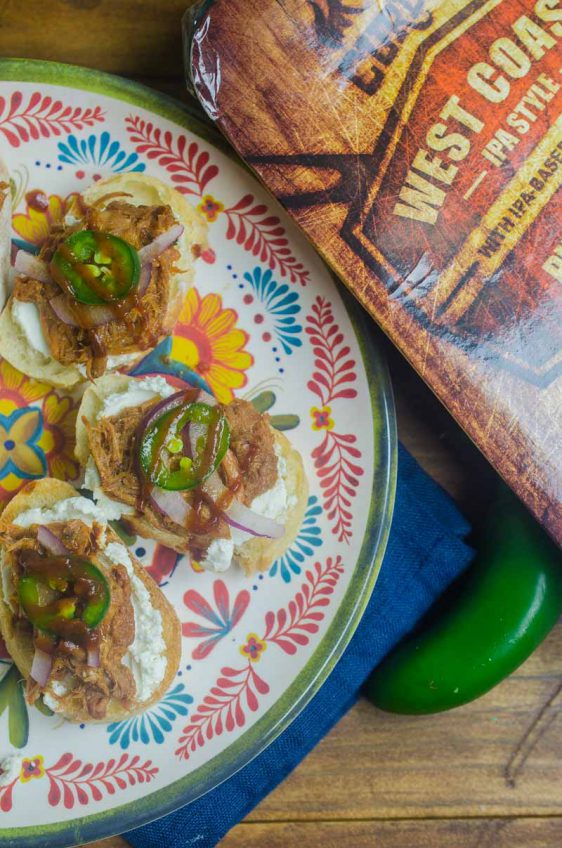 BBQ Pulled Pork Bruschetta
This post is sponsored by Curly's BBQ. We are grateful for our sponsors as they allow us to bring you delicious free content every week.
BBQ Pulled Pork Bruschetta is topped with goat cheese, Curly's RoadTrip Eats West Coast IPA Style Pulled Pork, onions, jalapenos and BBQ sauce. It's perfect for game day!
Is it just me or are the final months of the year always the busiest? We've got birthday parties almost every weekend this month. Then next month starts all the holiday parties. And let's not forget all the game day tailgating Sundays too!
With all of these get togethers, it's always nice to have a quick and easy appetizer on hand so that the host of the party (usually me because I like feeding people, if you can't tell) can sit and relax with everyone else. That is where this BBQ Pulled Pork Bruschetta comes into play. It's quick, easy and loaded with flavor.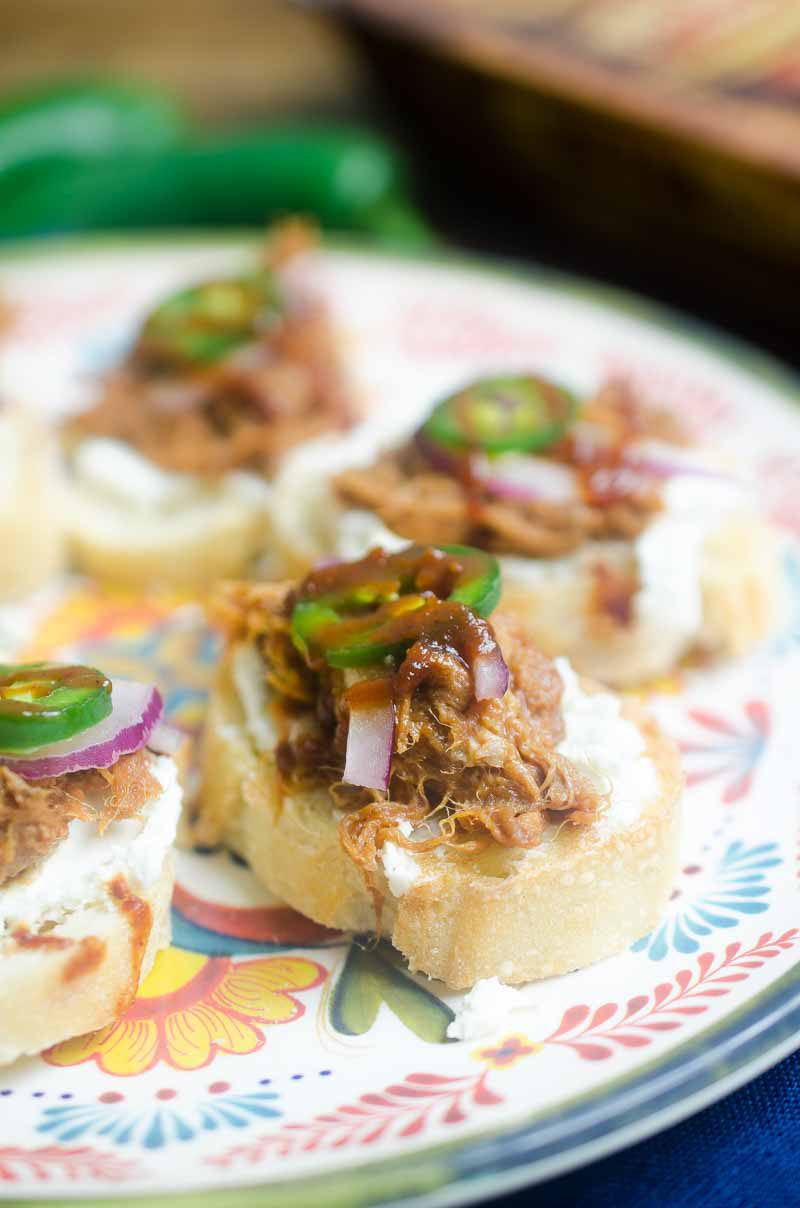 To make this BBQ Pulled Pork Bruschetta a real time saver, I turn to Curly's RoadTrip Eats West Coast IPA Style Pulled Pork. You can find it in the refrigerated meat section at the grocery store and it makes tailgating a breeze. It's already fully cooked all you need to do is heat it up and enjoy. We've used it to make pulled pork sliders, tacos and now this bruschetta.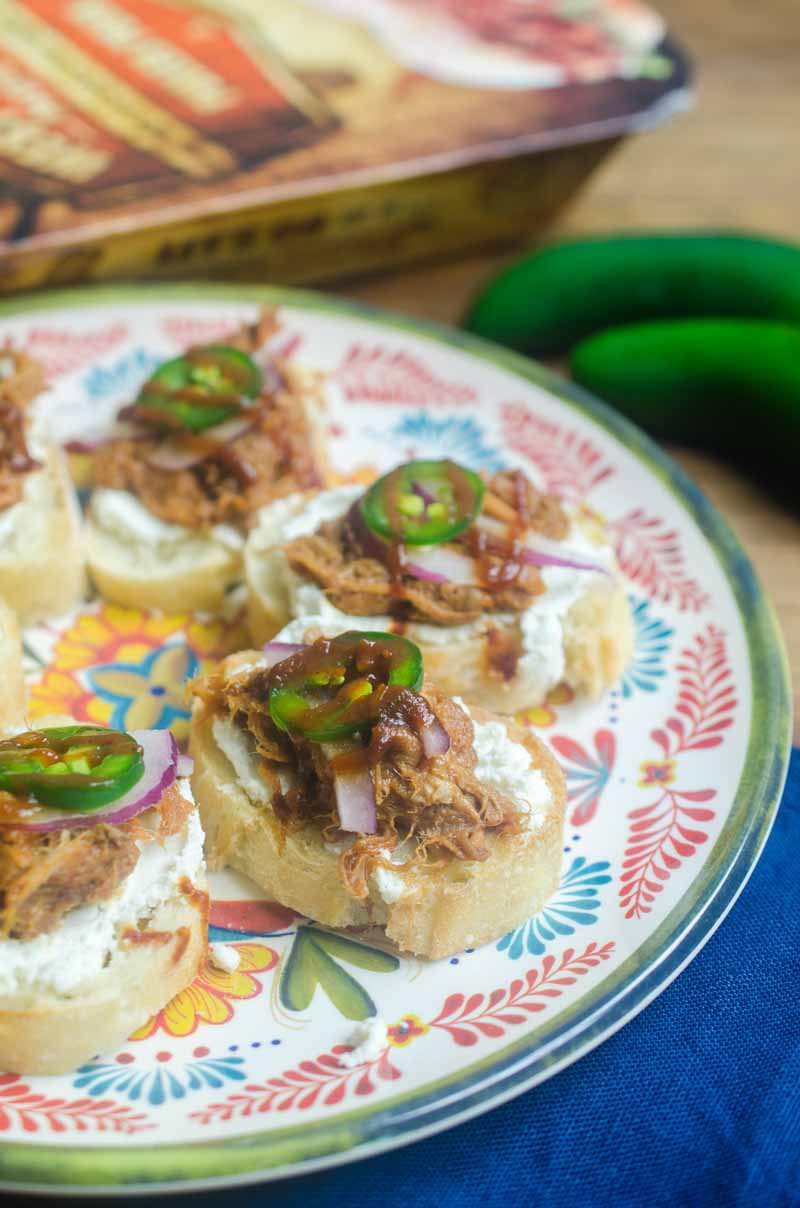 In addition to the smoky, porky goodness from the pulled pork, this bruschetta is also topped with tangy goat cheese, red onion, spicy jalapeño and sweet BBQ sauce. It really is a flavor explosion that is sure to be the hit at any game day celebration. And best of all it seriously takes less than 20 minutes to make. That means more party time for you! Total win, right?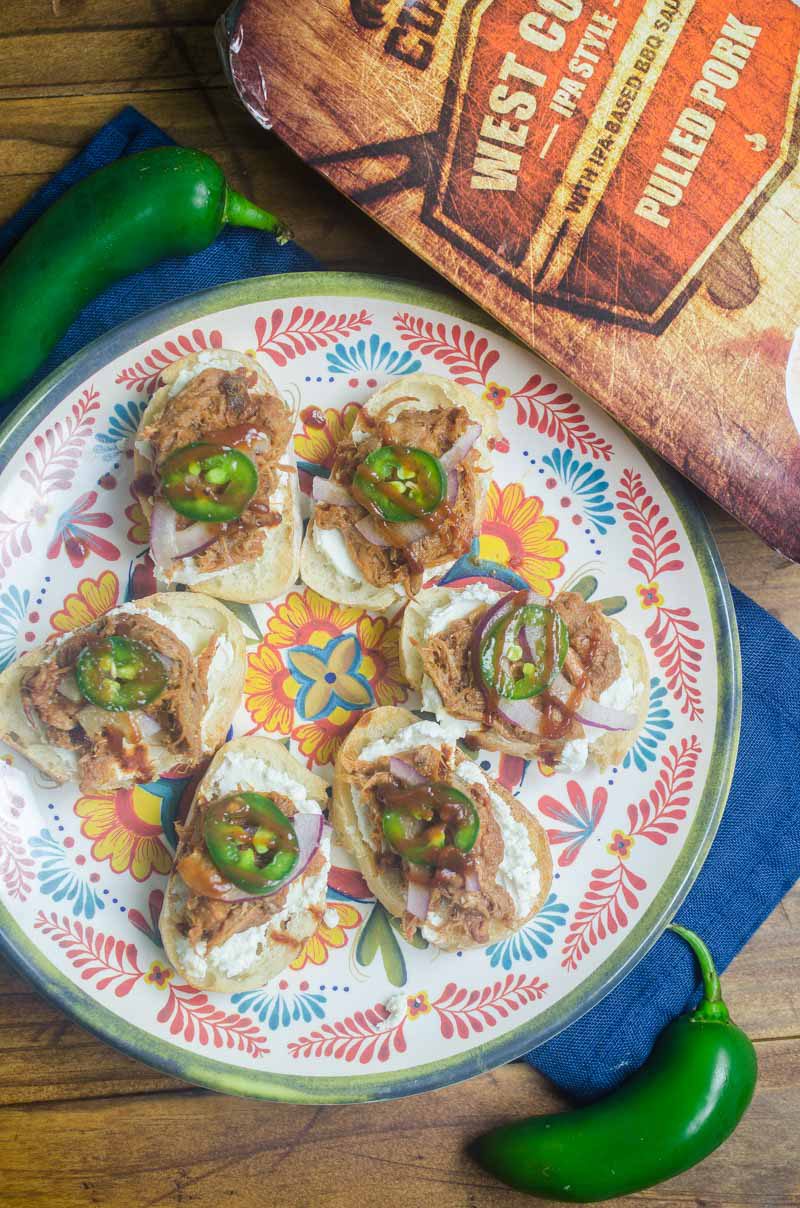 One last thing I wanted to let you know about. Curly's is currently offering the chance to win $10,000 in the Curly's RoadTrip Giveaway. You can enter at http://sweeps.roadtripeats.com/. The winner can use their haul to travel anywhere they want. Where would you go?!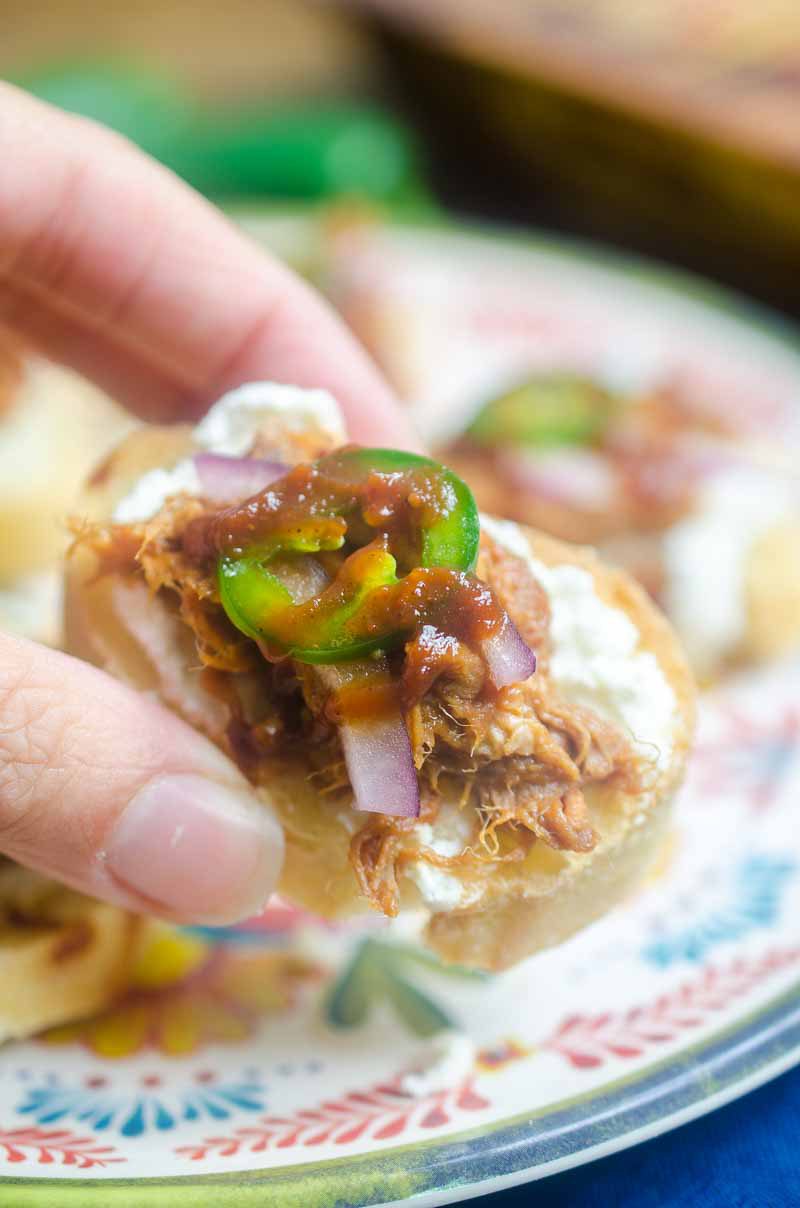 I'd go somewhere where I could eat…all the food.  Obviously.
Check out the video to see how easy this Pulled Pork Bruschetta is to make!
BBQ Pulled Pork Bruschetta Recipe
Ingredients:
10 - 12 baguette slices
1 cup Curly's RoadTrip Eats West Coast Style IPA
4 ounces goat cheese, softened
1/4 cup sliced red onion
1 - 2 jalapenos sliced
bbq sauce
Instructions
1
Cook Curly's RoadTrip Eats West Coast Style IPA according to package directions.

2
Toast the baguette slices under broiler.

3
To assemble: spread goat cheese on baguette slice, top with pork, onions and jalapeños. Drizzle with BBQ sauce. Serve Immediately.