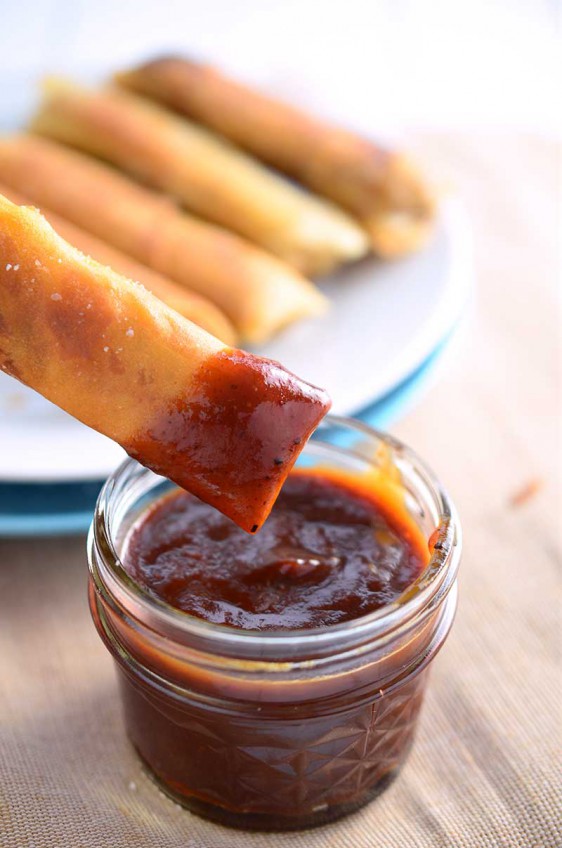 BBQ Pulled Pork Egg Rolls
BBQ Pulled Pork Egg Rolls are loaded with slow cooker pulled pork, bbq sauce, red onions and jalapeños then fried until golden. Egg. Roll. Perfection.
BBQ Pulled Pork Egg Rolls. I've made a lot with pulled pork over the years, sandwiches., pasta, tacos and tailgate fries. But today I am sharing some crispy BBQ Pulled Pork goodness. These BBQ Pulled Pork Egg Rolls are loaded with slow cooker pulled pork, bbq sauce, jalapeños and red onions and then fried until golden brown and crispy. They are egg roll perfection.
I picked up a pork shoulder last weekend and after I made a few different recipes with it (look for those in the coming weeks!) I had just a little bit left over. Not one that likes to waste food, especially slow cooker pulled pork, I decided to make these BBQ Pulled Pork Egg Rolls.
AND I AM SO GLAD I DID.
I always use the same recipe for my slow cooker pulled pork. A 5 pound pork shoulder usually runs me about $20 and it usually gives me enough meat to make 3 or 4 meals. It is one of the best time savers and money savers I know.
For this recipe you only need 3 cups of pulled pork and you'll get about 10 egg rolls. You could easily double this recipe if you're making it for a party or if you want to have some in the freezer. From my personal experience, having egg rolls in the freezer is always a good thing. They make a great quick lunch or appetizer when you've got company. Just make sure you thaw them before frying. I also know this from personal experience ;)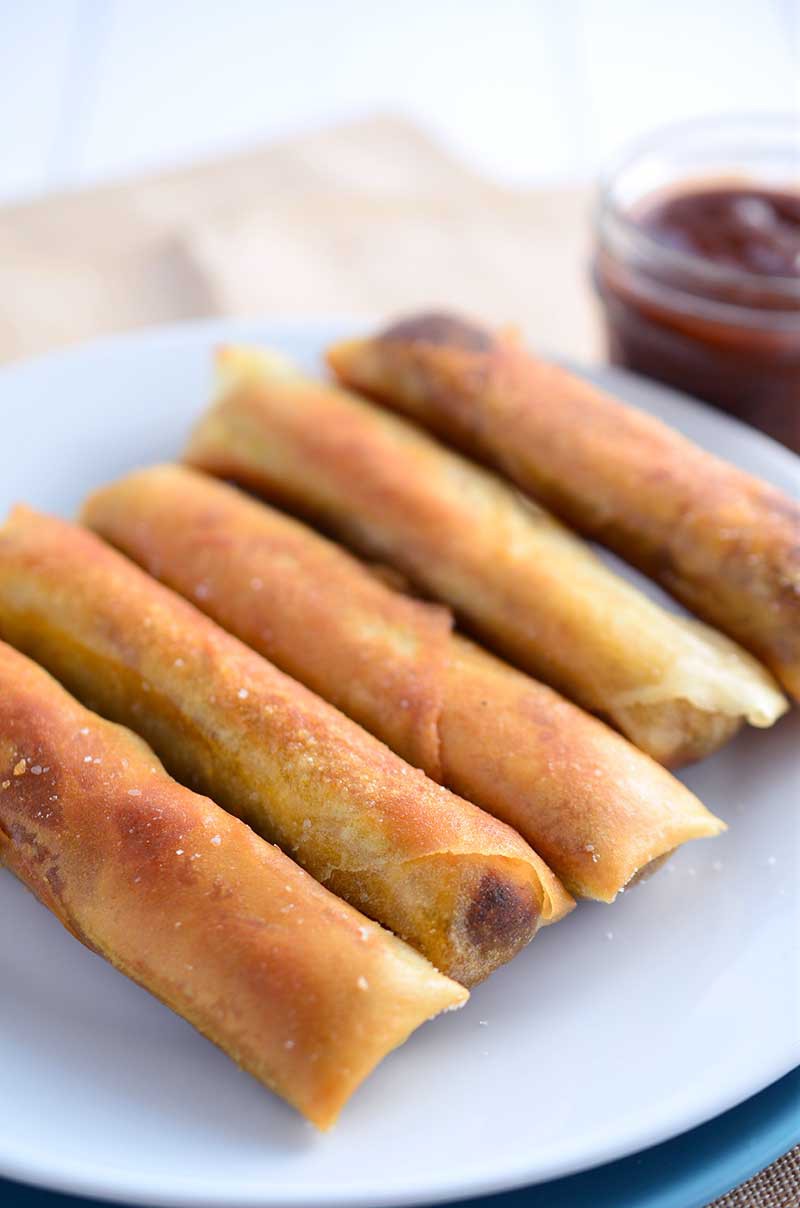 For the BBQ sauce in this recipe I used Stubb's Sweet Heat. Of all BBQ sauces I must say that it's my favorite. It's got a little bit of heat and a little bit of sweet and is pretty perfect. And this is not a sponsored post, Stubb's is seriously the only BBQ sauce I buy. Love. It.
One last note, if you're not into the whole pulled pork thing, try this recipe with leftover rotisserie chicken. In fact, I think I'll be trying that soon.

BBQ Pulled Pork Egg Rolls Recipe
Ingredients:
2 teaspoons avocado oil (or canola)
3 cups pulled pork
1/2 cup diced red onion
1 jalapeño, diced (seeds removed if you want it less spicy)
1/2 cup BBQ sauce
10 - 12 egg roll wrappers
1 egg, beaten
oil for frying
Instructions
1
Heat avocado oil in a skillet over medium heat. Add in pulled pork, red onion and jalapeño. Cook just until pork is warmed through and red onion and jalapeño have softened, about 5 minutes. Stir in BBQ sauce.

2
To assemble the egg rolls: using one egg roll wrapper with one point towards you, place 1 tablespoon of filling about an inch from the point closest to you. Working away from you, fold the wrapper over the filling. Next fold in both sides. Dip a pastry brush into the egg and brush the edges. Continue rolling to seal completely. Repeat with remaining filling and wrappers.

3
Heat 1/2 inch of oil in a skillet to 350 degrees. Fry egg rolls, in batches if necessary so you don't crowd the pan, until golden brown, about 3 minutes.

4
Transfer to a paper towel lined plate, sprinkle with salt. Repeat until all egg rolls are fried.

5
Serve with extra BBQ sauce for dipping.