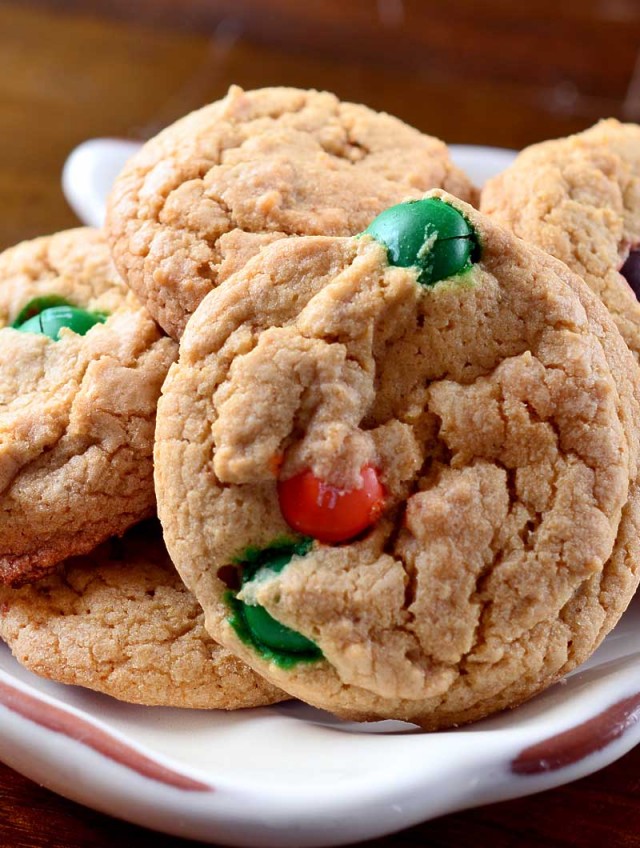 Biscoff and Pumpkin Spice M&M Cookies
I was walking through Target the other day and I heard a crazy amount of people in the candy section. What was all the fuss? Well…the Target folks were putting out the Halloween candy! Pardon me while I jump up and down and squeal with glee. It's here! It's here! And while I was drooling over the aisle, the new Pumpkin Spice M&Ms caught my eye. I quickly picked up a bag, drove home and made these Biscoff and Pumpkin Spice M&M Cookies. Then I promptly ate half a dozen.
When did M&Ms get so big?
I mean, not regular M&Ms they are still the same size they have always been. But these new flavors are always so much bigger than the regular M&Ms.
Like the Mint ones at Christmas time. Which by the way are my favorite Christmas candy.
And these Pumpkin Spice M&Ms? They are waaaaaaay bigger than regular M&Ms.
Not that I am complaining. Especially when they are as good as these are. I was a little skeptical about them at first to be honest. They could've been way over the top pumpkin spicy you know? But not these, I could taste the chocolate and the pumpkin flavor was very subtle. It worked well for these cookies.
And the gingery flavor that you get from the Biscoff spread also goes so well with the M&Ms. These just might be the perfect fall cookie.
Kellan thinks so.
Or at least that is what I can assume because every time I turn my head he's got one in his mouth. He looks up, smiles and says "Kellan eat a cookie!"
That kid, I tell you, steals my heart every day.
And my cookies.
Biscoff and Pumpkin Spice M&M Cookies
Chewy Biscoff Cookies studded with Pumpkin Spice M&Ms.
Preheat oven to 375 degrees.

Beat butter, brown sugar and granulated sugar together in a bowl until fluffy. Beat in eggs one at a time. Beat in eggs one at a time. Being sure to scrape down the sides of the bowl after adding each egg. Beat in vanilla.

Combine flour, baking soda and salt together in a bowl. Slowly beat dry ingredients into the wet ingredients. Fold in the Biscoff spread and Pumpkin Spice M&Ms.

Roll out tablespoons of dough and place them on cookie sheets. Bake for 10 minutes or until edges have started to brown. Note: when baked for 10 minutes these are chewy cookies. Baked for 12 minutes they get a bit crispy.

Allow to cool on the cookie sheet for several minutes. Transfer to a cooling rack to cool completely.
Keywords:
biscoff, cookies, dessert, fall dessert, halloween treats, pumpkin spice m&ms, sweet, treat