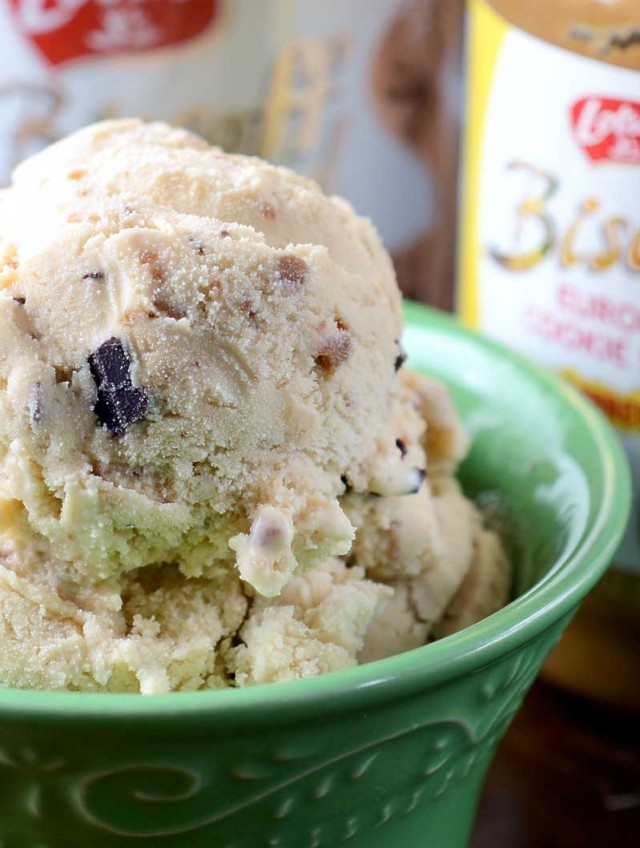 Biscoff Chocolate Chip Gelato
So there is this spread. And it's wonderful. It can be creamy. Or it can be crunchy. It's definitely sweet. It's 100% decadent. And the best part? It is made out of…COOKIES.
Up until that whole cookie part, I bet some of you thought I was talking about peanut butter. But no no no, peanut butter aint got nothin' on this. I'm talking about Biscoff Spread. As in those yummy in-flight cookies that you get when you fly but in spread form.
As in you can eat it by the spoonful.
And I do. Shhhh…
I have been in love with Biscoff Spread since I discovered it a little over a year ago. If you don't know what it is, Biscoff Spread is a sweet, creamy spread made with Biscoff Cookies. A European alternative peanut butter and chocolate spread. And like the cookies, the spread is made in Belgium out of all natural ingredients, no GMOs and is even nut free and vegan. Pretty nifty stuff huh? Not to mention it tastes ahhhmazing.
I have used it before in a few recipes like these Pumpkin Cupcakes with Biscoff Cream Cheese and these Biscoff and Dark Chocolate Chip Cookies. So when the nice people at Lotus Bakeries said they wanted to work with me to develop a new recipe using Biscoff Spread I was all over it. They even sent me spread! Both the creamy and the crunchy kind. The creamy kind is well, you guessed it, creamy and delicious. The crunchy kind has little bits of Biscoff cookies in every bite and is my personal favorite. And after one bite on a warm summer day, I knew just what I was going to do with it.
Eat it by the spoonful.
But after a couple of spoonfuls, I figured I should also create a recipe with it so I did. Allow me to introduce you to the best gelato/ice cream I have ever tasted. Ever. Biscoff Chocolate Chip Gelato.
I cannot even begin to tell you how delicious this gelato is. It's creamy and decadent. It has chunks of dark chocolate. And best of all, it has crunchy Biscoff spread mixed throughout. That means that every single bite of this gelato tastes like Biscoff and there are even bits of crunchy Biscoff cookies too. It really is like eating the the spread by the spoonful but it's icy cold gelato so it is perfect on these warm summer days.
I first fell in love with gelato when I was in Italy for our honeymoon. I kid you not I ate gelato after lunch and dinner every single one of the 14 days that we were there. What makes gelato different than ice cream? There is actually less cream and more milk. You'd think that would make it less creamy but it's actually the opposite. Gelato is so creamy and delicious and with the addition of Biscoff in this recipe, it is out of this world.
Do you love Biscoff Spread as much as I do? Why don't you Spread the Love? Head on over to the Biscoff's Spread The Love Contest page and vote for your favorite! What's in it for you? Well that my friends just might be the best part.
Vote for the best photo in Biscoff's "Spread the Love" contest and you could win a year's supply of Biscoff products!
This gelato is my favorite way to enjoy Biscoff Spread. What is yours?
This is a sponsored conversation written by me on behalf of Biscoff. The opinions and text are all mine.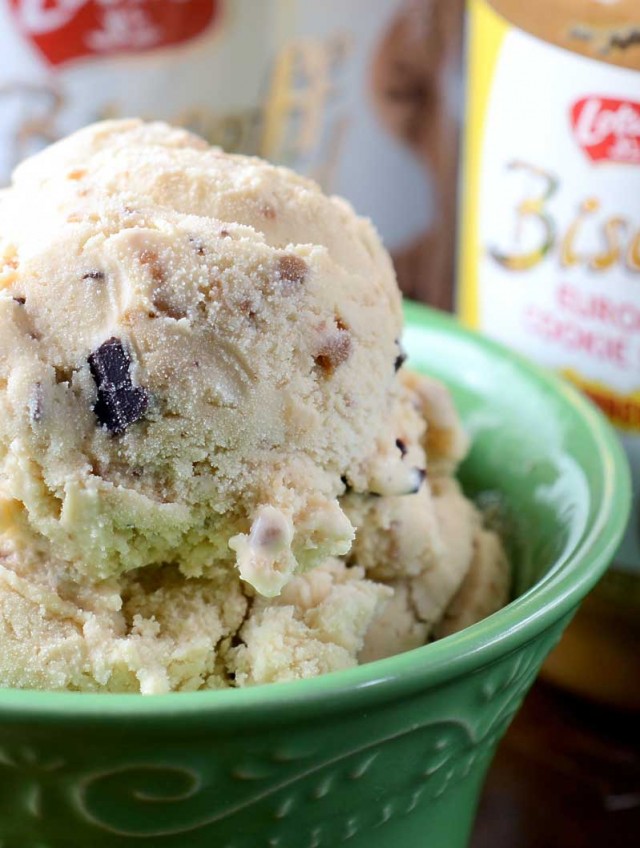 Biscoff Chocolate Chip Gelato
A creamy gelato made with crunchy Biscoff Spread and dark chocolate pieces.
Ingredients:
2

cups

whole milk

1

cup

heavy cream

3

egg yolks

3/4

cup

sugar

1

tablespoon

vanilla

1/2

cup

crunchy Biscoff Spread

4

ounces

bittersweet chocolate

chopped
Combine whole milk and heavy cream together in a pan over medium-low heat.

While the milk and heavy cream are warming, whisk the egg yolks and sugar together in a bowl until it turns a pale yellow.

Once the milk has begun to steam, slowly whisk 1/2 cup of the milk and cream into the egg yolks to temper them. Once the eggs have tempered, slowly whisk the eggs into the remaining cream and milk mixture in the pan. Cook over medium-low heat until the mixture thickens enough to coat the back of a spoon, it should be about 170 degrees. Do not allow the mixture to boil. Stir consistently.

Once mixture has thickened, place a mesh strainer over the top of a bowl and pour the mixture through it. Cover the mixture and refrigerate until well chilled, about 4 hours.

Once the mixture has chilled, freeze according to your ice cream manufacturers instructions. When there is about 5 minutes left, spoon the Biscoff spread in tablespoon by tablespoon. Add in the chopped chocolate. Continue to freeze until Biscoff and chocolate are incorporated, about 5 minutes.

Transfer to a freezer safe container and freeze until frozen, 1 - 2 hours. Serve.
Keywords:
biscoff, chocolate chip ice cream, dessert, gelato, ice cream, spread the love, sweet