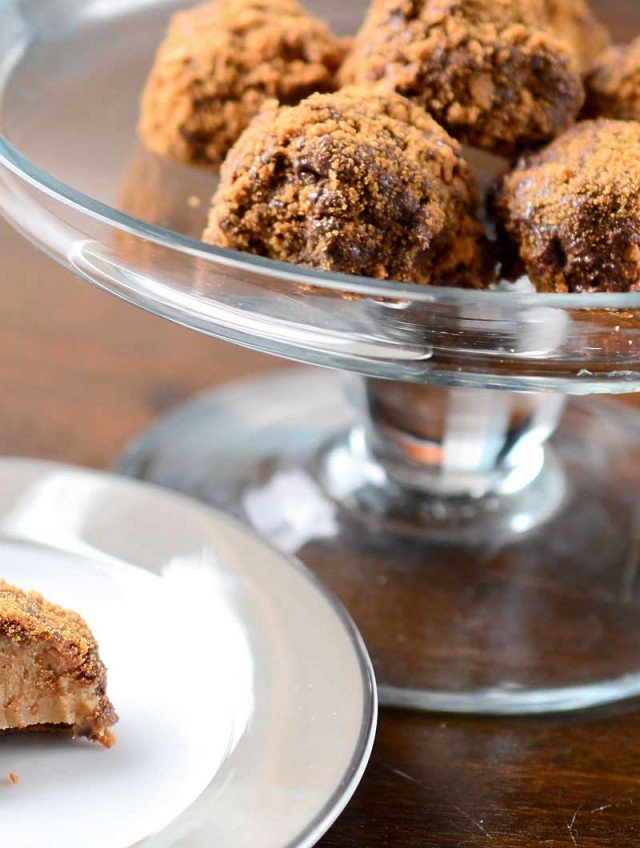 Biscoff Nutella Truffles
I know what you're thinking "Des, cool it with the Biscoff" But I just can't. I can't. It's bordering an addiction. There is probably a group some where that I would fit into nicely. Or maybe I should start one. Especially after trying these babies. Biscoff spread mixed with powdered sugar and cream cheese then dipped in melted Nutella and rolled in more Biscoff cookie crumbs. One bite and you'll be asking when the next Biscoff Addicts Anonymous meeting is.
With all this Biscoff talk you may have missed one other important thing. Did you happen to see the part where I mentioned that these lovely Biscoff bites are coated in Nutella? That's right, everyone's favorite chocolatey, hazelnut spread. In one word these little bites are bliss. Pure, unadulterated Biscoff Nutella bliss.
Do note that these do take a little bit of time because they need to chill for a total of 3 hours. I know it seems like a long time but it is worth the wait. I promise.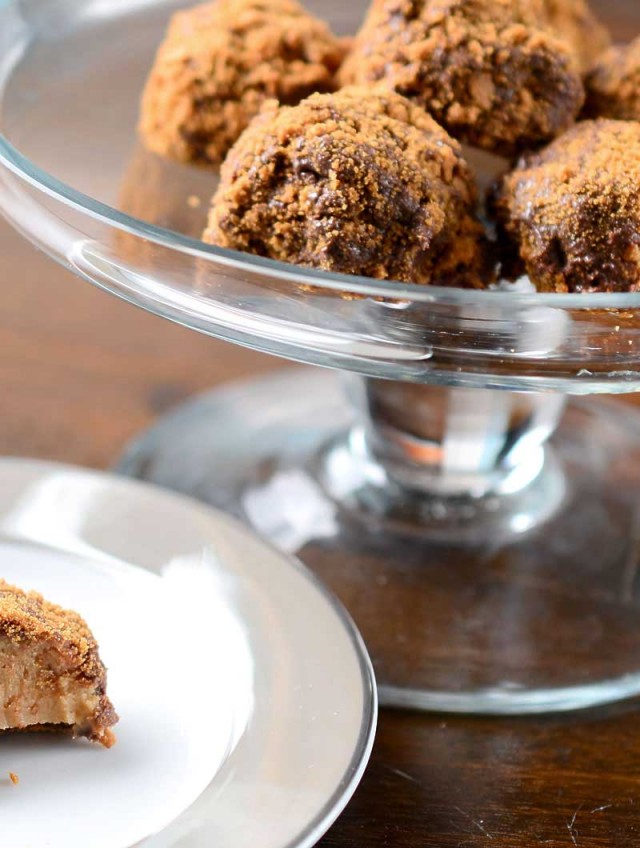 Biscoff Nutella Truffles
Creamy Biscoff balls dipped in melted Nutella and rolled Biscoff cookie crumbs. Pure, unadulterated Biscoff Nutella heaven.
In a bowl combine cream cheese, Biscoff spread and 1 1/2 cups powdered sugar together in a bowl. Mix well. The mixture should be soft but stiff enough to roll. If it is not add a bit more powdered sugar.

Roll 1 tablespoon of Biscoff/sugar mixture into a ball. Continue rolling until all of the mixture is rolled. Cover and refrigerate for at least 2 hours.

When you are ready to make the truffles, place 1 cup of Nutella into a microwave safe bowl and melt for about 30 seconds. Stir. It should be thin enough to dip the truffles in. If not return to the microwave for another 30 seconds.

Place cookie crumbs on a plate.

After the Nutella has cooled slightly, begin dipping the truffles in one at a time and then roll them in the cookie crumbs. Place onto a plate. Once all are coated, cover and refrigerate for one hour. Serve.
These will keep for a few days in the refrigerator. If you can keep them around that long.
Enjoy!
Keywords:
Christmas, christmas dessert, dessert, Food, nutella, Recipe, sweet, treat, valentine's day dessert