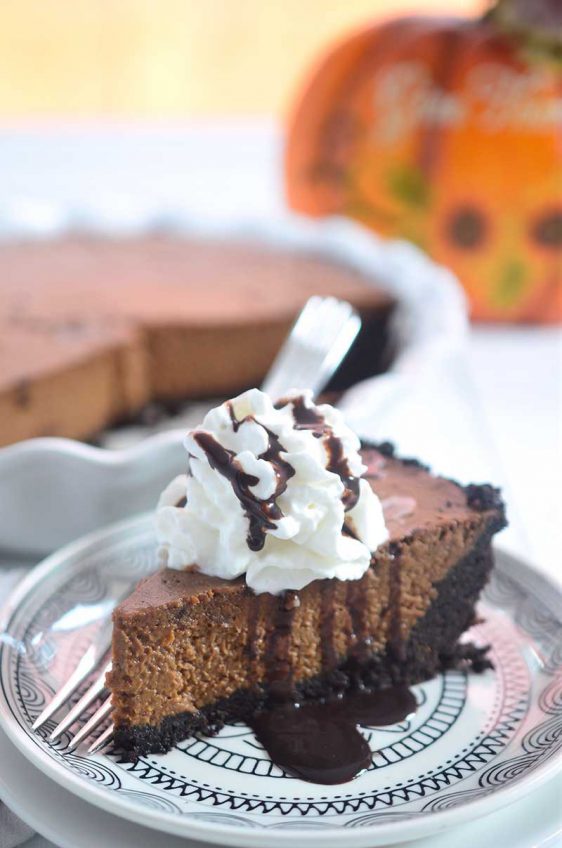 Bourbon Chocolate Pumpkin Pie
Bourbon Chocolate Pumpkin Pie is a chocolate lover's twist on traditional pumpkin pie. This easy pumpkin pie recipe will make any chocolate lover happy.
It is with a heavy heart that I share this post for Bourbon Chocolate Pumpkin Pie today.  You see, last week the food blogging community lost one of it's own when Joan from Chocolate, Chocolate and More passed away suddenly from a heart attack in her sleep. To honor her memory, the food blogging community is using today, National Chocolate Day, as a way to show everyone, especially her children, how much she was loved and how much she will be missed.
I didn't know Joan very well. I followed her on Instagram and was part of a few groups on Facebook that she was also a part of. She had a tremendous amount of success as a blogger and she always seemed so eager and willing to help out other bloggers. When news of her passing reached the blogging community, there was post after post of how amazing she was. She touched so many people.
I actually only had the opportunity to meet Joan once. It was during the 2014 International Food Blogging Conference here in Seattle. We went to a dinner together and she was so nice. One memory that sticks out is that we all ordered a Baked Alaska to share for dessert and she ordered another dessert off the menu because it had chocolate in it, or at least it was described as having chocolate in it. I still remember the look on her face when she took the first bite and replied "This is good but it is NOT a chocolate dessert". I laughed, the woman sure did love her chocolate.
As I made this Bourbon Chocolate Pumpkin Pie, I  kept hoping that I was making the kind of chocolate dessert that Joan would've liked. I wanted to make sure there was chocolate in every part, so there is a chocolate cookie crust and some cocoa with the pumpkin custard. I also threw in some bourbon, because I hear Joan even liked her booze chocolaty, and each slice is drizzled with chocolate sauce.
This Bourbon Chocolate Pumpkin Pie is a decadent, rich dessert, full of chocolate that I think would've made Joan say ,"now THIS is a chocolate dessert!"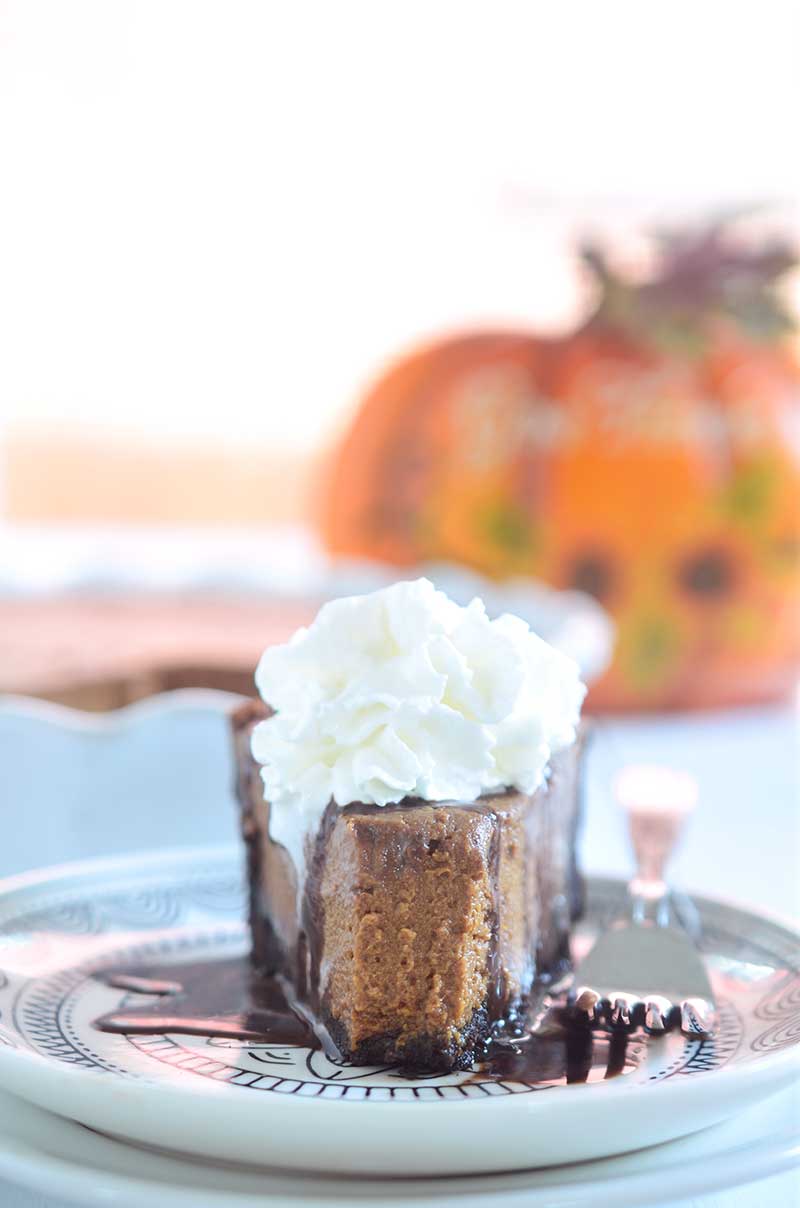 One last note: Joan's sister and other bloggers are, at Joan's request, going to keep her blog going. If you are a dessert or chocolate lover, or know someone who is, go visit Chocolate Chocolate and More and know that by visiting, you are helping continue to support Joan's children as they navigate through this difficult time.
For more chocolate deliciousness and more memories of Joan follow the hashtag #chocolateforjoan on Instagram.
RECIPE UPDATED 11/14/2017: When it comes to the bourbon in this Bourbon Chocolate Pumpkin Pie, I recommend 1 – 3 tablespoons. The first time I made it, I used 1 tablespoon of Bourbon. I have since made it with 3 tablespoons of bourbon to give it a bit more bourbon flavor and if you are a huge bourbon fan, I recommend doing that. 
The video below shows you just how easy this Bourbon Chocolate Pumpkin Pie is to make!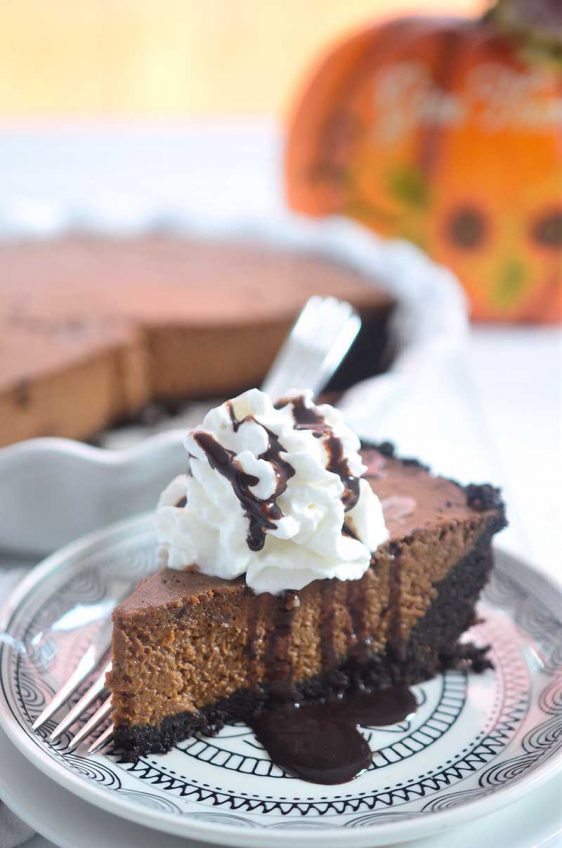 Bourbon Chocolate Pumpkin Pie
A chocolate lover's twist on pumpkin pie, this Bourbon Chocolate Pumpkin Pie has a chocolate cookie crust and bourbon chocolate pumpkin custard. Recipe here
Preheat oven to 350 degrees.

Combine cookie crumbs and melted butter together in a bowl until the crumbs are moistened.

Press cookie crumbs into the bottom and up the sides of a 9 inch pie dish. Bake crust for 10 minutes in preheated oven. Remove from oven to cool completely.

Combine remaining ingredients, except chocolate syrup and whipped cream, together in a bowl. Whisk until well combined. Pour into cooled crust. Bake pie in 350 degree oven for 55 - 65 minutes or until the center is set and a toothpick inserted in the center comes out clean.

Remove pie from oven, allow to cool at room temperature for 2 hours then slice and serve or if you like your pie cold, refrigerate until chilled then slice, drizzle with chocolate syrup, top with whipped cream and serve. Refrigerate any leftovers.
Keywords:
chocolate, holiday, pumpkin pie, thanksgiving