Braised Pork Chops with Kale and Tomatoes
I made these last night for dinner and could not wait to share them with you today. I didn't know exactly what I was going to make when I got into the kitchen, but I am very happy with what we ended up with. After all, how can you go wrong with tender pork chops braised with tomatoes, kale and briny capers? The answer: You can't.
For a long time I would always shy away from using bone-in pork chops. I have no idea why. Maybe I thought it was easier to cook and eat without having to worry about the bone. However, for a dish like this, where the cooking time is a bit longer, these bone-in pork chops work very well. The reason is they don't dry out the way a boneless pork chop would. Not to mention, cooking meat on the bone adds a bit more flavor too.
I served this on a bed of nutty quinoa which I happen to love. If you don't have any this would also be delicious over rice.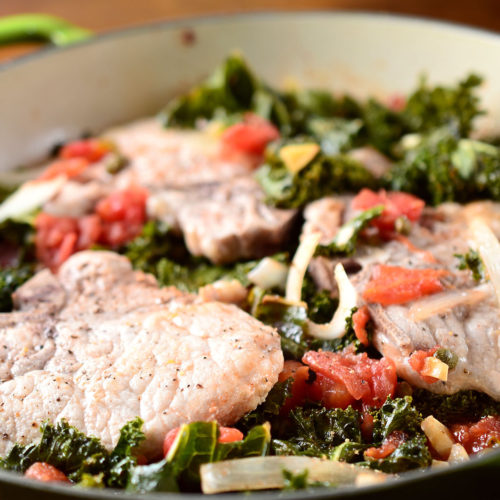 Braised Pork Chops with Kale and Tomatoes
Tender pork chops braised with kale, tomatoes and capers.
Ingredients:
2

tablespoons

olive oil

4

bone-in pork chops

kosher salt and fresh cracked pepper

1/2

medium yellow onion

sliced

3

cloves

garlic

diced

2

tablespoons

non-pareil capers

1

14.5 ounces can diced tomatoes with their juices

1

bunch kale

stems removed and chopped
Preheat oven to 325 degrees.

Heat olive oil in a skillet over medium-high heat. Season pork chops on both sides with salt and pepper. Brown pork chops on each side, about 2 minutes. Transfer to a plate. Reserve pan drippings.

Add the onions, garlic and capers to the pan. Cook 1 minute. Stir in tomatoes and kale. Cook just until the kale starts to wilt, about 2 minutes.

Return the pork chops to the pan. Spoon a little of the tomatoes and kale over the top. Cover and cook in the preheated oven for 15 - 20 minutes or until pork chops are cooked through.

Season to taste with salt and pepper. Transfer pork chops to a serving platter. Spoon the tomato mixture over the top. Serve.
Keywords:
braised, braising, comfort food, dinner, entree, Food, kale, pork chops, Recipe, tomatoes