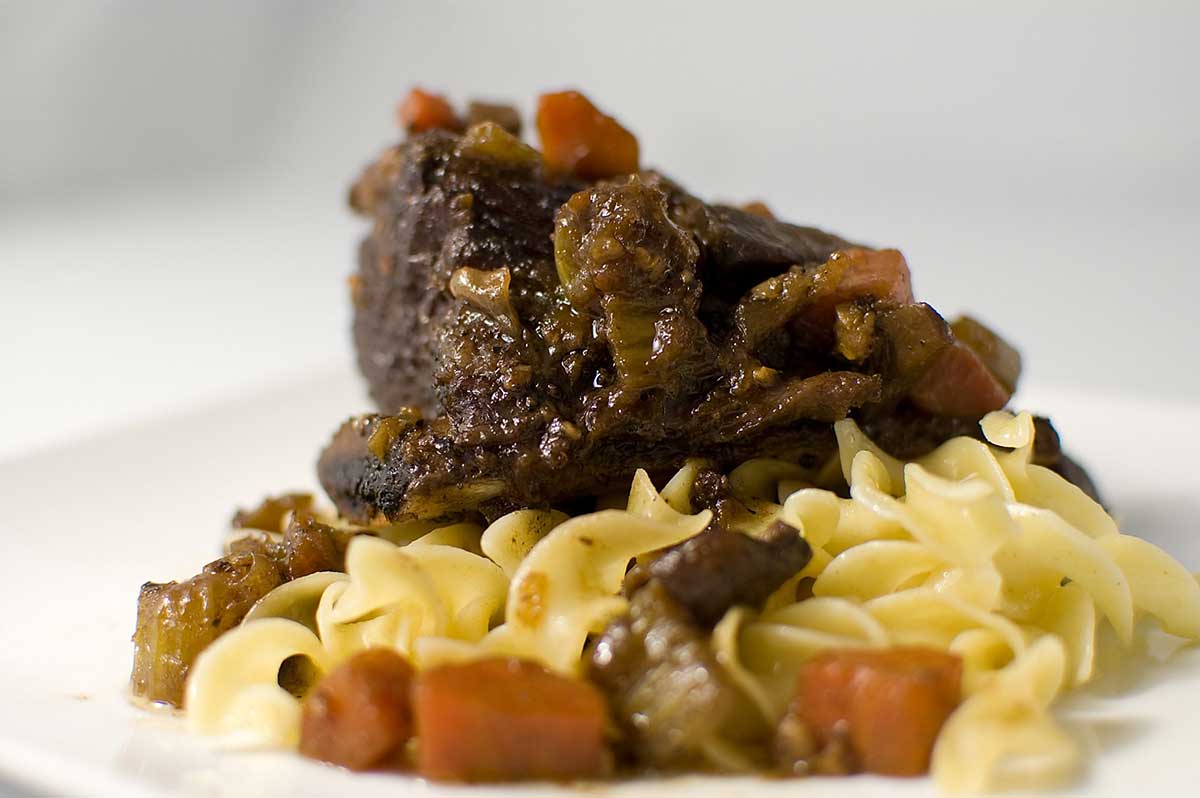 Braised Short Ribs
Yes this is a comforting winter style dish, and yes it is spring but since there were snow showers this morning, I am guessing the weather gods here in Seattle didn't get the memo. But, in the spirit of looking at the brighter side of things, days like this allow you to make tummy warming dishes like braised short ribs. For this recipe, I rubbed beef short ribs with a few dried spices then braised them in beef broth with red wine and vegetables and served them with garlic butter egg noodles. Comforting and delicious.
Short ribs are a pretty inexpensive cut of meat, so I wasn't expecting them to be so tender. However, when I decided to give them a try last weekend I was very pleased with the tender and flavorful results.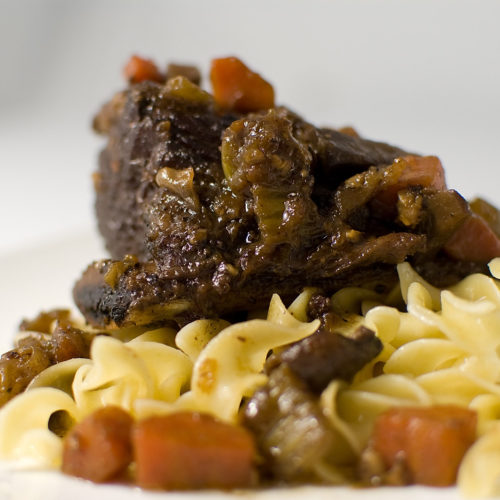 Braised Short Ribs
Succulent braised short ribs with vegetables. Served over buttered noodles.
Ingredients:
2

pounds

beef short ribs

1

teaspoon

granulated garlic

1

teaspoon

dried oregano

1

teaspoon

dried thyme

kosher salt and pepper

1

teaspoon

olive oil

1

celery rib

diced

1

large carrot

diced

1/2

onion

diced

4

garlic cloves

1

cup

chopped mushrooms

1/2

cup

zinfandel wine

1

cup

beef broth

2

bay leaves

1/2

pound

egg noodles

1

tablespoon

butter

3

cloves

garlic
Preheat oven to 325 degrees.

Sprinkle the short ribs with granulated garlic, oregano, thyme and salt and pepper. Gently rub the seasonings into the meat.

Heat olive oil in a dutch oven over medium heat. Brown the short ribs on all sides. About 8 minutes. Remove and set aside. Reserve 1 tablespoon of pan drippings.

Add celery, carrot, onion, garlic and mushrooms to the pan. Cook for 2-3 minutes. Pour wine into the pan to deglaze it, be sure to scrape any of the yummy bits off the bottom . Cook for 2 minutes. Add beef broth and bay leaves. Season to taste with salt and pepper.

Return short ribs to the pan. Cover and cook in the oven for 2 1/2- 3 hours or until meat is tender and pulls from the bone easily.

Remove the short ribs from the pan. Set aside and cover with aluminum foil. Reserve the liquid in the dutch oven and skim the fat from the top. Remove the bay leaves. (Note: Removing these is important, not so nice to bite into them.)

Just before you are a bout to remove the ribs from the oven, make the butter noodles by cooking pasta according to package directions. Strain. In the same pan that you cooked the noodles in, melt the butter. Add garlic and cook 1-2 minutes. Stir in the noodles and toss to coat. Cover and set aside to keep warm.

Place dutch oven over medium heat. Bring the broth to a boil and reduce by 1/3 about 5-10 minutes.

Lay short ribs on top of buttered noodles (see recipe below). Spoon sauce over the top and serve.
So if the weather gods in your area are still providing you with winter weather, go ahead and take the opportunity to make this tummy warming dish. Enjoy!
Keywords:
beef, beef short ribs, carrot, celery, comfort food, Food, garlic, Mushrooms, onion, Recipe, short ribs, winter food, zinfandel