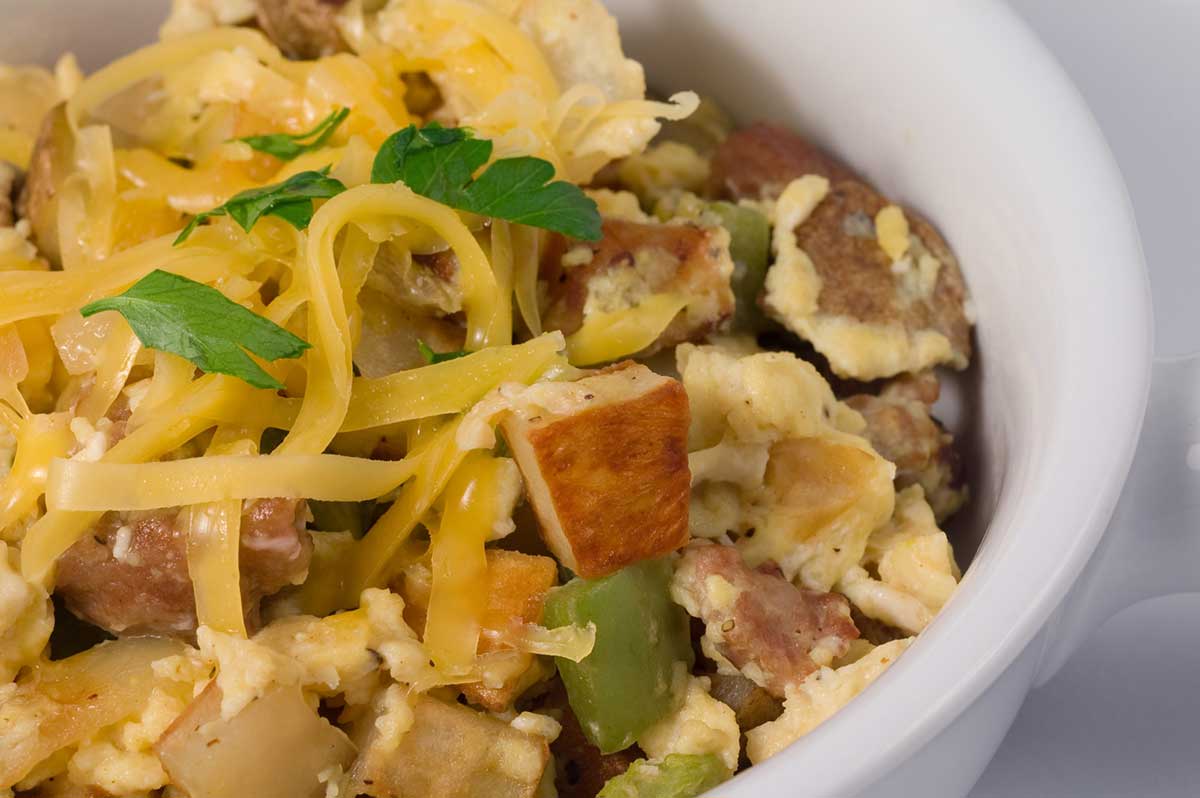 Breakfast Scramble
Standard weekday breakfasts in our house consist of some fresh fruit and cereal, but on lazy weekend mornings I like to treat Ryan and myself to a nice hot breakfast. We usually have the traditional breakfast of eggs, bacon or sausage, potatoes and toast, but this last weekend I wanted something a little different. I happened to have a couple of potatoes, some onions, green bell peppers, sausage, cheddar cheese and eggs and I decided to throw it all together in the skillet to cook. It was so delicious that I thought I would share it with you just in time for the weekend.
Skillet breakfasts like this are nice because you can throw in whatever you have on hand.  I have made them before with a few diced tomatoes, mushrooms and fresh baby spinach leaves. Bacon or some spicy chorizo would also be great in here.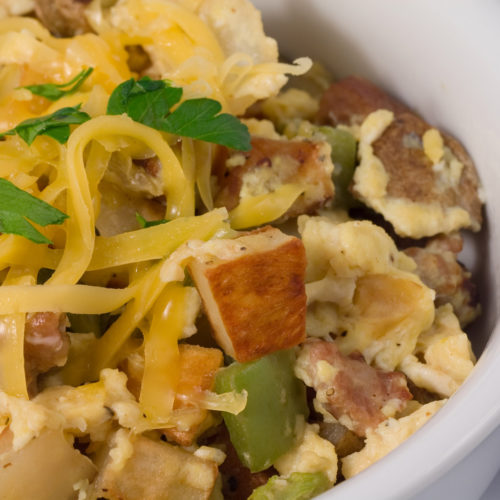 Breakfast Scramble
A hearty breakfast scramble with potatoes, eggs, sausage, onions and bell peppers.
Heat olive oil in a large skillet over medium heat. Cook the potatoes 10-15 minutes or until golden brown. Remove and set aside.

In the same skillet cook onions and bell pepper until slightly softened, about 3 minutes. Add crumbled sausage. Cook until sausage is cooked through. Return the potatoes to the skillet.

Beat eggs and milk together in a bowl. Pour eggs over mixture. Cook for 2 minutes or until the edges of the eggs start to cook. Stir and cook until the eggs are cooked through. Add salt and pepper to taste. Sprinkle with cheddar cheese. Serve hot.
Keywords:
bell pepper, Breakfast, brunch, eggs, Food, onion, potatoes, Recipe, sausage