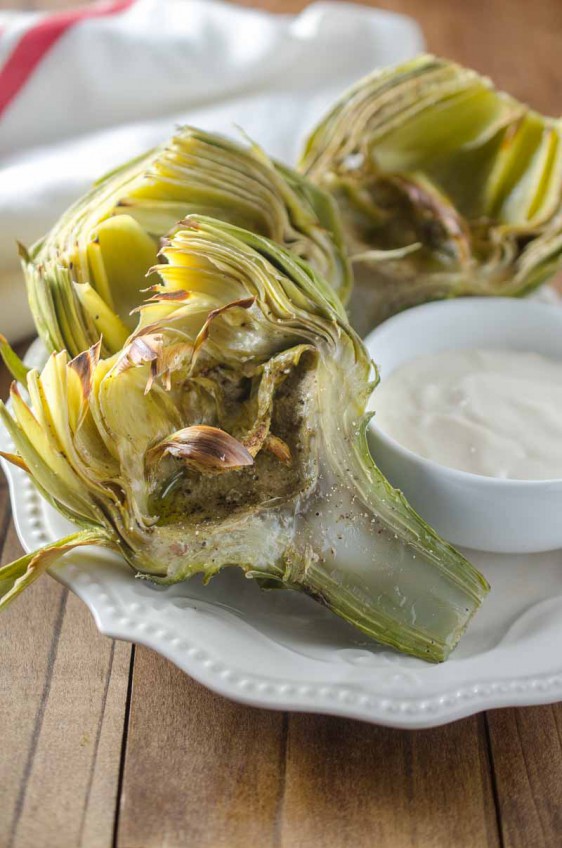 Broiled Artichokes with Malt Vinegar Aioli
If you like artichokes you are going to love these Broiled Artichokes with Malt Vinegar Aioli. 
When we went back to our hometown for the holidays, we went out to dinner with our best friends and their kiddos. At dinner we ordered an appetizer of potatoes and Brussels sprouts that came with this decadent, tangy malt vinegar aioli. Seriously, it may have been my favorite part of the whole meal. I sought to recreate it as soon as we got home. I was OBSESSED.
At the restaurant, the malt vinegar was served with crispy Brussels sprouts but once I got home I thought that it would be perfect with Broiled Artichokes.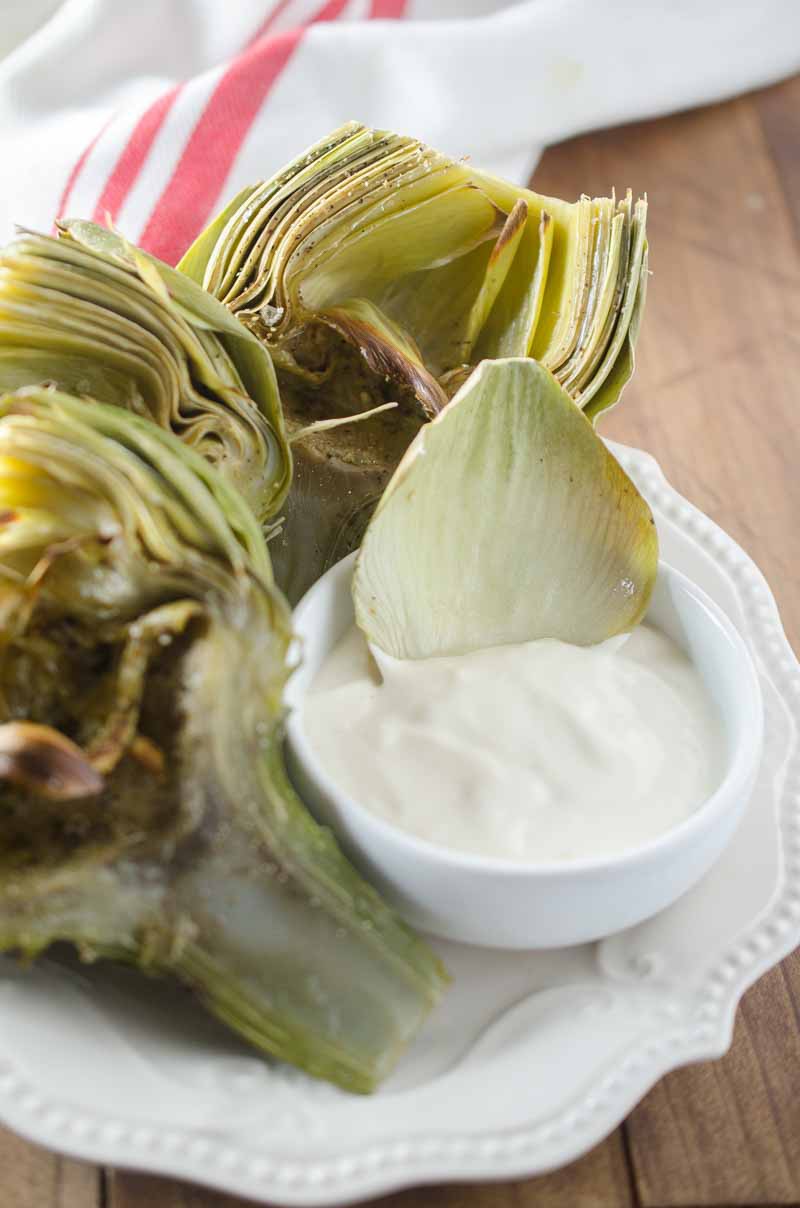 I called it Malt Vinegar Aioli but it's really kind of a cheaters aioli. Aioli is basically just a homemade mayonnaise sauce but it can take some time and uses raw eggs. Instead of going the homemade route with this dipping sauce, I use mayonnaise mixed with malt vinegar and a garlic clove. It tastes just like the sauce we had at the restaurant and was a wonderful dipping sauce for these broiled artichokes.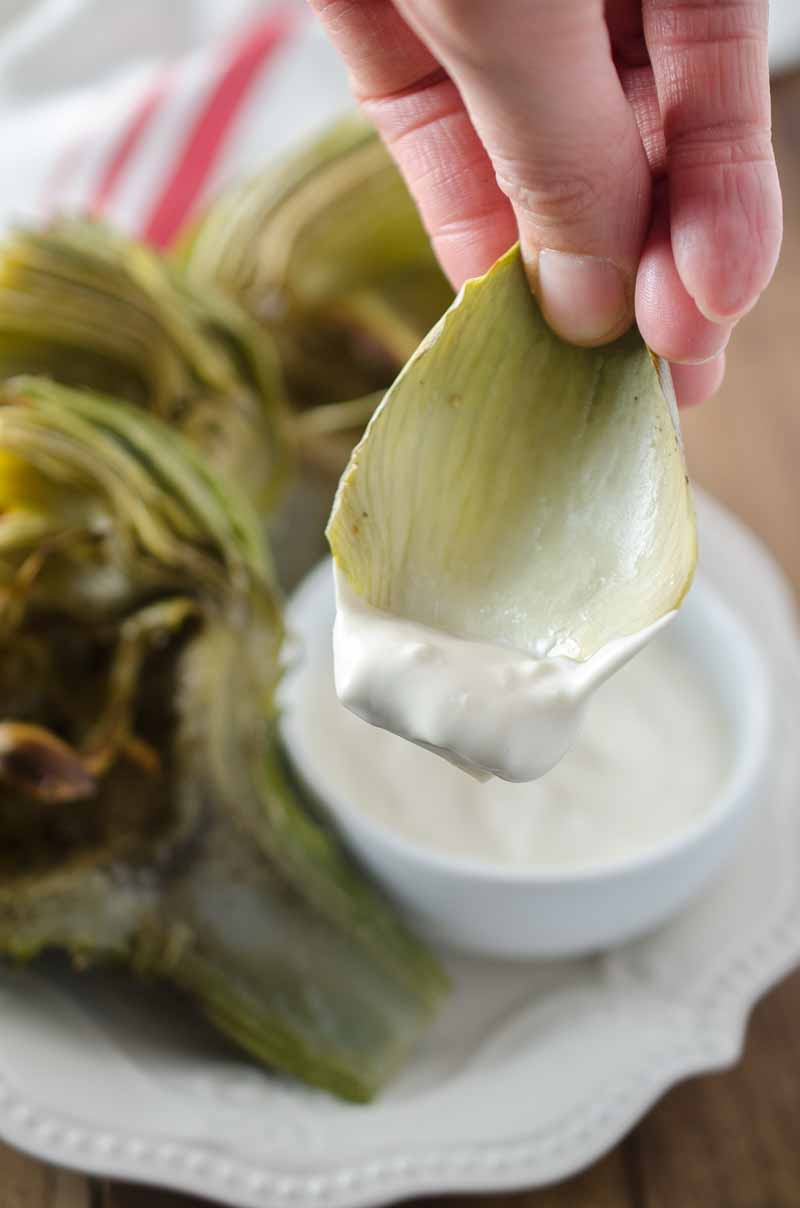 I know artichokes can seem like a pain to prepare but they a really aren't all that hard after you've done it a couple of times. Usually when I make artichokes, I steam them and they take about an hour. For these broiled artichokes, I cut the artichokes in half and scooped out the center before boiling and then broiling. The result was a perfectly tender artichoke done in a little less than half the time it would take to steam a whole artichoke.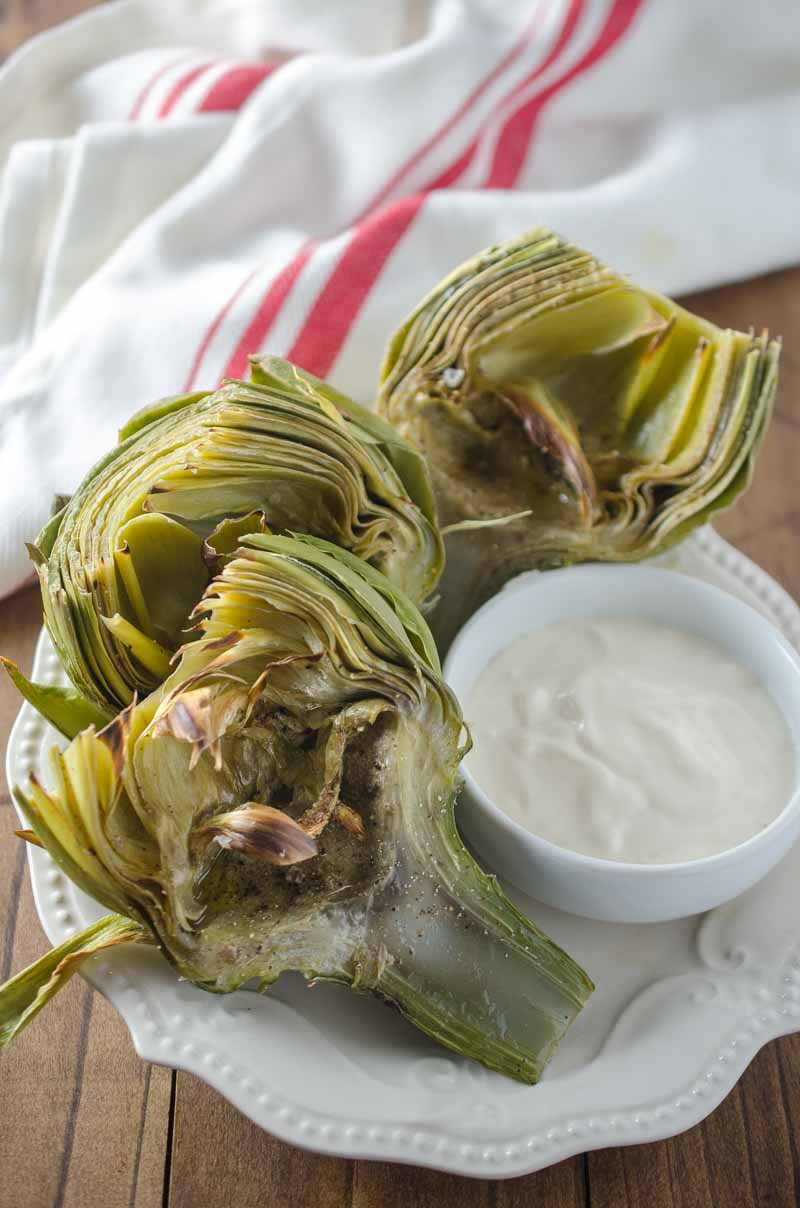 Trust me, one bite of these broiled artichokes in this easy, peasy malt vinegar aioli and you'll be just as obsessed as me.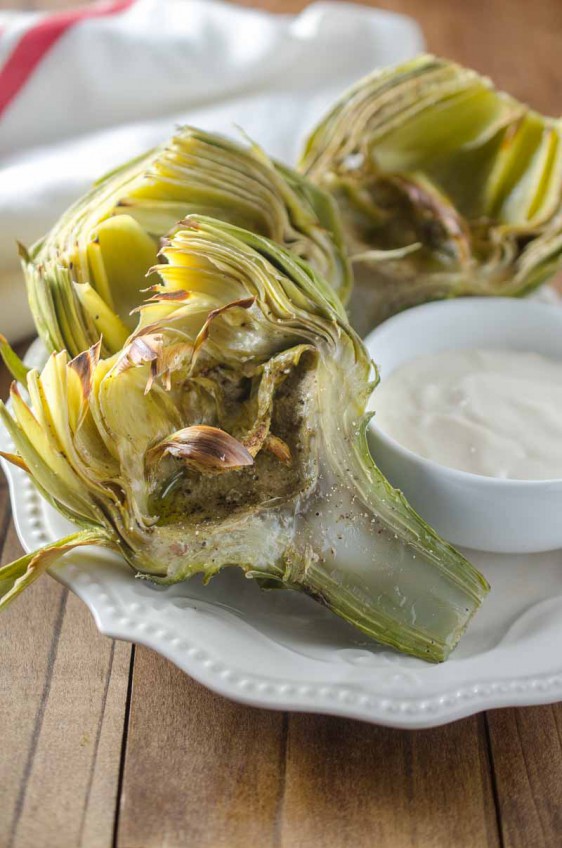 Broiled Artichokes with Malt Vinegar Aioli
If you like artichokes you are going to love these Broiled Artichokes with Malt Vinegar Aioli.
Artichoke Ingredients:
1

lemon

2

whole globe artichokes

2

tablespoons

olive oil

salt and pepper
Malt Vinegar Aioli
1/4

cup

mayonnaise

2

teaspoons

malt vinegar

1

clove

garlic

minced
Combine all ingredients for aioli together in a bowl. Cover and refrigerate until ready to use.

Squeeze the juice of one lemon into a large bowl of water.

Rinse artichokes thoroughly.

To trim an artichoke: cut the stem leaving only an inch. Use a knife to cut the top one inch of the artichoke. Use scissors to cut any remaining sharp tips. Cut the artichoke half. Remove the choke and inner leaves. Place artichoke in lemon water to help keep the artichoke from oxidizing. Repeat with remaining artichokes.

Bring a large pot of water to boil. Add prepared artichokes to boiling water, cover and cook for 10 - 12 minutes or until tender. Use a slotted spoon to transfer them to a baking sheet.

Heat oven to broil setting.

Drizzle artichokes with olive oil and sprinkle with salt and pepper. Broil for 5 - 10 minutes or until the tips of the inner leaves start to brown.

Transfer to a serving plater serve with malt vinegar aioli for dipping.
Keywords:
aioli, artichoke, mayonnaise