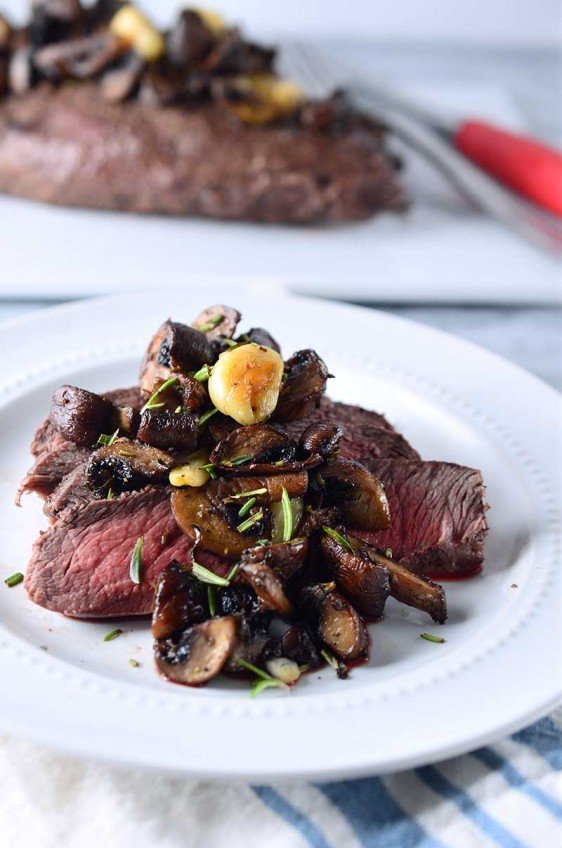 Broiled Flat Iron Steak with Herb Roasted Mushrooms
This past summer I shared a recipe for Grilled Flat Iron Steak with Tomato Salad. I think that it is the perfect way to enjoy steak during the summer, but now that we are well into fall, I wanted to share a recipe that would fit perfectly at your fall dinner table. Enter this Broiled Flat Iron Steak with Herb Roasted Mushrooms.
With the holidays coming, so are the dinner parties. So now is a good time to start getting those menu planning gears in motion. This steak NEEDS to be on your list. It's a dish that will make your guests "oh" "ah" and "mmm" all at once. It sounds all kinds of fancy but it is beyond easy to make. You'll even have time to spend hanging out with your guests. Crazy thought right?!
At 20 minute roasting time, preparing the mushrooms is what takes the longest in this recipe, but it's totally worth it. Roasting them gives them this sweet earthy flavor. Throw in the fresh herbs and roasted garlic and you've got my new favorite topping for steaks.
Speaking of steaks, this one doesn't get much in the way of seasoning, because it doesn't need it. Just a little salt and pepper and you're good to go. But because this is a flat iron steak, be sure not to cook it much more then medium. I say medium rare is the best, otherwise you'll find that it's too tough.
And no one likes a tough steak, trust me.
Also trust me when I say that you and your guests will LOVE this steak. It's too perfectly simple and delicious not to.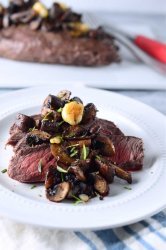 Broiled Flat Iron Steak with Herb Roasted Mushrooms
Perfectly tender flat iron steak topped with savory herb roasted mushrooms.
Ingredients:
4

cups

quartered crimini mushrooms

8

cloves

garlic

peeled

1

tablespoon

chopped fresh rosemary or 1 teaspoon dried

1

tablespoon

chopped fresh summer savory or 1 teaspoon dried

2

tablespoons

olive oil

1 3/4 - 2

pound

flat iron steak

salt and pepper
Preheat oven to 425 degrees.

Toss crimini mushrooms, garlic, rosemary and summer savory in olive oil. Place on a baking sheet and bake in preheated oven for 20 minutes, stirring once, until mushrooms are browned. Remove from oven, season to taste with salt and pepper. Cover to keep warm.

Heat broiler. Line a baking sheet with aluminum foil and place a cooling rack on top.

Liberally season both sides of the steak with salt and pepper. Place steak on cooling rack and broil 5 - 7 minutes per-side for medium rare.

Remove from oven, loosely cover with foil and allow to rest for 10 minutes.

Slice steak against the grain, spoon mushrooms over the top and serve.
Keywords:
entree, Mushrooms, steak