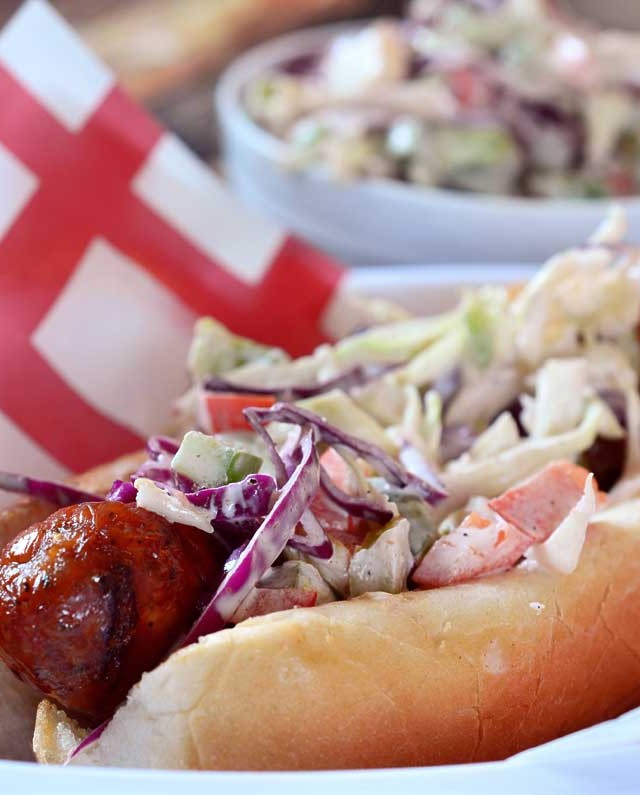 Cajun Hot Dogs with Spicy Slaw
If you've been reading the blog for a while (thank you!), you've probably realized by now that I enjoy spicy food. It probably goes back to when I was a kid. My parents tell me that I was eating hot chili peppers straight out of the jar at 2. To this day chances are every meal that I am either adding sriracha, crushed red peppers, hot chili peppers or another kind of hot sauce to whatever I'm eating. I just love spicy food. That is why it should come as no shock that when it comes to hot dogs, I like them spicy too.
One of my favorite sausages ever is andouille. It's got such a great kick to it. We have a great local sausage company that makes a killer andouille. I love to add it to different dishes like this Kale and Andouille Mac n' Cheese or this Andouille and Chard Tater Tot Casserole. For this recipe, I just decided to grill some up and top them with a creamy and, you guessed it, spicy slaw. Spicy slaw loaded with freshly shredded cabbage, chopped bell peppers, dijon mustard and cajun seasoning. I liked the slaw so much, when the sausage was gone, I just served myself some as a side dish. And it only seemed to get better the longer I let it sit in the fridge.
In fact, as I sit here typing this at 12AM, I'm thinking of going and taking a bite for a little midnight snack. The sleeping baby on my chest, however, thinks otherwise. Oh well. :)
Anywho, cute babies aside, I highly recommend you make this hot dog for your next BBQ. Your spicy food obsessed friends will love you.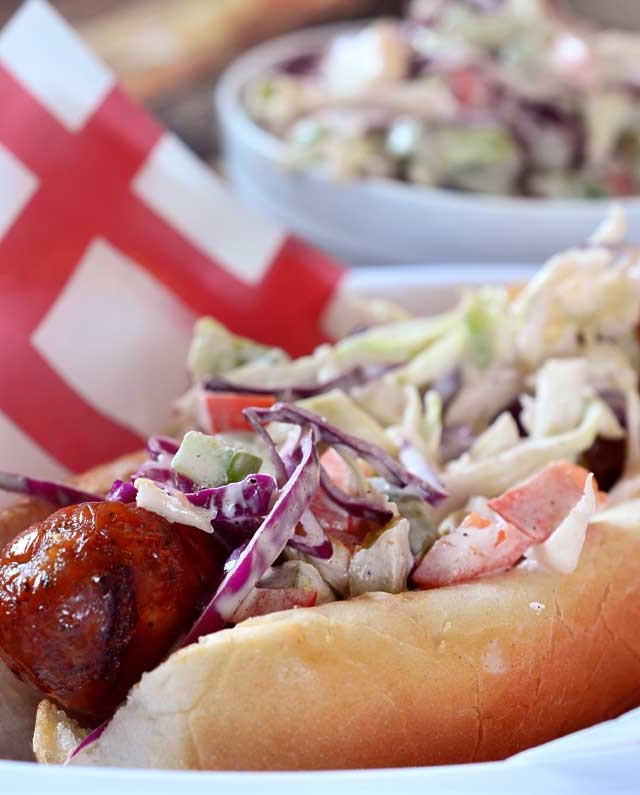 Cajun Hot Dogs with Spicy Slaw
A spicy twist on the classic hot dog with andouille sausage and a spicy coleslaw.
Whisk together mayonnaise, vinegar, dijon mustard and Cajun seasoning in a medium size bowl. Fold in cabbage and bell peppers. Cover and refrigerate for 30 minutes.

Preheat your grill to cook the sausages.

Cook sausages over medium heat until cooked through about 10 minutes.

Place sausages in a bun and top with spicy slaw. Serve.
Keywords:
andouille sausage, bbq, coleslaw, hot dog, summer, super bowl food