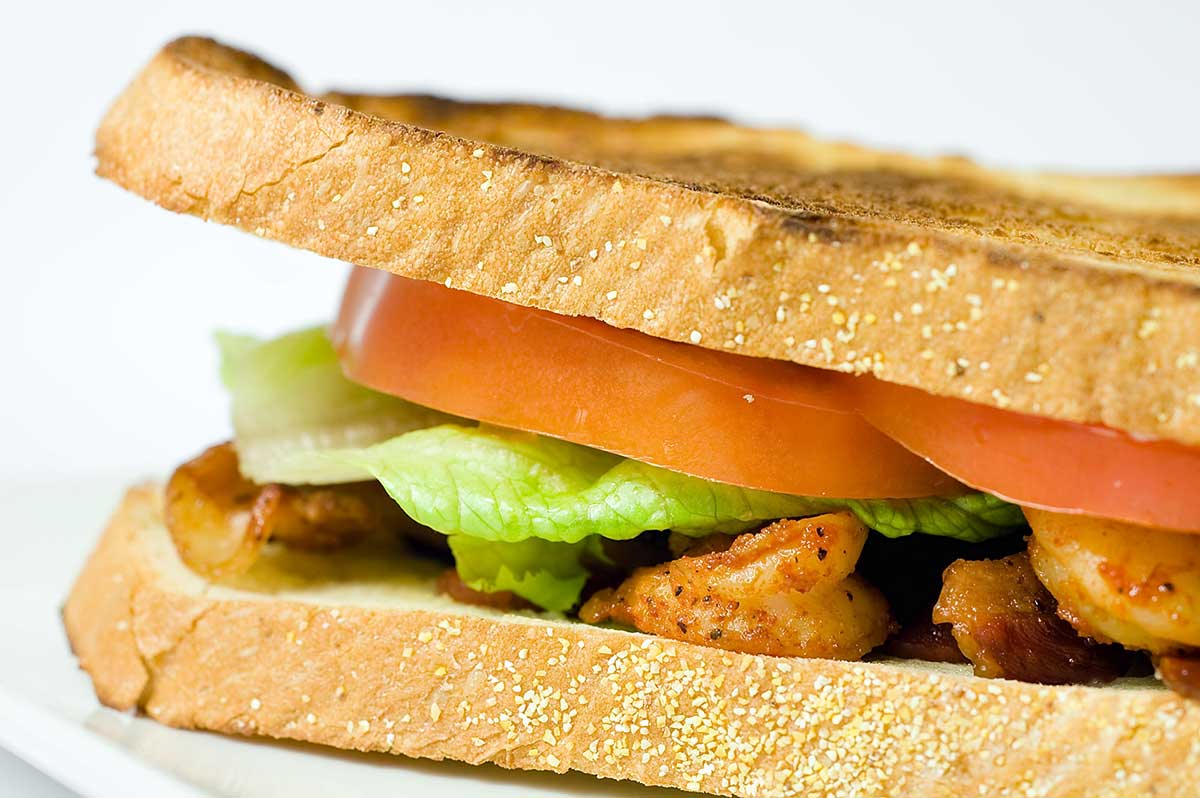 Cajun Shrimp BLT
If I had to make a list of my top 5 sandwiches, a classic BLT would certainly be near the top. The toasted sour dough bread, mayo, juicy tomatoes, crunchy bacon and crisp lettuce nearly always yield a scrumptious sandwich. A sandwich that I thought could not get any better. That is until I tried a BLT with the addition of spicy, succulent Cajun shrimp. Now that my taste buds have experienced this delicious combination, this sandwich just might inch its way past the traditional BLT on my sandwich list.
I first had a Shrimp BLT at a Cheesecake Factory of all places. Like all things Cheesecake Factory it was ginormous and I couldn't finish it all. While I do remember it being quite good, I also remember thinking that the shrimp was lacking a little something.  It just didn't have much flavor to it. I wanted something with a little more pizazz. I wanted a little more kick. Thus, when I made these at home recently I decided to add some Cajun seasoning to the shrimp before cooking. The spiciness isn't over powering and combines nicely with the salty bacon and creamy mayo.
Cajun Shrimp BLT Recipe
Ingredients:
8 slices of bacon
12 (31-40 count) prawns, peeled and deveined
1 teaspoon Cajun seasoning
2 teaspoons olive oil
4 slices sourdough bread
mayonnaise
1 tomato, sliced into 4 slices
2 romaine lettuce leaves
Instructions
1
Fry bacon over medium heat until browned and crispy. About 10 minutes. Transfer to paper towel lined plate, set aside.

2
In a bowl combine prawns, Cajun seasoning and olive oil. Transfer to a small pan and cook over medium heat, 3-5 minutes or until shrimp turn pink. Remove from heat, set aside.

4
Spread mayonnaise on all four slices of bread. Assemble sandwiches by layering 4 slices of bacon, 6 prawns, 2 tomato slices and 1 lettuce leaf per sandwich. Serve immediately.