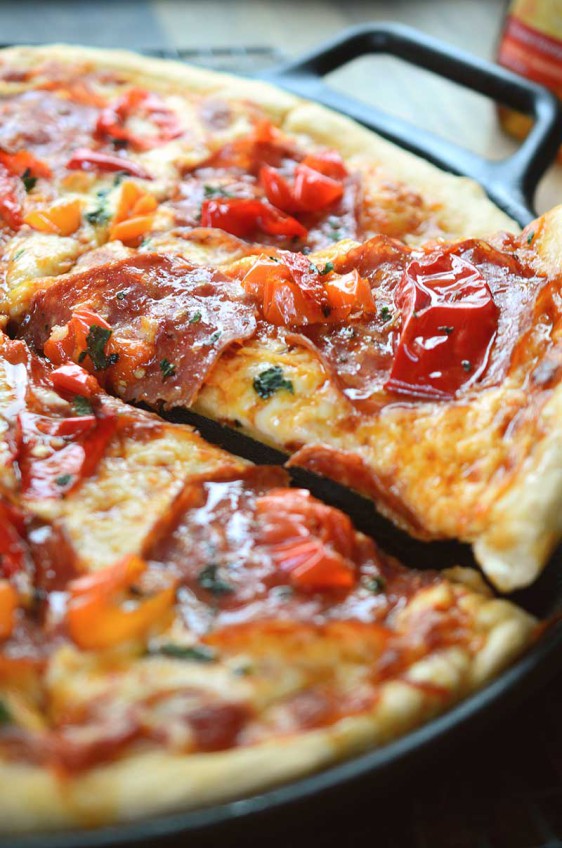 Calabrese Honey Pizza
Calabrese Honey Pizza is the perfect balance of sweet and heat. It's topped with plenty of mozzarella, spicy calabrese salami, Mama Lil's Peppers and a drizzle of sweet honey.
Guys, my baby sister is turning 30 this weekend. To celebrate her turning the big 3 – 0, we are headed to Vegas. It'll actually be the second time this year for me. The first time I went was for a blogging retreat. Since I was there with a bunch of food bloggers, it should come as no surprise that we spent the entire time eating.
Obviously.
It was during that trip that I visited 800 Degrees Pizza. The fact that it was a pizza place on the strip, I wasn't expecting it to be the highlight of my trip. But, it was. Of all of the meals we had that weekend, the Angry Bee pizza that I ate at 800 Degrees was hands down my favorite meal. The crust was perfectly crisp. The cheese was gooey and melty and it had just the right amount of sweet and heat.
This Calabrese Honey Pizza was inspired by that pizza.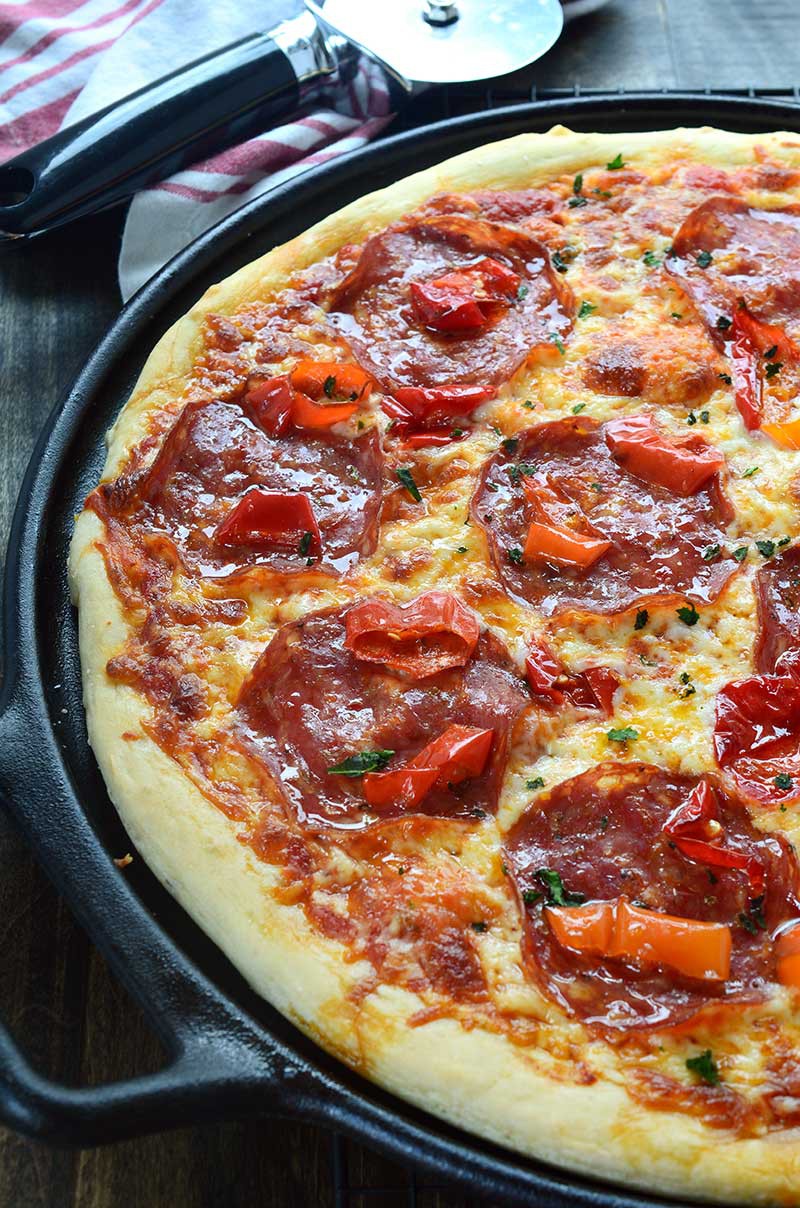 The Angry Bee has sopressata pizza, Calabrian chiles peppers, garlic and honey. I originally thought that honey was going to be weird on a pizza. I thought it was going to be way too sweet, but it totally works. This Calabrese Honey pizza is pretty similar to the Angry Bee Pizza I had in Vegas. I just made a few changes. Instead of sopressata I used Calabrese. When I first wanted to make this pizza I couldn't find any sopressata at my grocery store, but they did have calabrese so I used that instead and found that I liked it better. With that said, if you can't find calabrese, sopressata would be the next best thing. For the chiles, I turned to my trusty Mama Lil's Spicy Peppers. Just a little drizzle of honey and the pizza was perfect.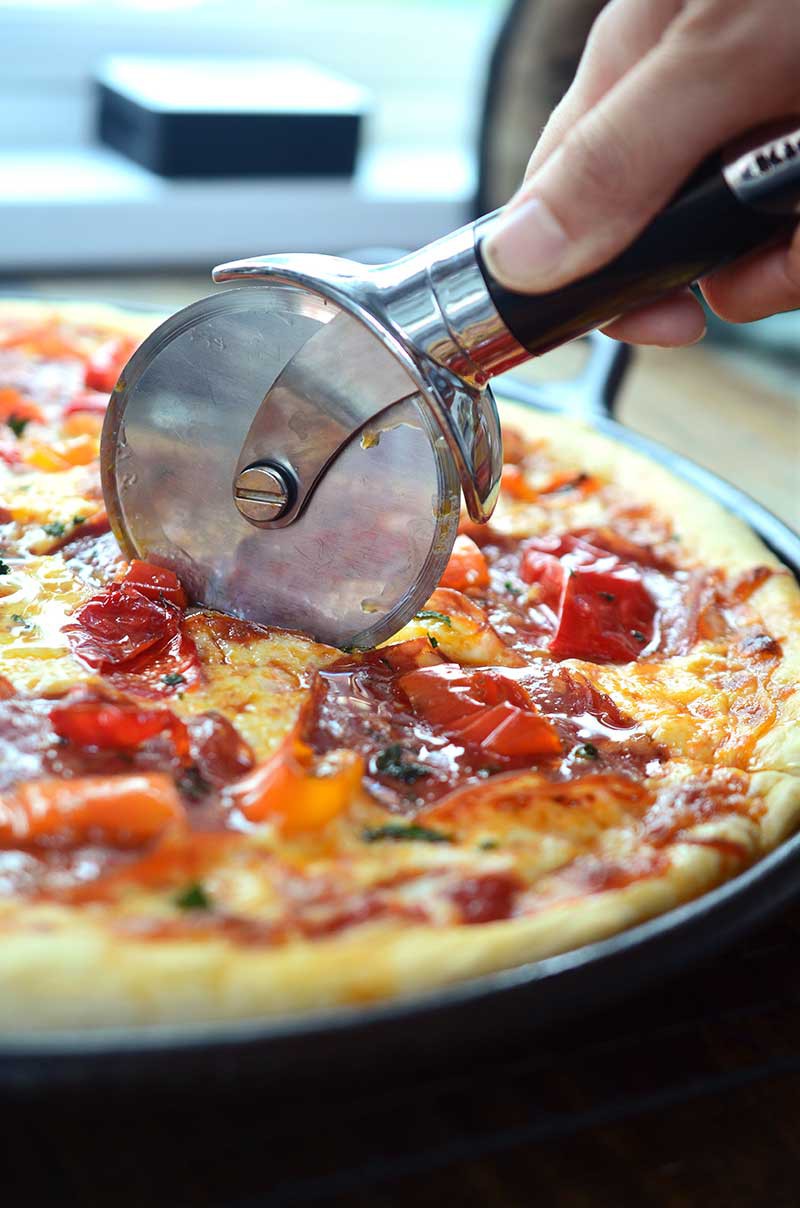 If you are a fan of sweet n' spicy then you are for sure going to love this Calabrese Honey Pizza.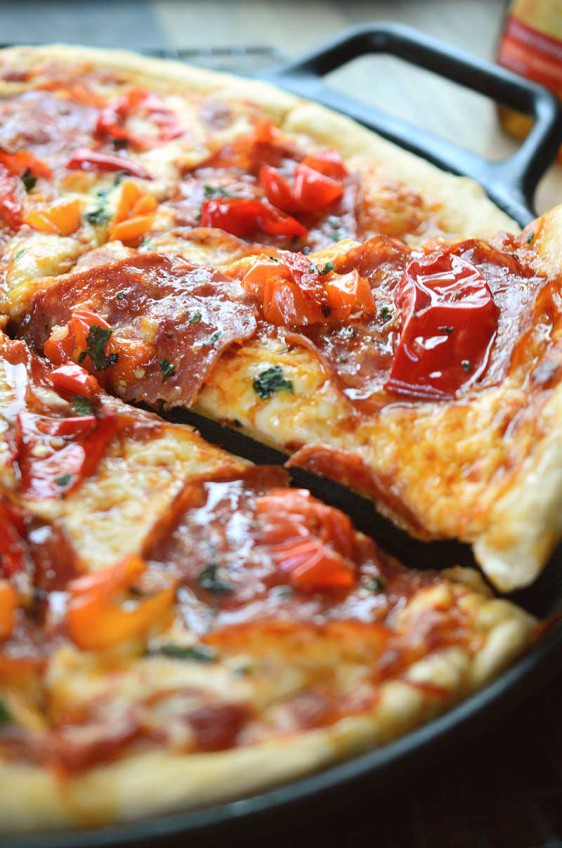 Calabrese Honey Pizza
This Calabrese Honey Pizza is the perfect combo of sweet n' spicy with plenty of mozzarella, spicy calabrese, Mama Lil's peppers and a drizzle of honey.
Ingredients:
Pizza crust

store bought or homemade

olive oil

salt

1/2

cup

marinara sauce

2 1/2

cups

shredded mozzarella

10 - 12

slices

calabrese salami

2

cloves

garlic

minced

1/4

cup

Mama Lil's Peppers

2

tablespoons

honey
Preheat oven to 450 degrees.

Stretch pizza dough out over 15-inch pizza pan. Brush with olive oil and sprinkle lightly with salt. Bake in preheated oven for 10 minutes.

Remove pizza crust from oven.

Spread marinara sauce over the crust. Layer cheese, then calabrese then garlic and peppers over the top of the crust. Bake in preheated oven for 10 - 12 minutes or until cheese is melted and crust is browned.

Remove pizza from oven, drizzle with honey. Slice and serve.
Keywords:
angry bee pizza, honey, las vegas, pizza