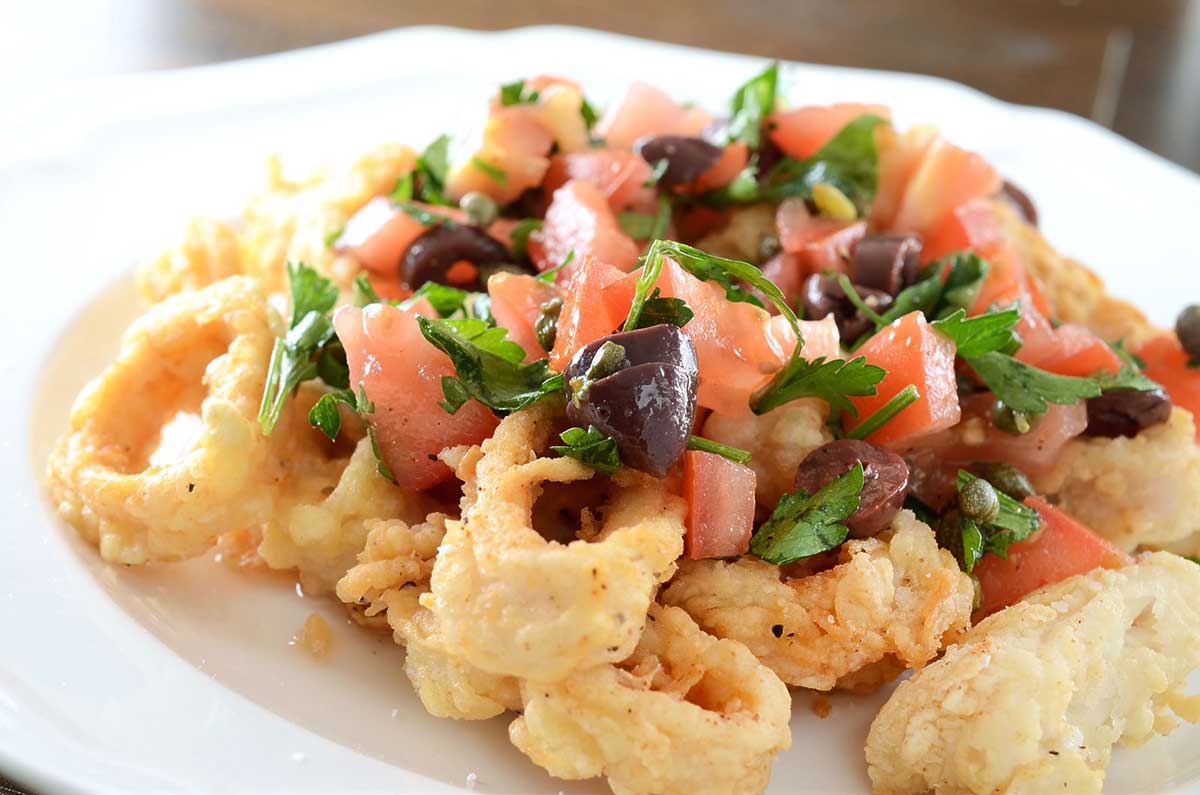 Calamari Puttanesca
I am a sucker for perfectly fried calamari. I will literally pick a restaurant based on whether or not they have calamari on the menu. There is just something about the light crisp batter and the tender squid inside. Yes, I know the word squid can be a bit off putting but seriously. It's good. If you've never tried it before, this is the perfect way to ease yourself into it. With a quick fry, a topping of tomatoes, capers and kalamata olives it's crispy, briny, savory goodness.
If you are familiar with pasta puttanesca, you will realize that this is missing anchovies. I did that intentionally. With pasta puttanesca, the anchovies are cooked and add an amazing depth of flavor to the sauce. With this, since the sauce is not cooked, and knowing neither Ryan nor I like anchovies in salads, I skipped that step. I personally think it was a good choice. The tomatoes, capers and olives are briny and savory enough for me. If you would like the added kick that anchovies give, I'd chop one into tiny pieces and mix it well with the other ingredients.
One note on frying calamari: It doesn't take long at all. I suggest a cooking time of two minutes. If you go too long it gets rubbery.
If you are looking for another scrumptious calamari recipe, you have GOT to try Salt and Pepper Calamari.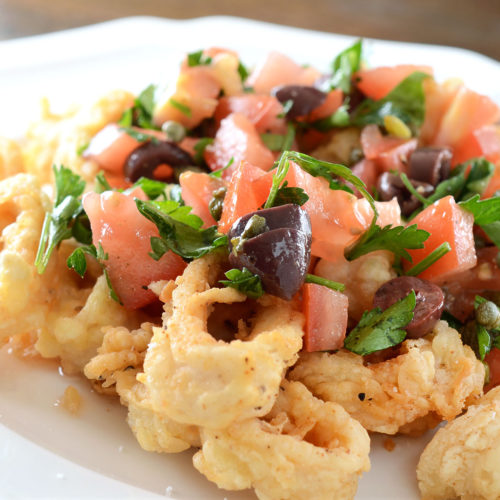 Calamari Puttanesca
Crispy calamari topped with a blend of tomatoes, capers, olives, parsley and olive oil. Crispy, briny, savory goodness.
Ingredients:
1

large tomato

diced, seeds removed

2

tablespoons

non-pareil capers

1/3

cup

sliced kalamata olives

1/4

cup

chopped parsley

1

tablespoon

olive oil

oil for frying

1

pound

calamari tubes

1

egg

1

tablespoon

milk

2/3

cup

flour

1/2

teaspoon

salt

1/2

teaspoon

pepper

1/2

teaspoon

garlic powder
Combine tomatoes, capers, olives, parsley and olive oil together in a bowl. Let set at room temperature for 20 minutes.

Heat 1 inch of oil in a pan over medium-high heat to 375 degrees.

Use a paper towel to pat dry the calamari.

In a bowl whisk together egg and milk.

In another bowl combine flour, salt, pepper and garlic powder.

Dip the calamari in the egg and milk mixture. Then dredge lightly in the flour mixture. Shake off excess flour.

Fry calamari, in batches if necessary, for approximately 2 minutes. Use a slotted spoon to transfer to a paper towel lined plate.

Transfer calamari to a serving platter. Pour tomato, caper, olive mixture over the top. Serve immediately.
Keywords:
appetizer, calamari, fried food, italian, snack