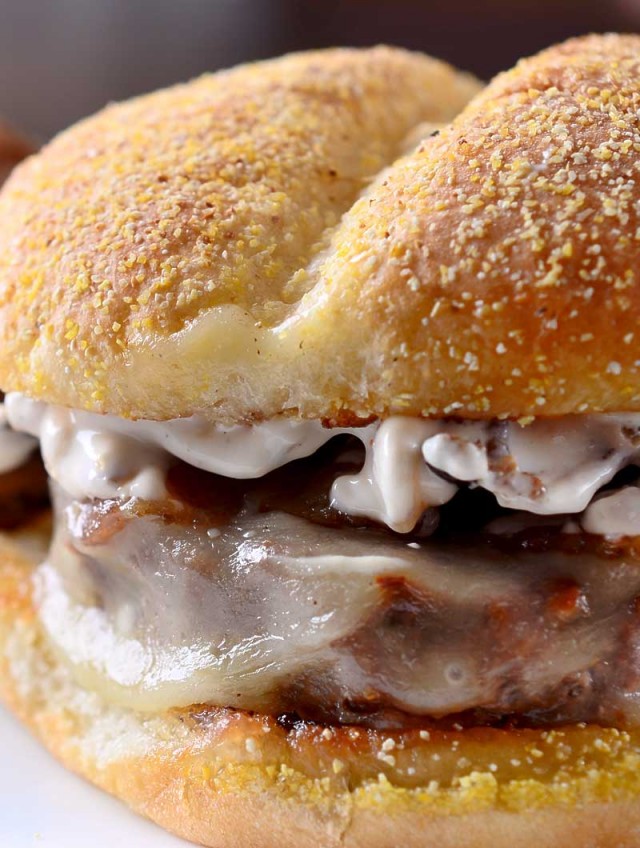 Caramelized French Onion Dip Burger
This burger. I can't even. I just. Oh man. It's just so good I can't even come up with the words to describe it so I am just going to tell you what's on it. We've got the bun. Perfectly toasted. We've got the burger that has been grilled to perfection. We've got sauteed mushrooms and bacon tossed with parsley. And finally, but most deliciously, we've got caramelized french onion dip. This burger, friends, is out of this world.
This recipe is another that is the result of Sunday dinner. Although, I've actually never made it for Sunday dinner. You see, a couple of weeks ago our friends were over and we were snacking on Caramelized French Onion Dip while Ryan was grilling burgers. I was munching on a chip and looked over at my friends and said the following words:
"Caramelized French Onion Dip Burger."
They immediately stopped chewing, looked at me and said "THAT would be good"
I tried it that night by just adding some to the burger that Ryan was making, and while it was good it was missing a little something so I had no choice but to make it again later on in the week. This time I added mushrooms that are sauteed in bacon and that did it friends.
That. Did. It.
And it is no coincidence that I am sharing this just a few days away from father's day. Dads love burgers like moms love breakfast in bed. And if you make this burger for the man in your life, it is sure to make his father's day spectacular.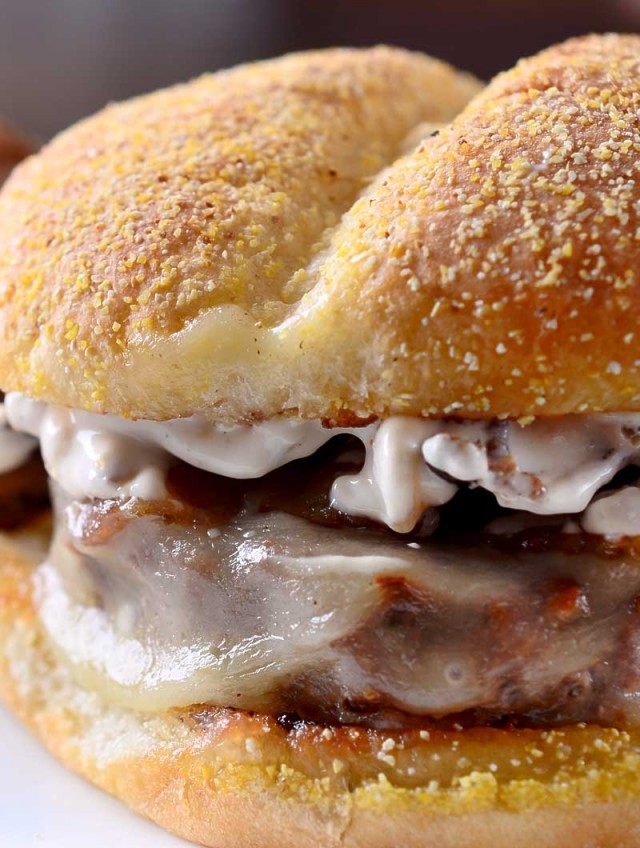 Caramelized French Onion Dip Burger
Perfectly grilled burger topped with sauteed mushrooms and bacon and creamy caramelized onion dip.
Prepare french onion dip according to recipe instructions at least 30 minutes before preparing the burgers.

Preheat grill.

While grill is preheating, place bacon in a skillet, cook over medium heat for 2 - 3 minutes. Add in mushrooms. Cook until mushrooms are softened and bacon is cooked through. About 3 more minutes. Remove from heat and stir in parsley.

Cook the burgers on preheated grill 2 - 3 minutes per side or until cooked through. Place provolone cheese on top and close the lid of the grill. Cook just until melted 30 seconds - 1 minute.

Brush hamburger buns with oil. Toast on grill for 1 - 2 minutes or until golden brown.

To assemble the burger, place the burger on the bottom bun, spoon some of the bacon and mushroom mixture over the top. Generously spread caramelized french onion dip on the top bun and place on top of burger. Serve.
Keywords:
4th of July Recipes, bacon, bbq, burger, father's day, Food, french onion dip, grill, hamburger, labor day, memorial day, Recipe, summer