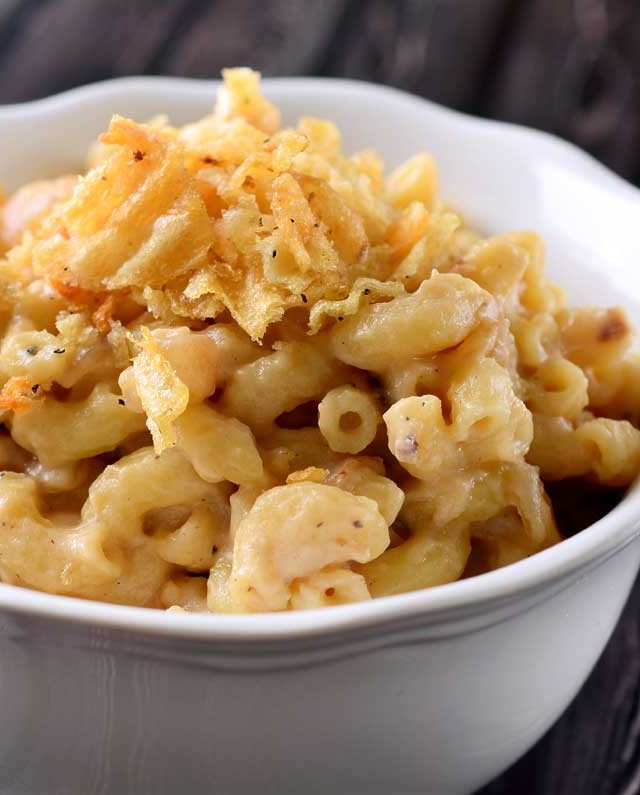 Caramelized French Onion Mac N' Cheese
I know, I know, I know. It's only the second week of January. Many are still trying to stick to their resolution to eat better. And with this recipe, I'm not really helping. And for that I apologize. I know there are so many temptations out there so I won't tell you how delectably cheesy this is. How creamy each bite is. How the caramelized onions give it just a touch of sweetness and how the potato chips add a nice crunch. No, no I wont tell you any of that at all. I'll just say this, this Caramelized French Onion Mac N' Cheese is kind of life changing.
It is no secret that I like dips. I've mentioned it many times before and if you've ever seen me at a party then you know I always hover over the dips. But if I had to pick a favorite dip, out of all dips, I would say that it is Caramelized French Onion. Not the stuff from the package, the homemade stuff like this. It's Ryan's favorite too. And a couple of my friends. Basically, I'm going to go out on a limb and say it's just about everyone's favorite party dip. And since it's everyone's favorite dip it only seemed logical to make it into a Mac N' Cheese.
Ok. Maybe not 100% logical.
Maybe about 85.6%.
Logical or not, it was a good idea. Strike that. It was a fabulous idea.
I used Gruyere cheese because that is the cheese that I always see melted on top of French Onion soup. It worked very nicely in this recipe. Finally, I decided to add potato chips to the top for two reasons. One: I think it goes with the whole French Onion Dip turned Mac N' Cheese concept.  Two: I always add potato chips to the top of my macaroni and cheese. It's something I've done since I was a kid. Don't knock it 'til you try it.
And if you're going to try it, this is the mac n' cheese to do it with.
Caramelized French Onion Mac N' Cheese Recipe
Ingredients:
2 cups dried elbow macaroni
1 tablespoon olive oil
1/2 medium yellow onion, minced
2 cloves garlic, minced
2 tablespoons butter
4 tablespoons all purpose flour
2 cups whole milk
2 cups grated Gruyere cheese
1 tablespoon Worcestershire sauce
1 egg, beaten
kosher salt and fresh cracked pepper
1/2 - 1 cup crumbled potato chips
Instructions
1
Bring a large pot of water to boil and cook macaroni according to package directions. Drain.

2
In another large pot, heat olive oil over medium-low heat. Cook onions until brown and caramelized, 15 - 20 minutes. Transfer to a plate. Set aside.

3
Melt butter in the same pot that you cooked the onions in. Once melted whisk in flour. Allow to cook one minute. Stir in milk. Stir in cheese and Worcestershire. Cook until cheese has melted.

4
Whisk some of the warm milk into the beaten egg to temper it. Whisk the tempered egg into the cheese and milk mixture. Stir in caramelized onions. Fold in macaroni. Mix well. Allow to set for 5 minutes or just until thickened.

5
Spoon macaroni and cheese into serving bowls. Sprinkle with crumbled potato chips. Serve hot.