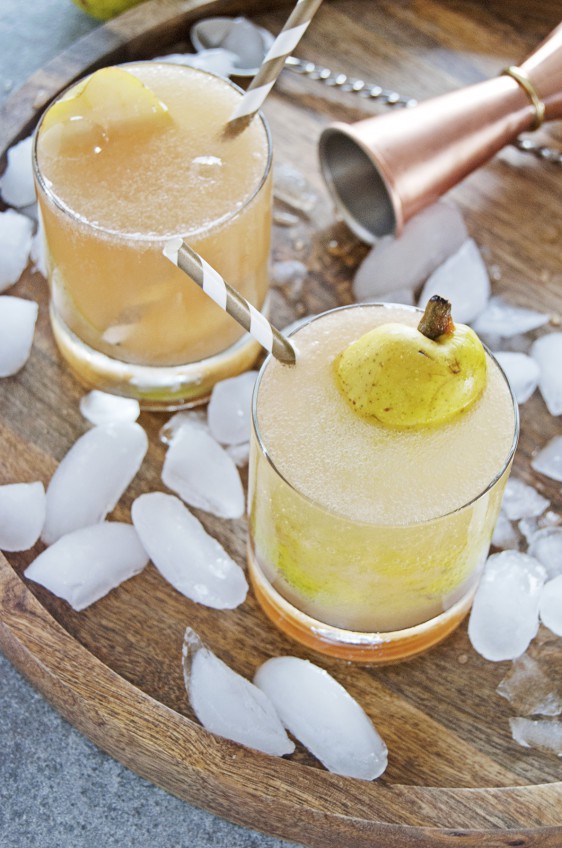 Cardamom Pear Spritzer Cocktail
Hello again, everyone! Sarah here, from The Charming Detroiter, and boy do I have a refreshing cocktail for you guys today: my cardamom pear spritzer cocktails feature fresh pear juice and will have everyone coming back for seconds (and maybe thirds…)!
This post may contain affiliate links. Please click here to read my full disclosure policy.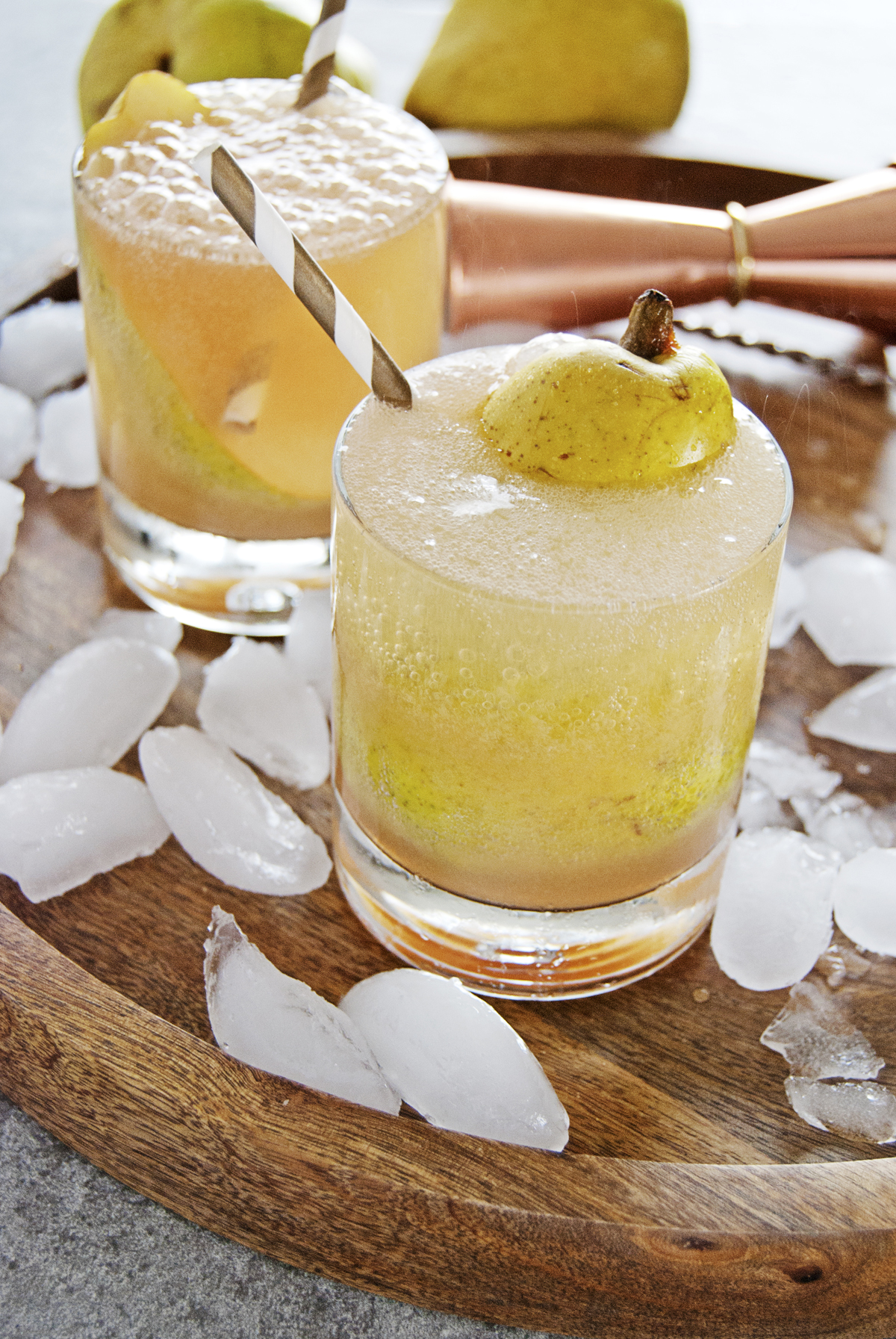 Ohmygosh I'm totally in love with these cocktails. So here is the story. The weather has been insanely hot here. Like I-don't-even-want-to-wear-clothes-and-that-isn't-socially-acceptable hot. And it's been like this for weeks with hardly any reprieve. How has the weather been by you guys? If it has been as balmy and humid as it is here in Michigan, well boy do I have a refreshing adult beverage for you today!
We received this amazing juicer from our wedding registry as a shower gift several months ago. Which obviously means… I've been juicing everything I can think of. I mean, wouldn't you? It's so fun to experiment with this new kitchen equipment, and it has opened up a whole new world for me in terms of smoothies, cocktails, and even sauces!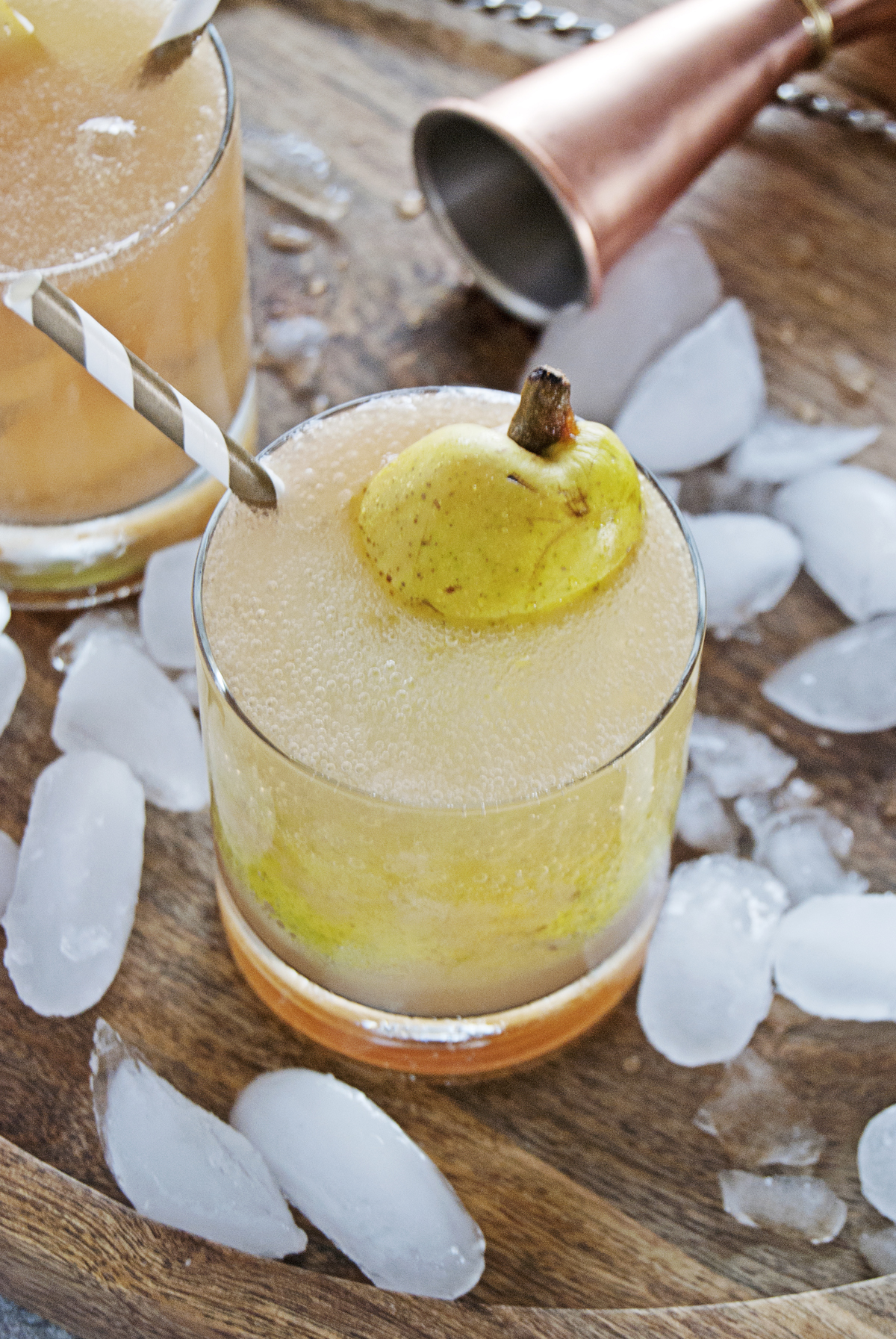 For today's recipe, I started by concocting this insanely tasty simple syrup. I'm a huge fan of homemade simple syrups, and go a little nuts when it comes to testing out all types of new flavor combinations! For this recipe, I chose a cardamom simple syrup, which I absolutely love because the cardamom gives a little hint of that "it's becoming August which means fall is just around the corner!" feeling, which I sooo love!
I then took some beautiful ripe pears and juiced them. I used Bartlett pears because I love the sweet and juicy bite they have, and I usually like to eat them raw so that means they are good to juice in my book! You could use other pears also depending on your flavor preference, such as Anjous pears, or even Bosc pears if you let them get pretty ripened before using.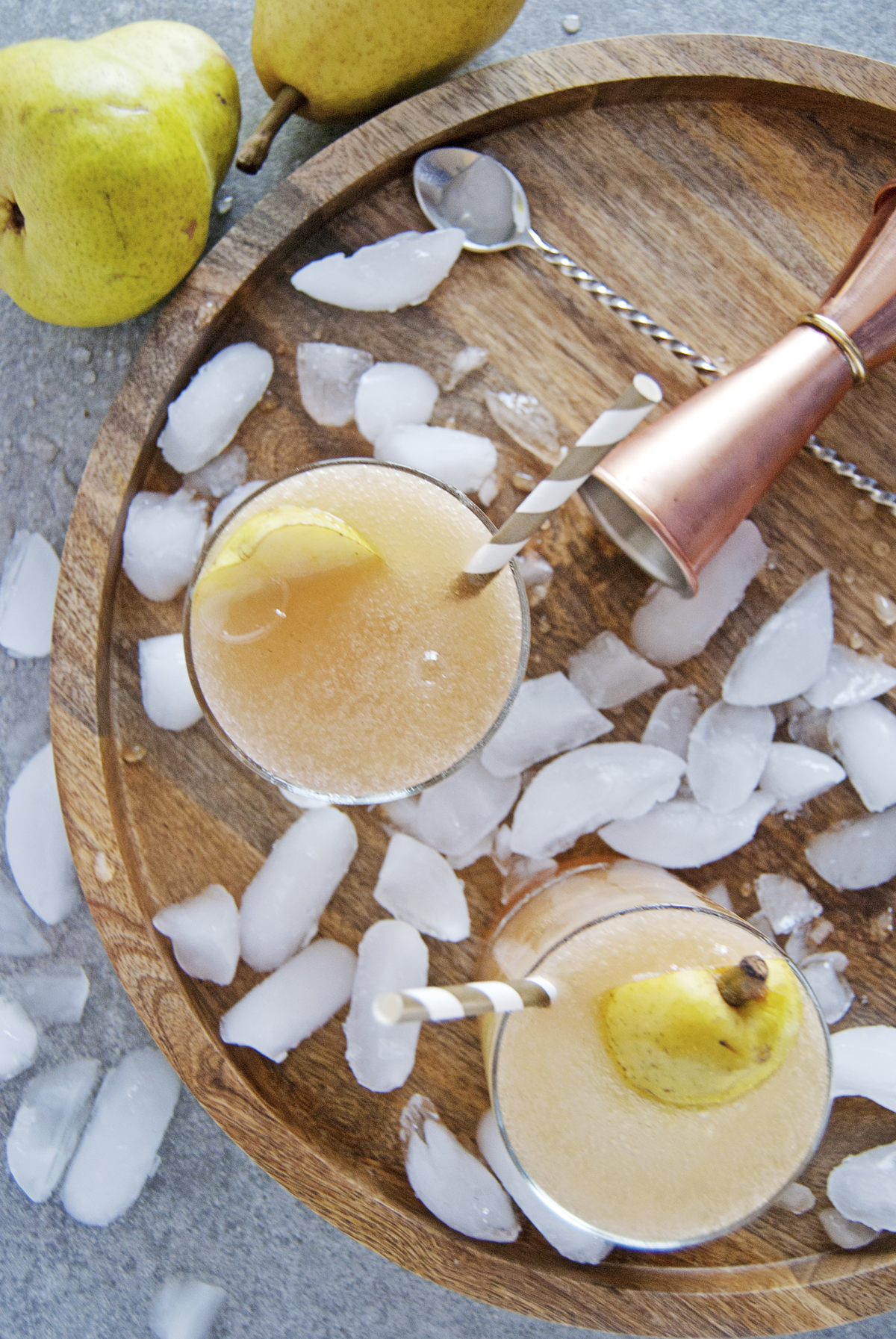 To pair with the fresh pear juice and the yummy cardamom simple syrup, I chose a white rum. I wanted to be able to taste the flavor of the liquor, but not have it overpower the more subtle pear flavor too much. Vodka would also be a good choice if you aren't a rum fan.
And yes, you read that recipe correct: a pinch of salt! Just like a pinch of salt added to sweet baking recipes brings out the flavor, I think the pinch of salt in this cocktail helps bring out the sweetness of the pears. (Give it a try and let me know what you think!) Lastly these drinks are garnished with a beautiful half of a whole pear, and topped with bubbly club soda.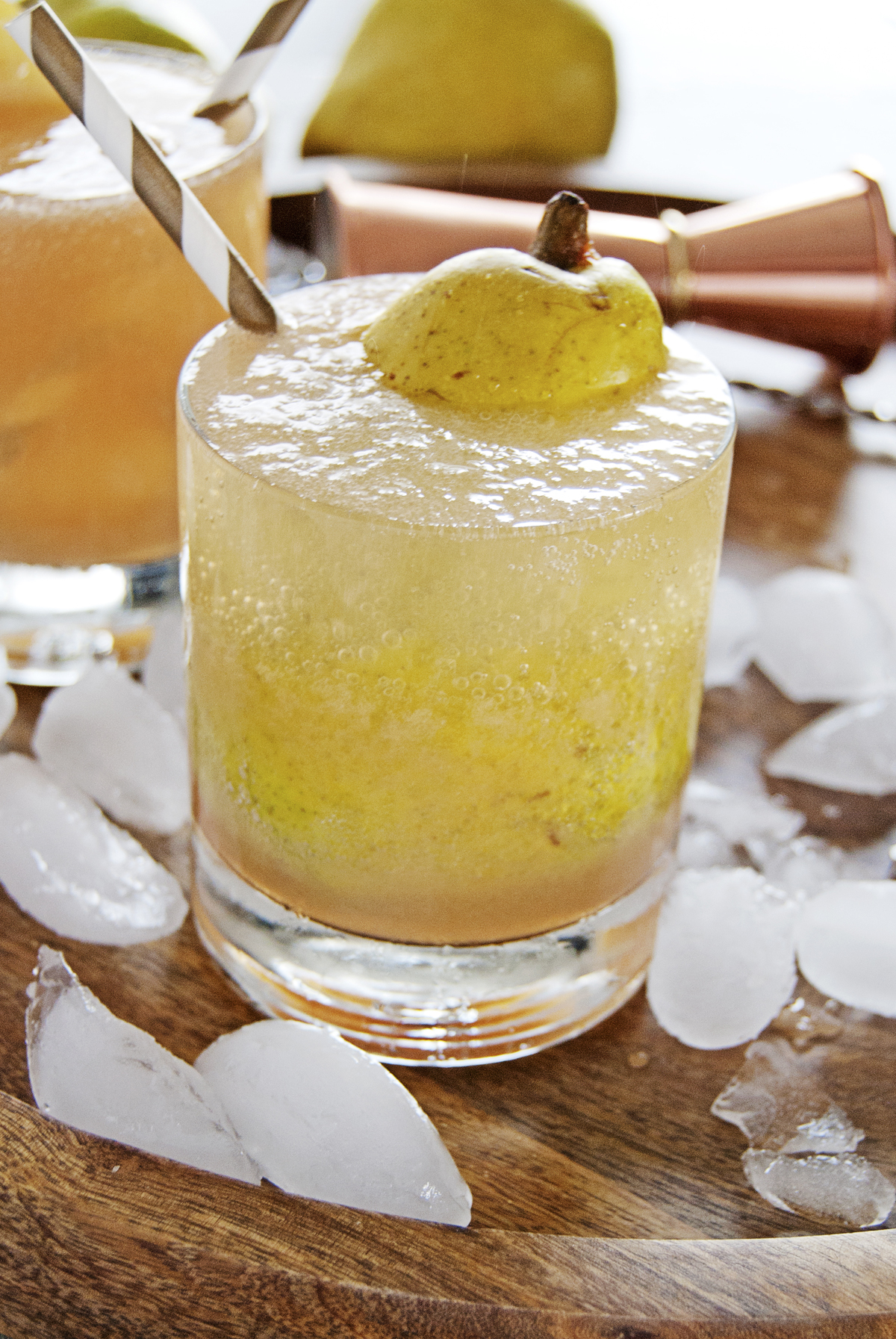 Now it's your turn: what is your favorite cocktail to drink during these hot summer months? Let me know by commenting below – I'm always looking for new and unique beverages to try!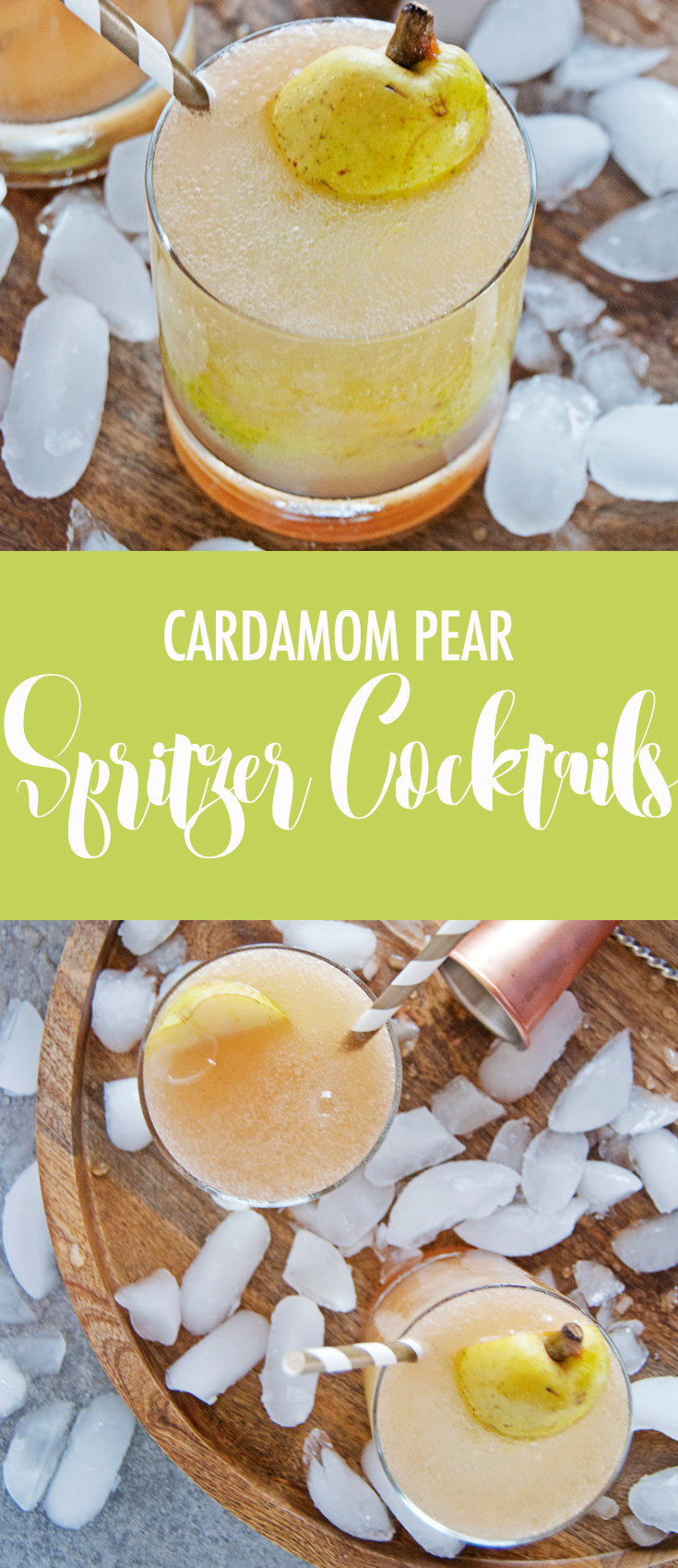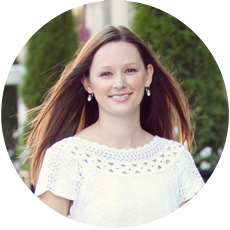 Connect with Sarah ~ Blog ~ Facebook ~ Instagram ~ Pinterest ~ Twitter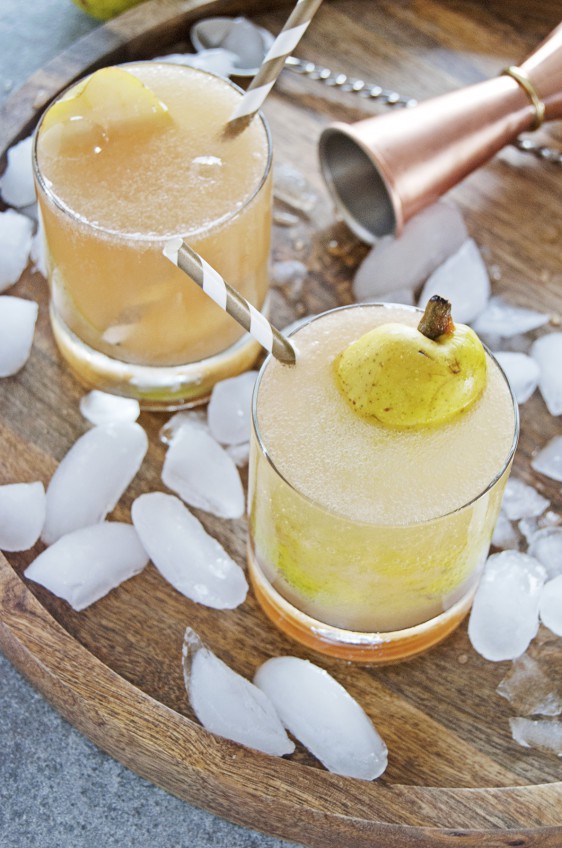 Cardamom Pear Spritzer Cocktail
These cardamom pear spritzer cocktails feature delicious fresh pear juice, white rum, and a homemade honey cardamom simple syrup.
To prepare simple syrup: In a small saucepan over medium heat, combine water and sugar. Heat, stirring occasionally, until the sugar is completely dissolved. Remove saucepan from heat and add cardamom pods. Allow to steep for 20 minutes before straining the mixture into an airtight container such as a mason jar. Allow to cool completely in refrigerator prior to use. Keeps for up to 4 weeks in a refrigerated airtight container.

To prepare 1 cocktail: Fill a rocks glass with ice water and allow to chill while you prepare cocktail.

Fill a shaker with ice. Combine white rum, pear juice, cardamom simple syrup, and salt in shaker. Shake until well combined, about 20-25 seconds. Empty chilled rocks glass and place one pear half in the glass. Strain contents of shaker into the rocks glass and top with club soda.
Keywords:
alcoholic beverage recipe, alcoholic beverages, cardamom, cardamom cocktail, cardamom drink, cocktail recipes, cocktails, drink recipes, drinks, pear, pear cocktail, pear drink, pear juice, rum, rum cocktail, rum cocktails, rum drink