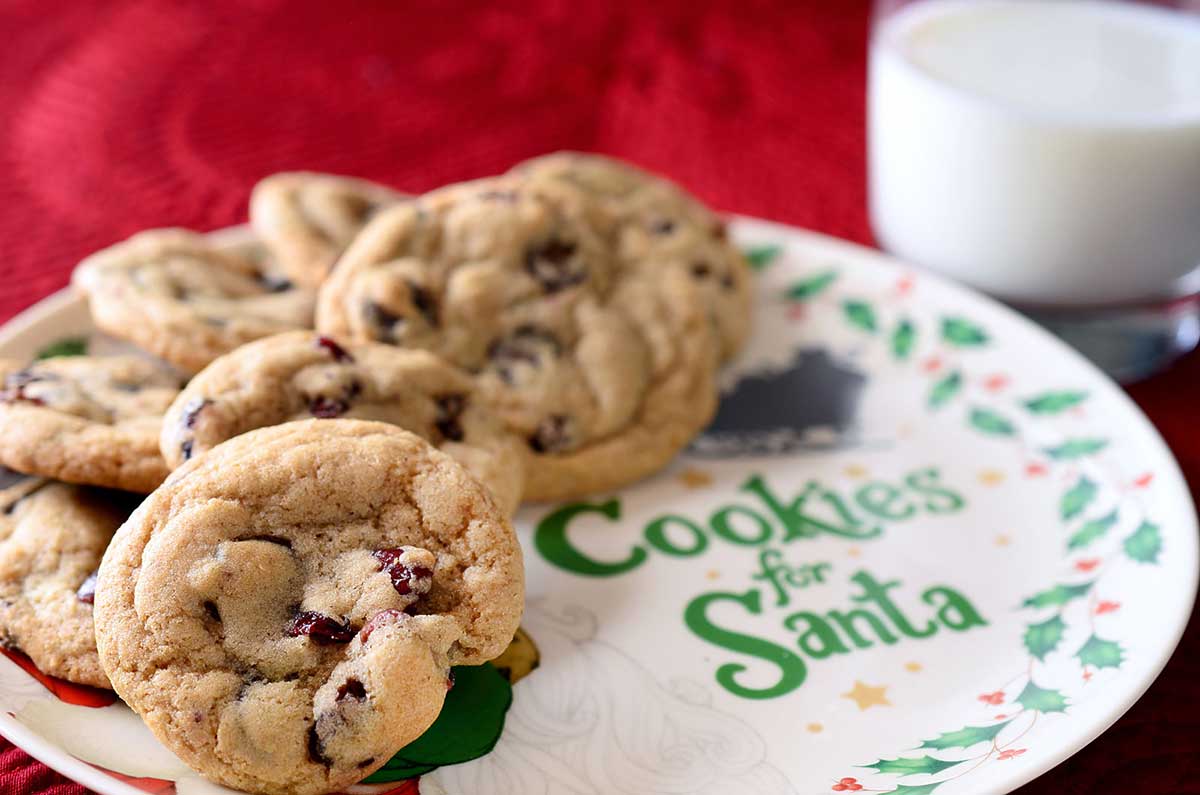 Carob and Cranberry Cookies
I still have to avoid chocolate. Which as you can imagine, is tough during the Christmas season. With the fudge. The hot chocolate. The brownies. It is pure torture. However, it did just get a little easier with these carob and cranberry cookies. They are sweet. Chewy. And spiced with cinnamon and nutmeg making them perfect for Christmas.
Carob chips have been a lifesaver for me ever since I found out it bothers Kellan when I eat chocolate. Carob, if you don't know, is extracted from the carob bean and is often used as a subsitute for chocolate. It's not quite as sweet as chocolate but I find carob chips just as scrumptious as chocolate chips. You can find them in health food stores. I bought mine at Whole Foods. With that said, if you can't find carob chips or just don't want to use them, semi-sweet chocolate chips would work well in this recipe.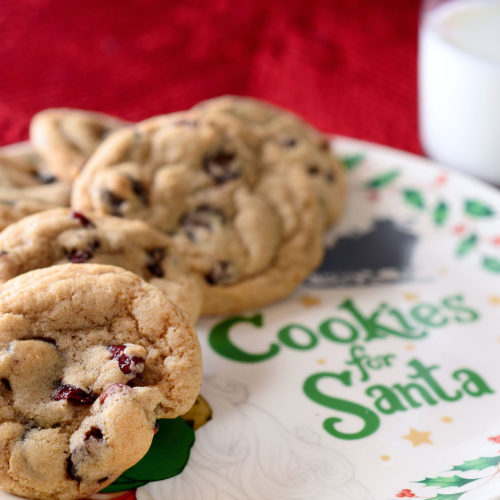 Carob and Cranberry Cookies
Spiced with cinnamon and nutmeg these chewy carob and cranberry cookies are perfect for Christmas.
Ingredients:
1/2

cup

1 stick unsalted butter, softened

3/4

cup

light brown sugar

3/4

cup

granulated sugar

2

eggs

1

teaspoon

vanilla extract

2 1/4

cup

all purpose flour

1

teaspoon

baking soda

1/4

teaspoon

salt

1

teaspoon

cinnamon

1/4

teaspoon

nutmeg

1

cup

dried sweetened cranberries

1

cup

carob chips
Preheat oven to 350 degrees. Line a cooking sheet with parchment paper.

In the bowl of a stand mixer, beat butter, brown sugar and granulated sugar together until fluffy.

Beat in eggs one at a time. Be sure to scrape down the sides of the bowl after adding each egg. Beat in vanilla.

In another bowl whisk flour, baking soda, salt, cinnamon and nutmeg. Slowly beat dry ingredients into butter mixture.

Fold in cranberries and carob chips.

Drop rounded tablespoonful onto prepared cooking sheet. Bake in preheated oven 10 - 12 minutes or until edges begin to brown. Allow to cool slightly on the cooking sheet. Remove to a cooling rack to cool completely. Serve.
Keywords:
carob chips, carob cookies, Christmas, cookies, cranberries, cranberry cookies, dessert, Food, Recipe, sweet, treat